8 Linktree Alternatives to Supercharge Your Link in Bio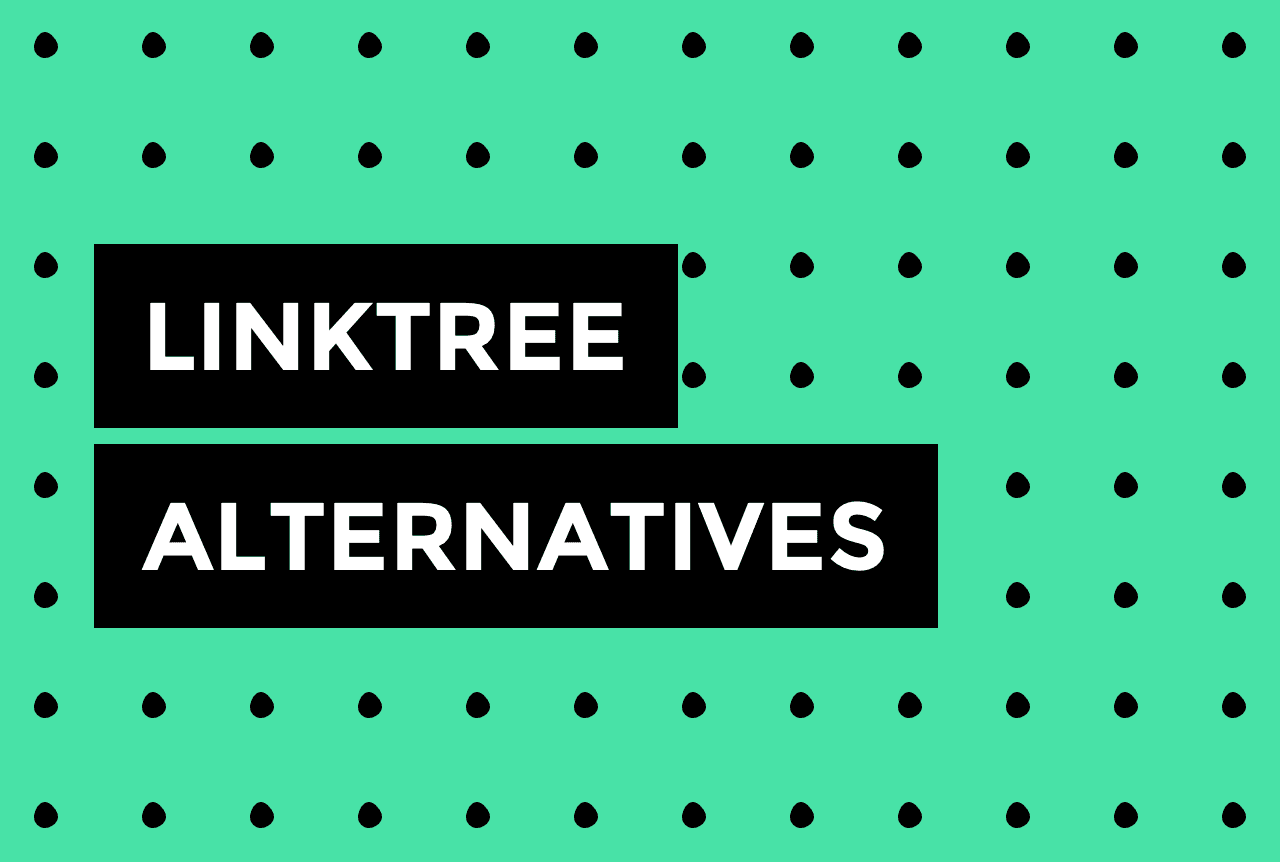 Evgeni Asenov
July 21, 2023
- 9 min read
Searching for Linktree alternatives can be quite tricky. With so many tools out there doing pretty much the same thing it's like searching for a needle in a haystack 🕵️
Linktree took the world by storm in 2016, and since then it has been the go-to choice for major companies and influencers. Allowing creators to feature more than one link in their Instagram profile, and more importantly, being the pioneering platform to do so, has earned them a large market share.
But just because they're the most prominent brand out there providing this service it doesn't mean they're the best option. Quite the contrary. Since launching the platform in 2016 little has changed; they even have the same outdated design.
This has led people to search for Linktree alternatives to feature multiple links in their Instagram Bio. And that's what we're going to take a look at today.
If you're:
Searching for a more beautiful tool than Linktree;
Looking for more features to engage with your audience;
Willing to better understand how people interact with your link in bio;
Then keep on reading, as we're about to go in detail on eight tools that excel at design, features, and capabilities.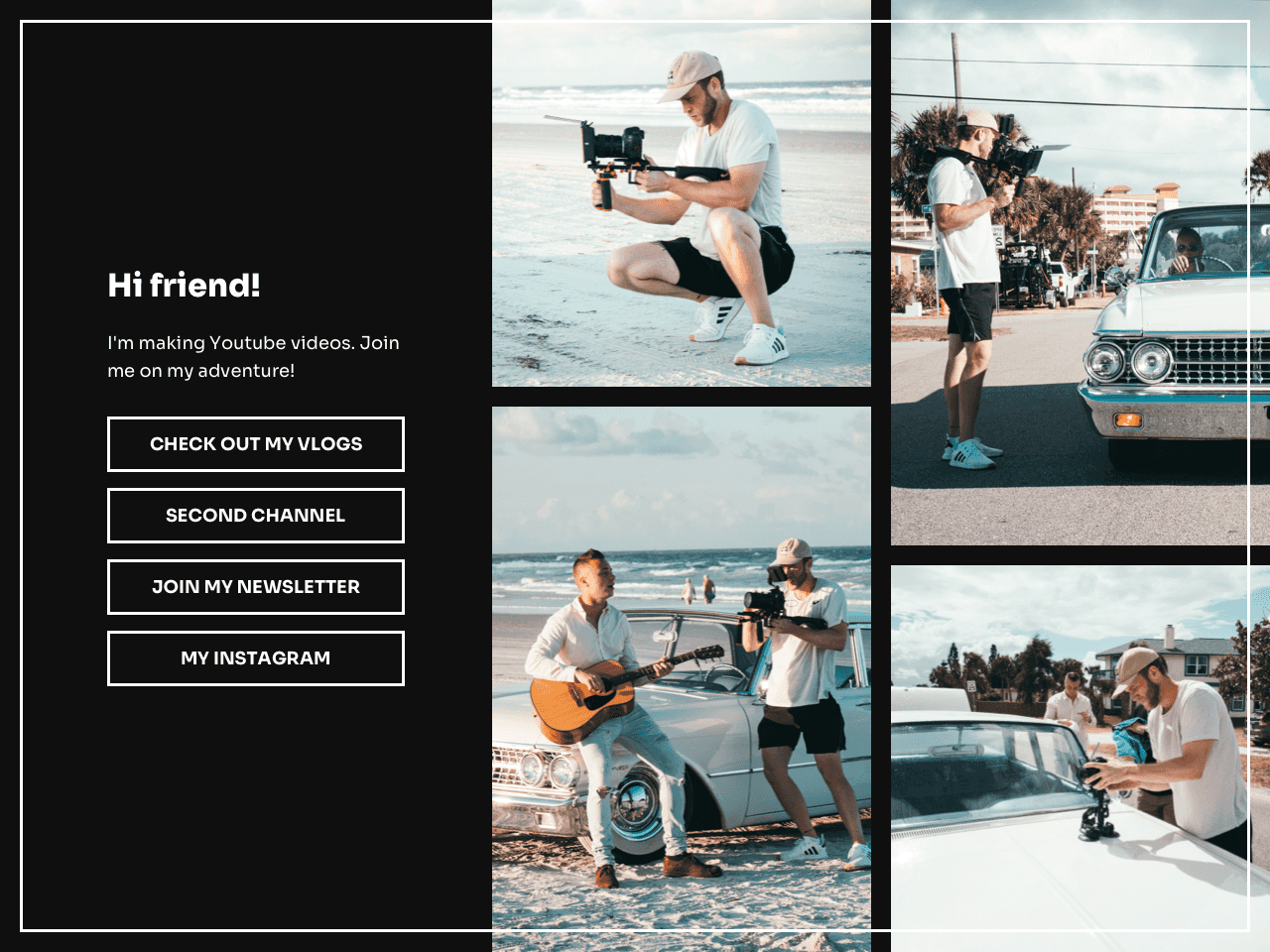 See live preview
8 Linktree alternatives worth looking into (because they're better)
These eight Linktree alternatives weren't chosen by accident. We've compiled some of the more popular tools, as well as the tools that are less popular but have amazing features and integrations you can take advantage of.
So, let's take a look at the Linktree alternatives that stand out and offer something unique.
1. Getform.com
Getform is a tool that makes it easy to add multiple links and input fields to your IG Bio. It has a minimalist sleek design that looks great on all types of devices.
Furthermore, the tool offers a wide array of templates you can choose from. Whether you want to get people to sign up for your newsletter, give them quick access to other social media platforms you're on, show different products, conduct a survey, or link to various pages on your website – Getform can do it.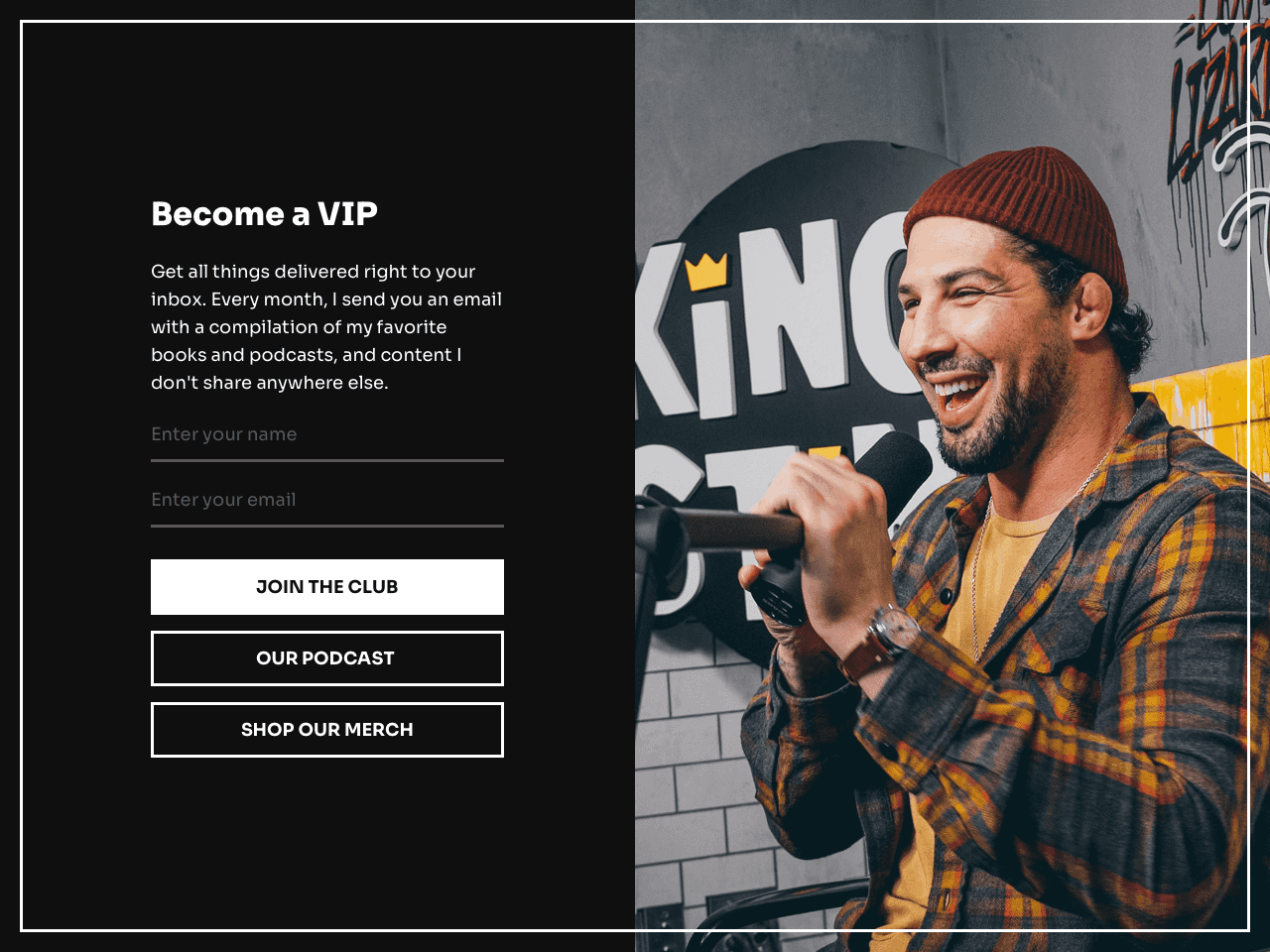 See live preview
This puts Getform miles ahead of the competitors on this list and makes it a multipurpose tool. Besides featuring multiple links in your Bio, you can use it to capture email addresses and survey responses, tag your contacts and send out marketing emails to them, create multi-page forms, and process online orders.
Design-wise, Getform offers a modern, customizable design that you can adapt to suit your brand's visual style.
Pros:
Modern and versatile design
Data capture fields
A wide array of templates
Built-in email marketing automation feature
Custom URL path and subdomain
In-depth engagement analytics
Integrations with 3rd-party cloud apps
Use Getform for:
Featuring multiple links in your Bio
Building your email list
Collecting online orders
Surveying your audience
Setting up automated email workflows
Price
Getform offers three different tiers ranging between $7 and $21 per month. With the lowest plan, you're limited to 100 monthly form submissions though (clicks don't count). If you have lots of clients coming from Instagram, you may want to invest in the Pro or Pro Max plan instead.
Final words
Getform offers a wide feature set wrapped in a beautiful, modern design optimized for mobile and desktop (now that Instagram is available for desktop, that's a pretty big deal). The best part about this solution is that you get all the Linktree functionality and more for a small monthly fee. You'll only need to think about upgrading if you want to start collecting leads at scale.
Try Getform today
Create a beautiful and functional link tree that matches your brand identity. Dozens of templates, zero coding.
Get started
2. ContactInBio
ContactInBio is arguably the most famous Linktree alternative out there. The tool offers a wide array of features with more coming. You can build a micro-landing page; however, the design is a bit outdated and not as customizable.
Of course, ContactInBio supports the Linktree-like functionality where you can include multiple links in one place. But the tool also offers a few other handy solutions, such as payment links, integration with popular messenger apps, and a contact form.
At the time of writing this, ContactInBio has 2 more features in the "coming soon" section: custom forms and Instagram shoppable posts. However, how soon these tools will be released is unclear.
Something noteworthy is that ContactInBio offers a wide variety of link options to choose from. While brandable, the links generated are still quite lengthy, which can disrupt your Instagram Bio's aesthetic.
Pros:
Multiple features
Analytics reports
Messenger integration
Payment links
Cons:
Outdated design
Lack of customization
Content blocks are too big
Poor appearance on desktop
ContactInBio branding for free users
Price
The starting plan is free, but it comes with multiple feature and design restrictions. If you need access to more features, you should purchase the business account, which, at the time of writing this article, is $4.55 per month. If you need more accounts added for your business, an agency subscription comes at $18.20 a month.
Final words
ContactInBio is a worthy Linktree alternative. Like many of its competitors, it lacks modern design and optimization for different devices. Furthermore, with the free plan, you have very limited customization options – which can be a deal-breaker for those who care about their account aesthetics.
3. Campsite
Campsite is a pretty cool tool. Just like Linktree, it supercharges your link in bio by allowing you to create a social landing page that features other links.
Unlike Linktree, Campsite allows you to feature multiple visuals both in your profile and on the buttons, which is a plus. When you're on the free account though, you can only feature images from your Instagram feed.
The design options are limited and overall, the landing page designed in Campsite won't look dramatically different from the rest of Linktree alternatives. However, its feature set appears to be much more diverse. You get detailed analytics, scheduling and remarketing tools, email signup forms, and more.
Plus, of all Linktree alternatives, Campsite is the only one allowing for using a custom domain name. This is great if you want to keep social media visitors on your platform at all costs.
Pros:
Intuitive landing page editor
Custom domain integration
Canva support
Scheduled publishing
Link-click analytics
Cons:
Lack of design options
Free plan is feature-restricted
Campsite branding on free plan
Price
Campsite, just like many of the tools on this list, offers a free subscription. The pro version will cost you $7 per month and starts with a free trial. The upgrade gives you access to design customization and integration options including Unsplash library, retargeting pixels, Google Analytics, and more.
Final words
Campsite is a suitable alternative to Linktree. It offers integrations that allow you to incorporate other platforms like MailChimp, making Campsite a powerful addition to any marketer's toolkit.
4. Link in Profile
Link in Profile is a bit different from the other tools we've talked about so far. In fact, it's similar to LinkInBio, which we'll talk about in a few paragraphs.
Link in Profile mirrors your entire Instagram feed and allows you to assign links to each photo. This is great for magazines and publications using their feeds to share the latest news or new articles they've published on their platform.
Link in Profile can also read links in your post's description and automatically apply them to the feed.
That said, the platform isn't an ideal Linktree alternative for most businesses and influencers. For example, you can't add static links to specific pages on your website and keep them pinned.
Pros:
Intuitive setup
Completely visual-based landing page
Link recognition from photo description
Cons:
Lack of free plan
No way to add static links and buttons
Price
Unlike other platforms on the list, Link in Profile doesn't offer a free plan. Instead, they opt out for a 30-day free trial period, and then their subscription plan is $9.99 per month.
Final words
Link in Profile is a perfect Linktree substitute for publishers. You can certainly make it work for other niches too – as long as they heavily depend on visuals.
5. Swipop
Swipop is an interesting mixture of e-commerce and Linktree. It can be an excellent option for creators and influencers who want to sell products like ebooks or guides straight from their bio link.
The paid wall is a handy addition and it makes Swipop stand out. However, the platform bets on simplicity and offers no design customization.
The minimalist design is a plus, but the complete absence of images and branding can be a drawback for some businesses.
Pros:
Straightforward setup
Pay-to-open link feature
Cons:
No branding possibilities
Limited features
No analytics
Price
Swipop is completely free to use.
Final words
Swipop is a great Linktree alternative if you're looking for a simple, very bare-bones system to sell info products straight from your link in bio.
6. Linkin.bio
If there's a platform that can rival the popularity of Linktree it's Linkin.bio. Created by Later, Linkin.bio is a Linktree alternative used by thousands of creators around the globe. It's basically a landing page for your social media accounts.
Just like Link In Profile, Linkin.bio mimics your Instagram feed and attaches a link to every picture that has one in its description.
Moreover, Linkin.bio offers sales tracking software, which is a huge advantage if you're using Instagram for growing your online store.
It's also embeddable, which is excellent if you want to showcase your feed on your website and keep the links to your products.
Pros:
Modern design
Sales analytics
Embeddable feed
Cons:
No way to include buttons with static links
Non-customizable design
Price
Linkin.bio isn't a standalone tool, but a part of a larger social media management platform (Later). It starts at $0 for individuals. If you're a business interested in growing your brand and driving engagement, be ready to shell out from $12.50 to $33.33 per month.
Final words
If you're selling products via Instagram, Linikin.bio is a noteworthy Linktree alternative that helps drive traffic to your store or blog straight from the feed. It works great for large publications like Complex and HighSnobiety. And since with the pain plan, you get a decent set of social media management tools, it might be worth the investment.
7. Lnk-bio
Lnk-bio is a much more modern-looking tool that has become particularly popular among creators and musicians. It supports music embeds, integrates with other social media platforms, and allows you to feature multiple links.
Lnk-bio allows you to use your brand colors and add your photo or logo at the very top. Just like with Linktree though, you'll have to put up with the logo at the bottom – unless you upgrade to one of the paid plans.
Pros:
Modern design
Intuitive editor
Unlimited number of links
Link customization (if you're on the paid plan)
Cons:
No analytics available for free plans
Design customization is limited
No link customization on the free plan
Price
While Lnk-Bio starts at no cost at all, the free plan is extremely limited. The platform offers three paid subscription plans ranging from $0.99 to $24.99 per month. All plans offer a tracking pixel that can help you with remarketing campaigns if you're selling products or services.
Final words
Lnk-bio is a modern, fairly easy-to-use platform. Its features are straightforward, which is great for non-tech savvy people who just want to feature more than one link in their Instagram bio but aren't fans of Linktree.
8. Bio.fm
Bio.fm is the last Linktree alternative on the list. It's a powerful micro landing page builder that helps you feature the content you share on YouTube, Spotify, Medium, and other social media platforms.
Compared to most solutions, Bio.fm is much more versatile and allows creators on Instagram (and any social media for that matter) to take full advantage of a single link. In addition to sharing multiple links, you can also collect emails, embed your Instagram and Twitter feed, conduct polls, and much more.
Integrations with YouTube and Spotify make Bio.fm particularly appealing for musicians who want to share their music on different platforms.
Pros:
Modern block design
Intuitive drag'n'drop editor
Integration with social media platforms
Cons:
Limited feature set on the free plan
Price
Bio.fm has a free plan that should be sufficient for individuals. The Semi-PRO plan starts at $5 per month and allows you to add extra blocks to your landing page, customize the design and URL, remove branding, and use link scheduling.
Final words
Bio.fm is a powerful platform suitable for creators and brands alike. It offers a wide variety of integrations and a modern design. However, the most valuable features come with a price tag.
Why include multiple links in your IG Bio?
Including multiple links in your Instagram Bio allows you to promote cross-platform. And having your audience follow you on more than one platform increases their loyalty as well as your chances to convert them into customers.
While social media, and particularly Instagram, is a powerful way to engage with customers and generate buzz for your business, limitations such as only having one link in the bio constrain users. This is a bummer as it limits the ways you can communicate with your audience.
That's why platforms like Linktree allow you to have a mini Instagram landing page featuring more than one link.
Key takeaways
Choosing a Linktree alternative isn't an easy choice to make. For starters, you have to be sure that the platform you choose can meet your needs.
Are you only looking to include multiple links in your Instagram bio? Do you also need to collect emails? Do you need in-depth analytics?
Truth be told, there isn't a one-size-fits-all platform out there. You should choose the solution that allows both to meet your needs today and your growth in the future.
Create Getform account
Create Instagram landing page right now.
Promote links, capture emails, collect orders.
Use pre-designed, stylish templates.
See templates
Evgeni runs a tiny, mighty copywriting agency called
Brief-er
. He helps brands sound more human by getting rid of the cookie-cutter with copy that feels like two friends catching up over coffee.

Evgeni Asenov
July 21, 2023
Join creators worldwide
Grow your online business without a website. Generate leads, tag your subscribers, send promo emails, and build automations.
Get started
650K
Forms displayed
this week
30K
Contacts collected
this week
5K
Automations runs
this week
15K
Broadcasts sent
this week