Create an Online Event Registration Form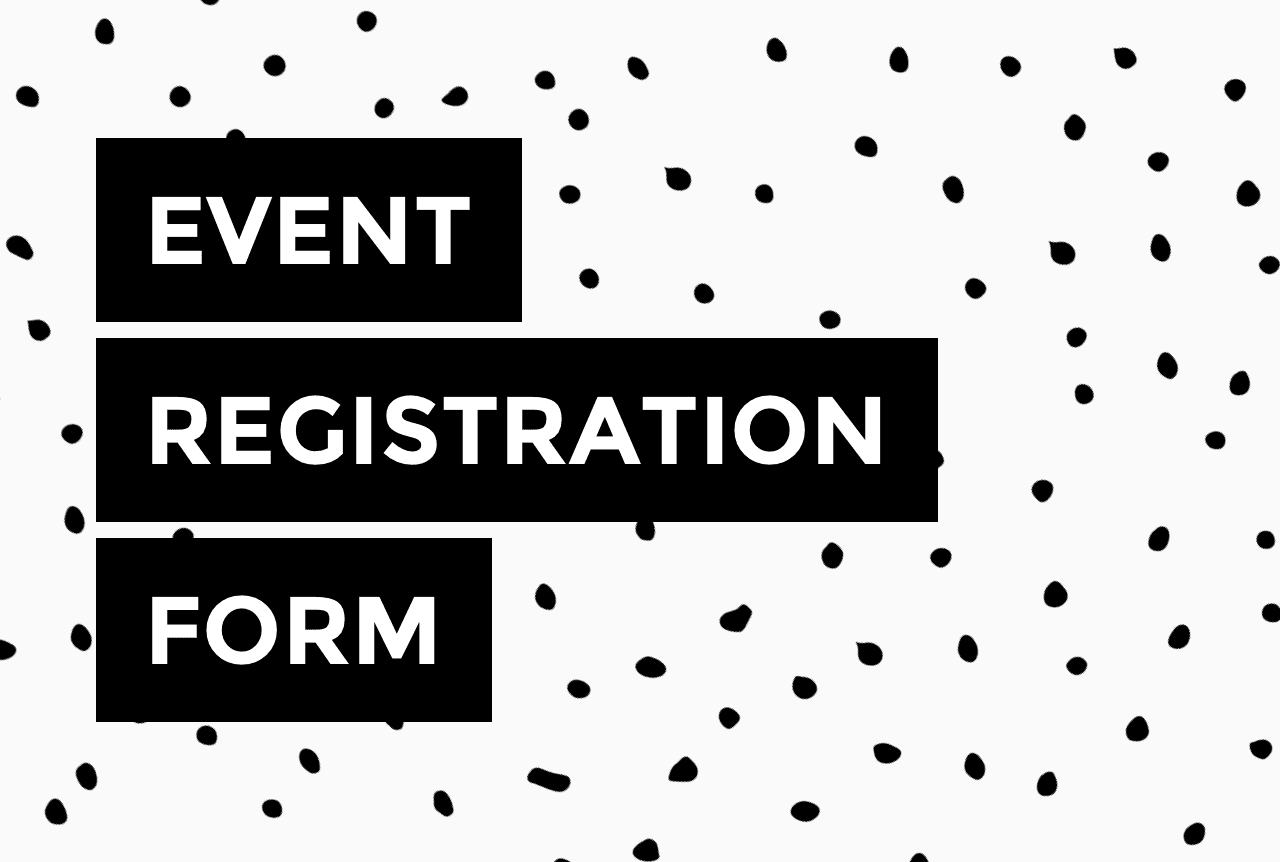 Olga Chatay
March 15, 2021
- 4 min read
Whether you're planning a webinar or a workshop, you will need an online event registration form to collect information about the attendees. And if you're not exactly a "techie" person, this may sound challenging. However, it's not.
With Getform, a no-code online form builder, you don't need to have a webpage to publish your registration form – in fact, you don't even need to have a website. All you need is to customize a pre-designed form template and decide how you want to share it with potential attendees: via email, messenger, WhatsApp, or social media.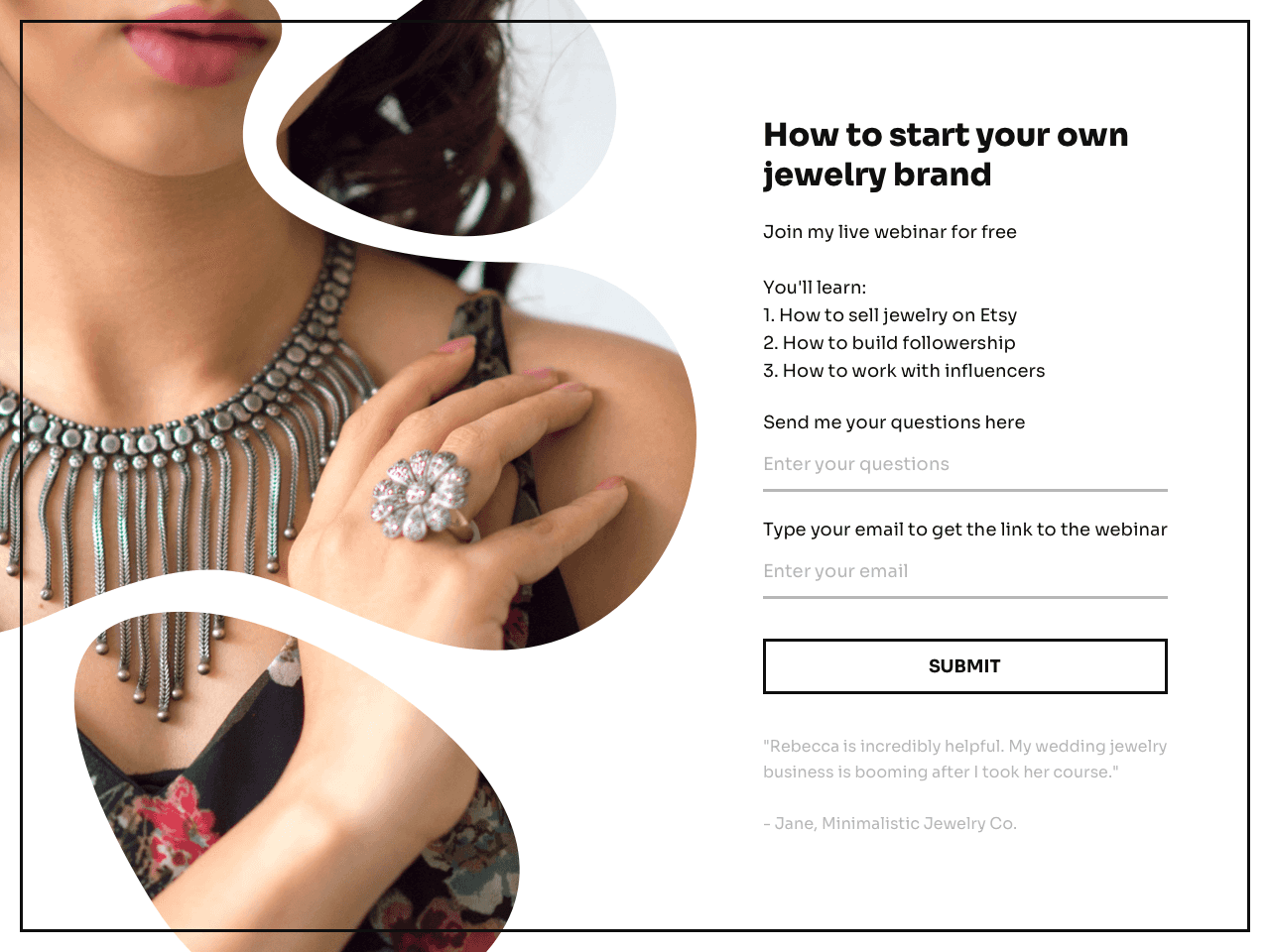 See live preview
Getform allows you to change the background image, the copy, the fields – practically, anything to help you make the form memorable and collect the required information about your attendees. You can choose to receive every new submission in your inbox, or you can integrate the form with any 3rd-party software including CRM apps, Google Sheets, email marketing tools, and more.
Once the form is ready, you will be able to copy a link to it and share it directly with your audience.
From this article, you'll learn to create a solid online event registration form within a few minutes.
How to create an online event registration form using Getform templates
Although you can create a form from scratch, it is much faster to do it using templates – and Getform makes the process super easy. Once you register an account and hit Create a form, you can go straight to the gallery and select a form template to your taste.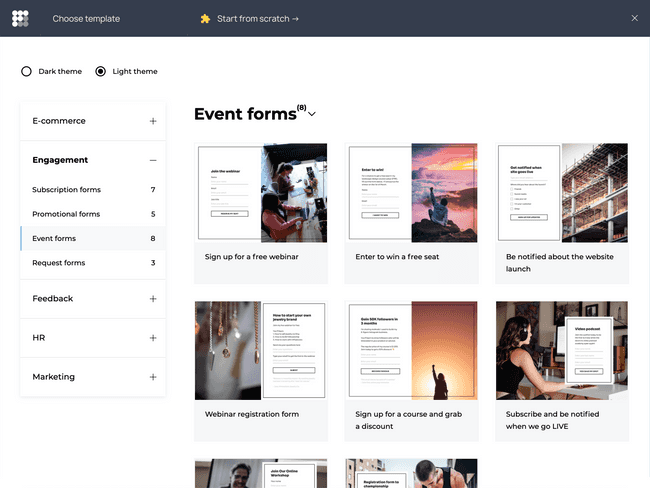 Click on each template to see how it will look for your attendees, and when you find the one you like – just follow the prompts on the right-hand side to add it to your dashboard. From there, you'll do the necessary copy and image adjustments.
In the Content tab, you'll be able to change the title, the description, and the fields.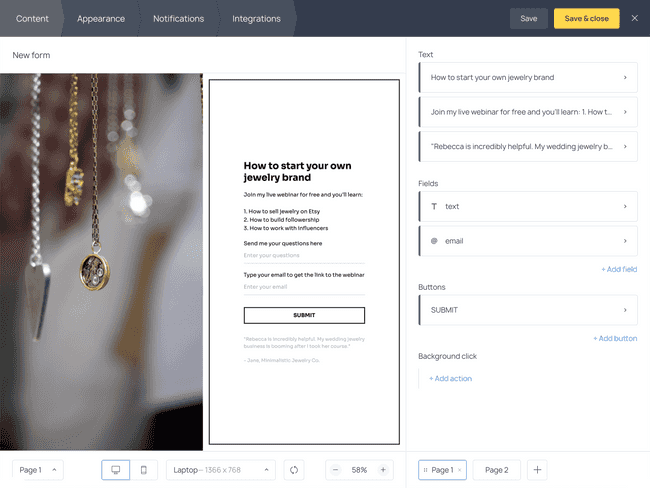 Remember that a good event registration form contains minimum fields. Yours may be different from those already on the template, but most forms should include at least contact information fields, such as:
Next, depending on the nature of your event, you may want to ask additional questions, such as the number of tickets, their job title, company name, or any other details that will be helpful while you're preparing for the event.
Finally, it's a good practice to ask your audience about their expectations. You can do that using open-ended questions, such as:
Would you like to ask the lecturer about anything?
What do you expect to learn by the end of the event?
Whom would you like to see among our speakers next time?
If you're planning to add attendees to your email marketing list and send out newsletters, Getform enables you to add a consent checkbox right to the form.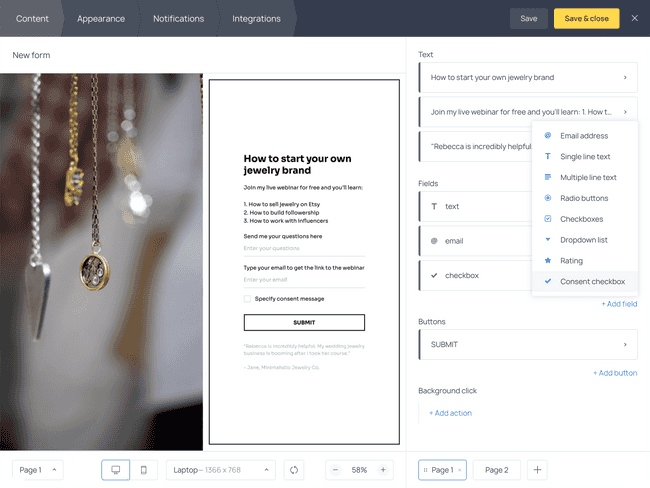 To change the background image, open the Appearance tab and proceed to "Change image". Then, you can either upload your own creative or find a high-quality stock image from the built-in Unsplash gallery.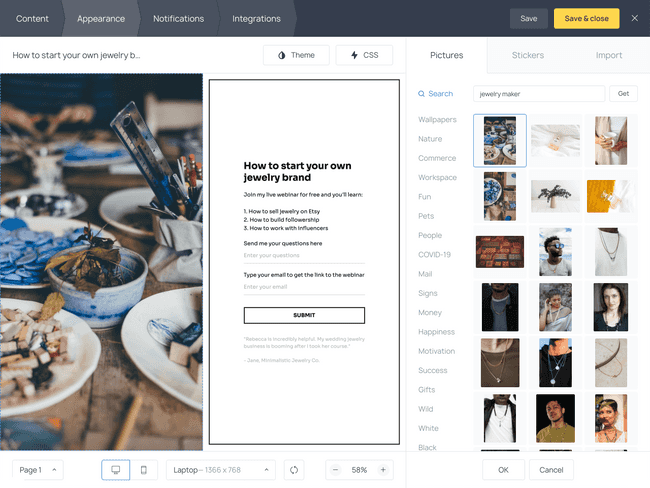 Once finished designing the form, hit Save & close and copy a direct link to it. Those who open your link will be able to fill it out whether on a desktop or mobile device. Embed this link to your email newsletter, paste it to your Instagram bio, send it directly via messengers, or share it using a 3-rd party platform where you're promoting your event.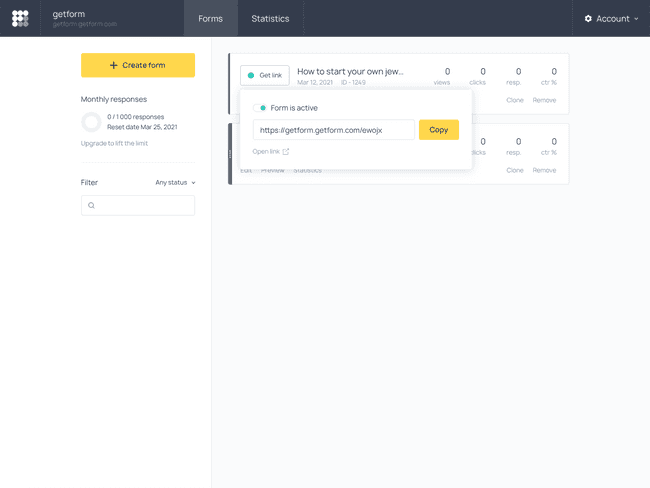 Submissions will be collected in your Getform dashboard; you can preview or download them to your computer at any point.
How to send a registration confirmation to attendees
It's a good practice to send a confirmation email right after your registrants submit their data. Even if you haven't connected email marketing software to your form yet, you can send a quick message to those who fill it out. To do that, use the Autoresponder feature available in the Notifications tab.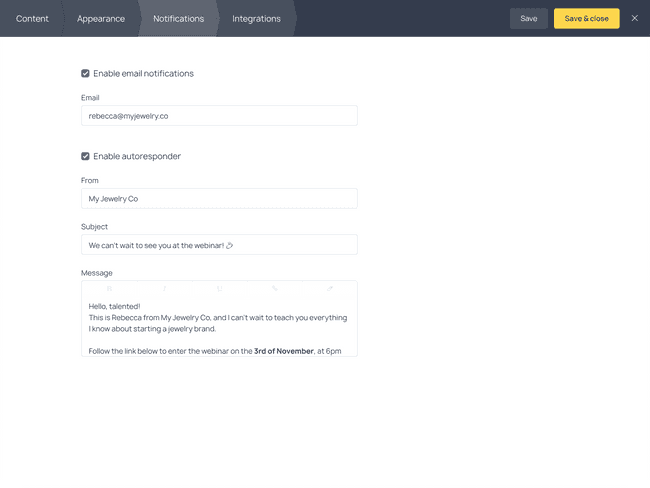 Tick the Enable autoresponder checkbox and type the message you want to send to your attendees. For instance, you may want to repeat some information about your event and let the attendees know what to do next. The message box includes basic formatting, so feel free to add links to the event page, payment information, or calendar.
The autoresponder is a great chance to tell your guests more about your company.
If you have another upcoming event, a blog post, or a special offer you'd like to inform the subscribers about, this automatic response comes in handy for spreading the word. Eventually, your email sequence may help you convert webinar viewers into customers or referrers.
Make the most of your online event registration form
Now that you have a general idea of designing a form of your own, think of the ways to make the most of it.
Online event registration forms don't just help you collect contact information – they can also provide you with insights about your audience. By asking the right questions, you can gain valuable data to make sure your following event is a success.
Finally, the performance reports will help you analyze the effectiveness of your promotional efforts and figure out which sources brought you registrations and worth including in your next campaign.
Event planning can be tough, but attendee registration doesn't have to be. Want to see it for yourself? Then try Getform for free and create your first form today.
Register a Getform account
Create custom online forms within minutes.
No website or technical skills needed.
Get started

Olga Chatay
March 15, 2021
Join creators worldwide
Grow your online business without a website. Generate leads, tag your subscribers, send promo emails, and build automations.
Get started
650K
Forms displayed
this week
30K
Contacts collected
this week
5K
Automations runs
this week
15K
Broadcasts sent
this week