The Ultimate Guide to Writing an Efficient Instagram Bio for Your Brand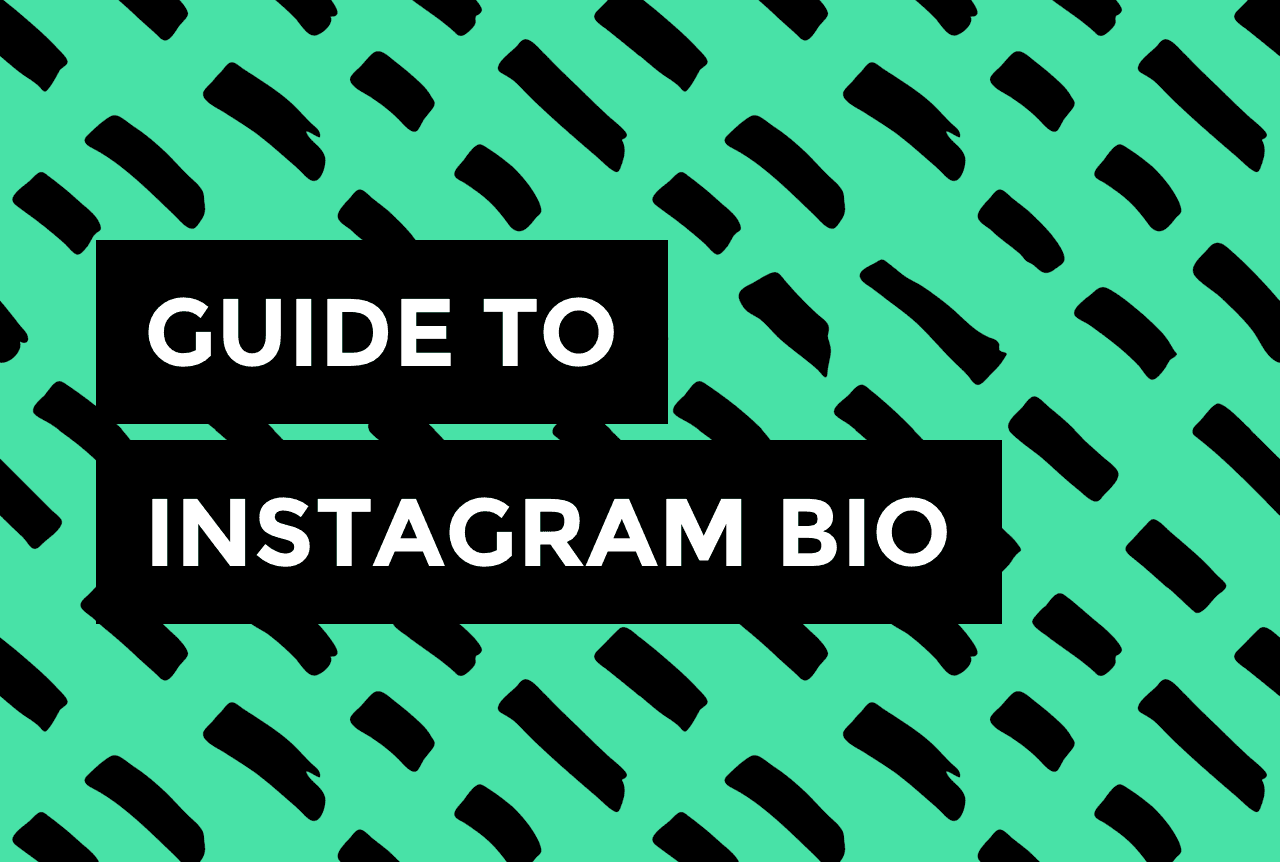 Evgeni Asenov
October 12, 2020
- 7 min read
While creating the content isn't easy per se, the Instagram Bio is something you'll have to tweak and update regularly. It has to illustrate who you are and get people to take the action you want them to take – all within a 150-character limit.
But how do you write something that stands out on a platform with a billion active users? 🤔
To answer this question, we've prepared a detailed step-by-step guide to writing an efficient Instagram Bio – the one to convert lurkers into engaged readers and customers.
This guide includes lots of Instagram bio ideas and will be relevant for both businesses and individuals who want to grow their community.
So, buckle up: we're starting with the basics.
What is Instagram Bio?
Instagram Bio is the very first thing people see when they enter your profile. It consists of several sections, but primarily – copy.
This copy shows your brand voice, tells people who you are, and ideally, drives them to your website or your landing page.
That's a lot of responsibility for just a few lines of text!
Let's look at the Instagram Bio sections in more detail.
What does Instagram Bio contain?
An Instagram Bio contains seven different sections:
Name
Username
Category
Bio
Contact buttons
Website
Verified badge
If you have a personal account though, you won't be able to choose the account category, and you can't have contact buttons.
Here is a brief overview of these sections 👇
Name

The name of your account is the first thing people see. It's also visible on the search results page. Instagram-savvy people add relevant keywords to this line to optimize their accounts for higher search visibility.

Consider @bojanovakovic's Instagram account as an example:

His Instagram name prominently shows that his account is all about UX/UI design. You should include the keywords from your niche too if you want to appear higher in general search queries.

Username

Your username, also called your Instagram handle, is the most prominent part of your Bio. The username starts with @, and on desktop, it's aligned with the Follow button, while on mobile it appears in the middle of the top.

It's best to keep your username as short and as relevant as possible, so people remember it. If you're running a personal brand go with your name or alias. If you're growing Instagram for your business, opt for a username as close to your brand name as possible.

Category

Only available for business accounts, the category helps people visiting your account better understand what type of business you are.

Take the @bape_japan's profile, you can see they have "Apparel & Clothing" right under their name.

Instagram will prompt you to choose a category when you start setting up your account. Ifyou already have an existing account, you can select the category in Edit Profile> Category.

Bio

Right under your name and category is your Bio. Most brands are taking on a more creative approach with their Bios.

Depending on your niche, you can go with lists, emojis, or just a couple of catchy sentences. (Keep reading to find more Instagram bio ideas and find out how to write yours)

Contact buttons

If you're running a business account on Instagram, you can add 'Message' and 'Call' buttons from the 'Edit profile' menu.

While for most industries it's a longshot for someone to press call, these buttons are great for clubs, restaurants, and even coffee shops, as a convenient way to book a reservation straight from Instagram.

Website (URL)

Instagram only allows one external link per account, and that's the link in your bio. For accounts with less than 10K following, that link is the only way to drive people to a website without paying for advertising.

The biggest drawback of the URL section is that you can only add one link. To overcome this inconvenience, you'll need a tool like Getform.This app lets you create a custom pop-up landing page with multiple buttons, and you can link to it from your Instagram Bio.

See live preview

Each button leads to the URL of your choice. This way, instead of driving your followers directly to your webpage, you let them decide which platform of yours they want to visit.

Verified badge

Badges are the holy grail of Instagram accounts. Having a verified badge on any social media platform has become a "must-achieve" for every business with social media presence.

Badges help you build trust and identify your account as genuine. You can submit your account for verification under "Settings > Account > Request Verification".
Now that you better understand the sections of the Instagram Bio, let's take a look at the potential formatting restrictions the platform has, and then move on to Instagram bio ideas for businesses.
How to write a killer Instagram Bio? (And what to write in it)
Let's be honest. It doesn't matter where the link in Instagram Bio leads if the copy isn't persuasive enough.
While well-known bloggers with millions of followers can afford to be vague in their descriptions ( Casey Neistat's bio says "the guy from YouTube"), smaller influencers have to be more creative to persuade someone to follow them, book them, or listen to their podcast.
So, how do you write a killer Instagram Bio?
To start, there are a few things you have to know:
The Instagram Bio character limit is 150 characters.

Instagram also allows you to mention people in your Bio and include hashtags to help people discover your profile more easily.

The Bio text editor on Instagram does support centering, however, it's nothing more than a cosmetic touch-up.

Go into "Edit Profile" and add 10 spaces in front of every line of text. It will look wonky the first time you save it, but you should go back to "Edit Profile" and adjust the spacing for each line until it's centered when you save it. Keep in mind that the text in the Bio editor won't look centered. That's why you have to keep saving, checking back how it looks in your profile, and going back in the editor to tweak it until it looks good.

All accounts support a clickable link in the Instagram Bio section.

You can go to "Edit Profile/Edit Bio > Website" and paste your website. Instagram supports both "www." and "non-www." links.
Now, let's talk about Instagram bio ideas and what you should include in your Bio to get people interested in what you do.
Introduce yourself in more detail
Instagram Bio is like an elevator pitch. It takes less than half a second for a person to decide whether or not they're going to stay on your account.
In 150 characters, focus on saying who you are, show your experience, add a call to action, and make sure to have a link in Bio for people to follow through.
Take, for example, @GaryVee's Instagram Bio.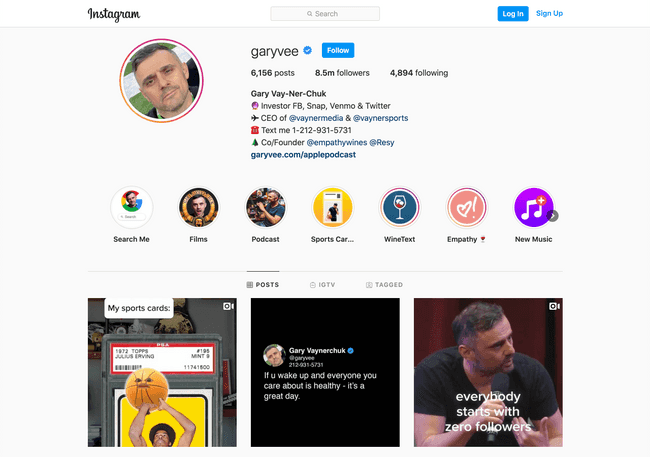 In five seconds you understand that he's an investor in some of the world's leading companies, the CEO of two businesses, and that he has a podcast you can listen to by clicking the link.
Now, how does this translate to you? Let's say you run a podcast about cars. (It makes sense, with so many petrol heads out there). A persuasive IG Bio would look something like:
John Morris <- Your name
🚗Hellcat SRT | BMW M5 '03 <- shows your cars
🏁 8.6 sec <- proves your drive fast cars
🎤 Listen to our latest podcast episode 👇 <- CTA to click the link
[Link to podcast]
Feel free to copy this Instagram bio template, paste it to your account, and adjust for your niche!
Include your unique selling points (USP)
Ideally, your product or service caters to a specific group of people. Focus on how exactly you can help these people solve their problems, and why your business stands out.
Take FUL Candles, a tiny candle shop from East Tennessee. While there are many candle companies out there who're thriving, FUL Candles have managed to carve out a niche for themselves by making unique eco-friendly soy candles.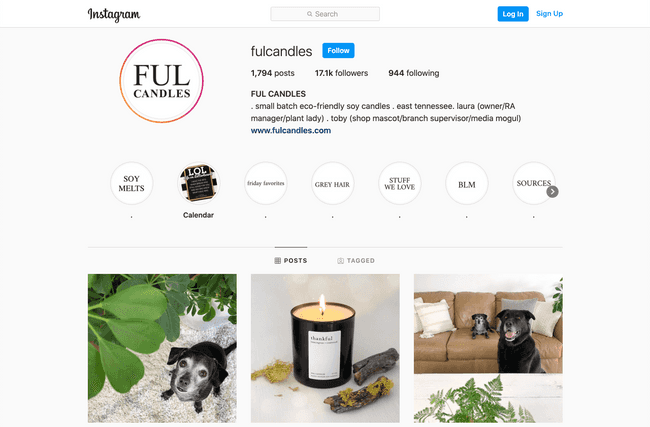 FUL Candles boast with their USP straight in their Instagram Bio, and you should do the same. Take what makes your product unique and feature it prominently in your Bio. For example, local coffee shops can write about the rich-flavored coffee they offer, and restaurants can use to showcase their specialty.
Don't be afraid to show your personality
Brands that aren't afraid to show some personality prosper. Brands that aren't afraid to show humor stick. Your Instagram Bio is the perfect place to practice both and unveil the human side of your brand.
Feeling hesitant about spelling something out? Emojis are your best friends!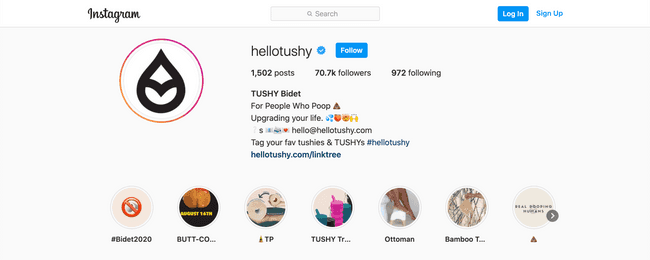 Wendy's, Pop-Tarts, and TUSHY Bidet are among the biggest sassy brands out there, and customers have grown to love their playfulness. If you're looking for fresh Instagram bio ideas that are not boring , these brands are a great example to follow.
Incorporate a call to action to your Instagram Bio
Once you've introduced yourself and captured the readers' attention, it's time to nudge them into taking action.
Many Instagram bloggers think that having a URL and the contact buttons means people will click on them, but that's not true. A call to action needs to be spelled out.
Now, what types of call to action should you use? The answer depends on your business model. Here are a few examples:
"Visit my website"
"Join my email list"
"Provide feedback"
"Subscribe to my channel"
"Listen to my podcast"
"Place an order"
"Book a session"
All these CTAs are designed to generate leads or start an interaction. However, Instagram is not the best platform for lead generation per se. For instance, while Instagram DMs allow anyone to contact you, it is quite inconvenient to process orders or collect feedback that way.
Here is where your link in bio comes into play.
It channels leads to a more suitable medium where they can purchase a product, subscribe to a newsletter, or book your services. Often, it is your website. But if you don't have a website yet, it can be your Instagram landing page.
Here are three smart ways to use the link in bio for growing your business.
1. Build your email list
All marketers know that having a lot of social media followers may look good, but at the end of the day, it's not your platform.
That means if Instagram goes "kaboom" tomorrow, so does your reach. And probably the best place to get these people is on your email list. The Hustle team knows this – that's why their link in bio leads to an email subscription form.

Even if you're a beginning entrepreneur, starting to collect emails from your Instagram followers is essential. Having people on your list gives you the freedom to reach them directly in their inboxes whenever you have new content to share or a new product to promote. Otherwise, you'll have to always rely on the Instagram algorithm and paid promos.
The best way to incentivize people to subscribe to your newsletter is by offering something in exchange. It can be a discount code, a checklist, a cheat sheet, toolkit, a case study – any lead magnet you can think of.
However, if you're just starting, a promise of unique high-quality content from you may work as well: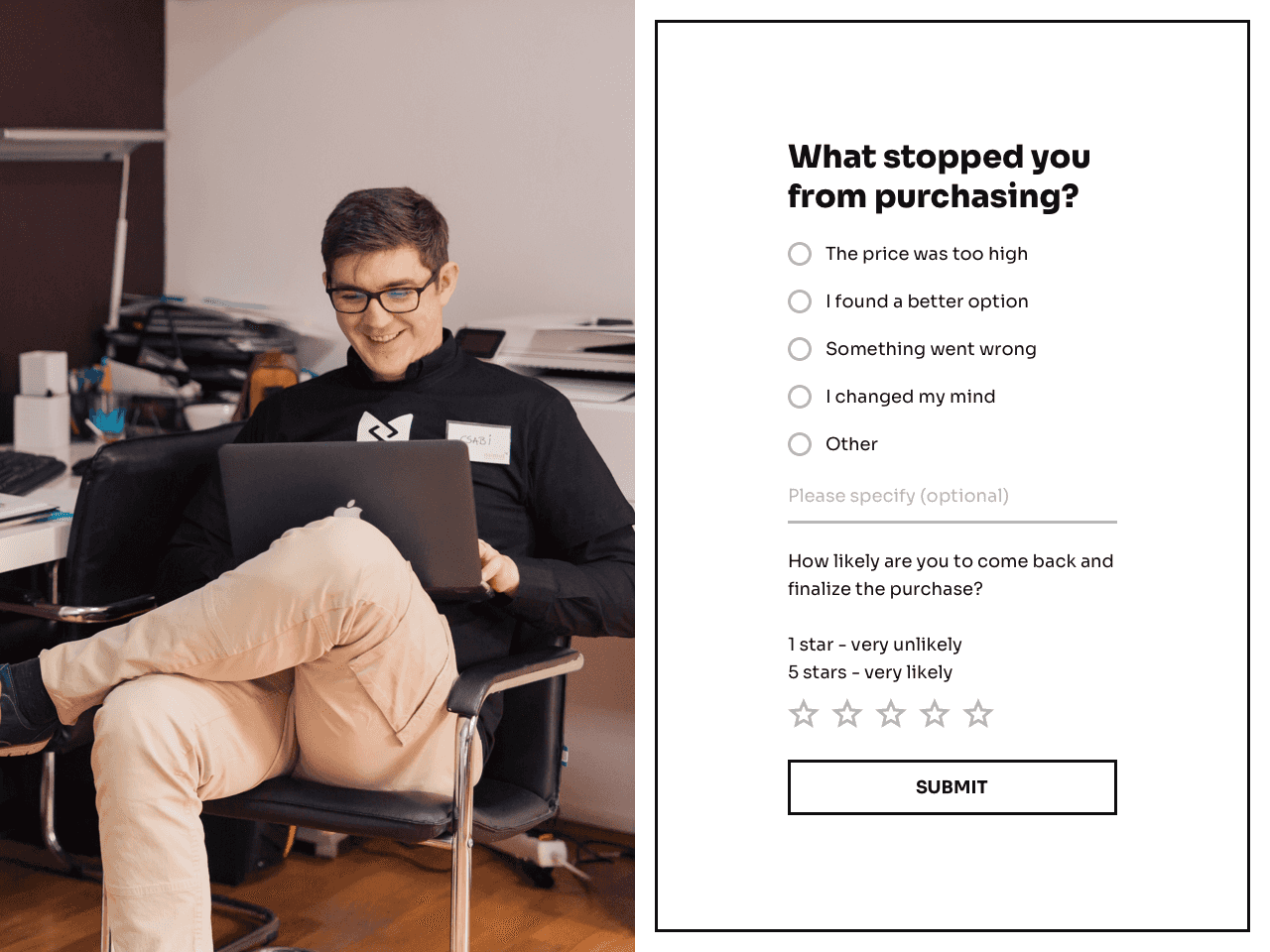 See live preview
Feel free to use this landing page template for your Instagram account. Just make a click to preview the form in a fullscreen mode and follow the instructions to sign up. You'll be able to change the text and the image, and once ready, just copy a direct link to this subscription form and paste it to your Bio.
2. Incentivize customers to share feedback
Some of the best brands in the world have become successful because businesses listened to their customers. It doesn't matter if you're an influencer or a million-dollar company. Getting your customers to provide feedback is a great way to improve and grow.
You can ask for sharing photos with feedback via tags as Beardbrand does:

Or you can link to a feedback form from your URL section. For instance, here is a quick survey example to help you figure out how your new followers have found your profile.
Notice that this landing page includes additional buttons leading to other URLs or forms. You'll be able to customize the buttons or delete them entirely. Check other feedback form templates in the gallery and adjust them depending on the feedback you want to receive.
3. Provide an order or a booking form
Suppose you're selling custom items online. Instead of collecting orders in the comments or DMs, you can link to an online order form that is tailored to what you're offering: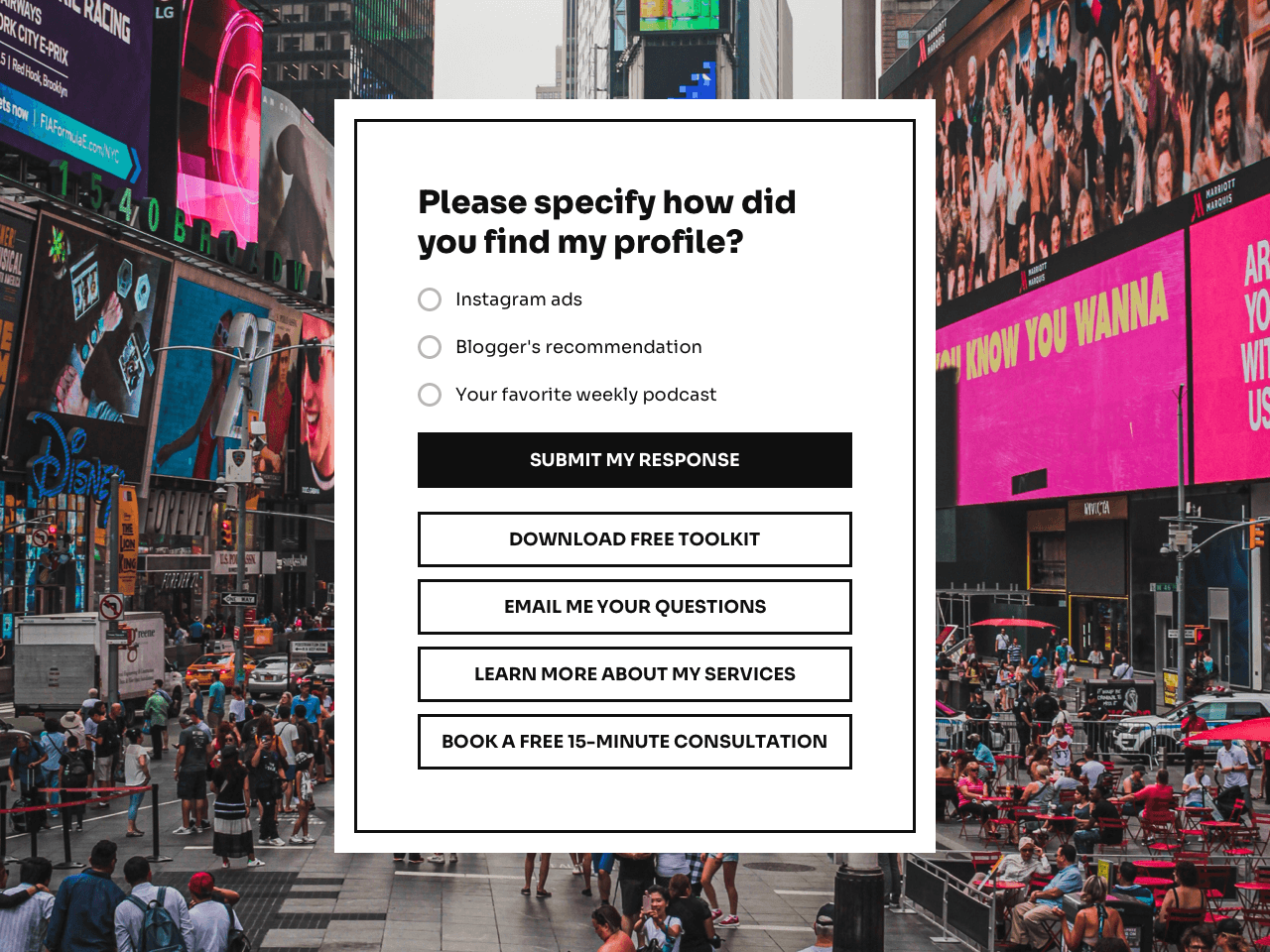 See live preview
When a new client fills out the form, you'll receive a notification via email. Plus, you'll be able to see all the info about the order in your Getform dashboard. It brings convenience for both you and your clients.
If you're providing services, or you own a place that accepts clients by appointment, you can place a booking form instead.
How to optimize your Instagram bio
By now, you already know that your Instagram Bio is only efficient as long as it can get people to respond to your call to action. Tailoring the copy of your Bio to your goals is called optimization. Optimizing your Instagram Bio can be challenging if you've never done it before – especially given that every business is so unique.
To make sure your Instagram is contributing to the growth of your business, you have to align your bio with your business goals.
Where is Instagram in your marketing funnel? Does it primarily attract new audiences or does it help you convert existing followers into paying customers? Once you figure that out, optimize your Bio for that particular step of the funnel.
For example, if you're building awareness with your Instagram and make sales via email marketing – asking people to join your list will be the right call to action.
Here are a couple of examples for some of the most popular freelance niches: photographers and artists.
CTA example for a photographer's Instagram Bio
Instagram is a perfect social media of choice for photographers. The whole medium is centered around photography and visuals, and Instagram is the right platform for showcasing their talent.
The best part? You can start getting bookings straight from your Instagram profile even if you don't have a website yet. Your Instagram feed already serves as your portfolio! All you need is a booking form accessible from your Instagram bio.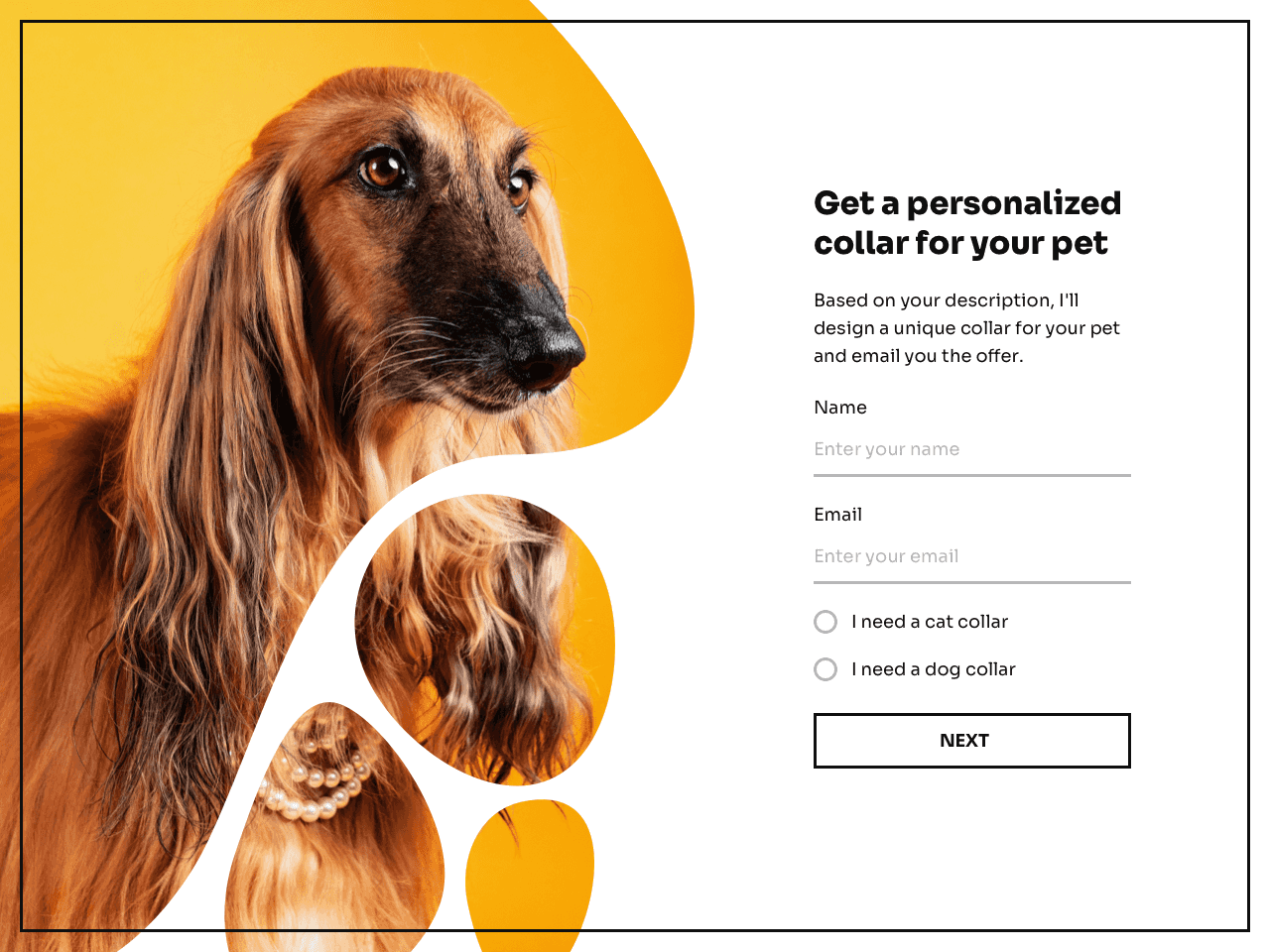 See live preview
Use the Instagram Bio template from the beginning of the article to craft the copy, then add your call to action and link to your booking form to get the ball rolling.
Your CTA may sound like:
"Got questions? Send me a DM! Want to book me for your event? Fill out this form 👇"
or
"Need a new profile photo? Fill out this form, and I'll get back to you within 24 hours"
CTA example for an artist's Instagram bio
For musicians and artists, a booking form might not work. So, what many people in this niche do is they use a 'link tree' – a pop-up page that contains several links in one place.
This is what it may look like: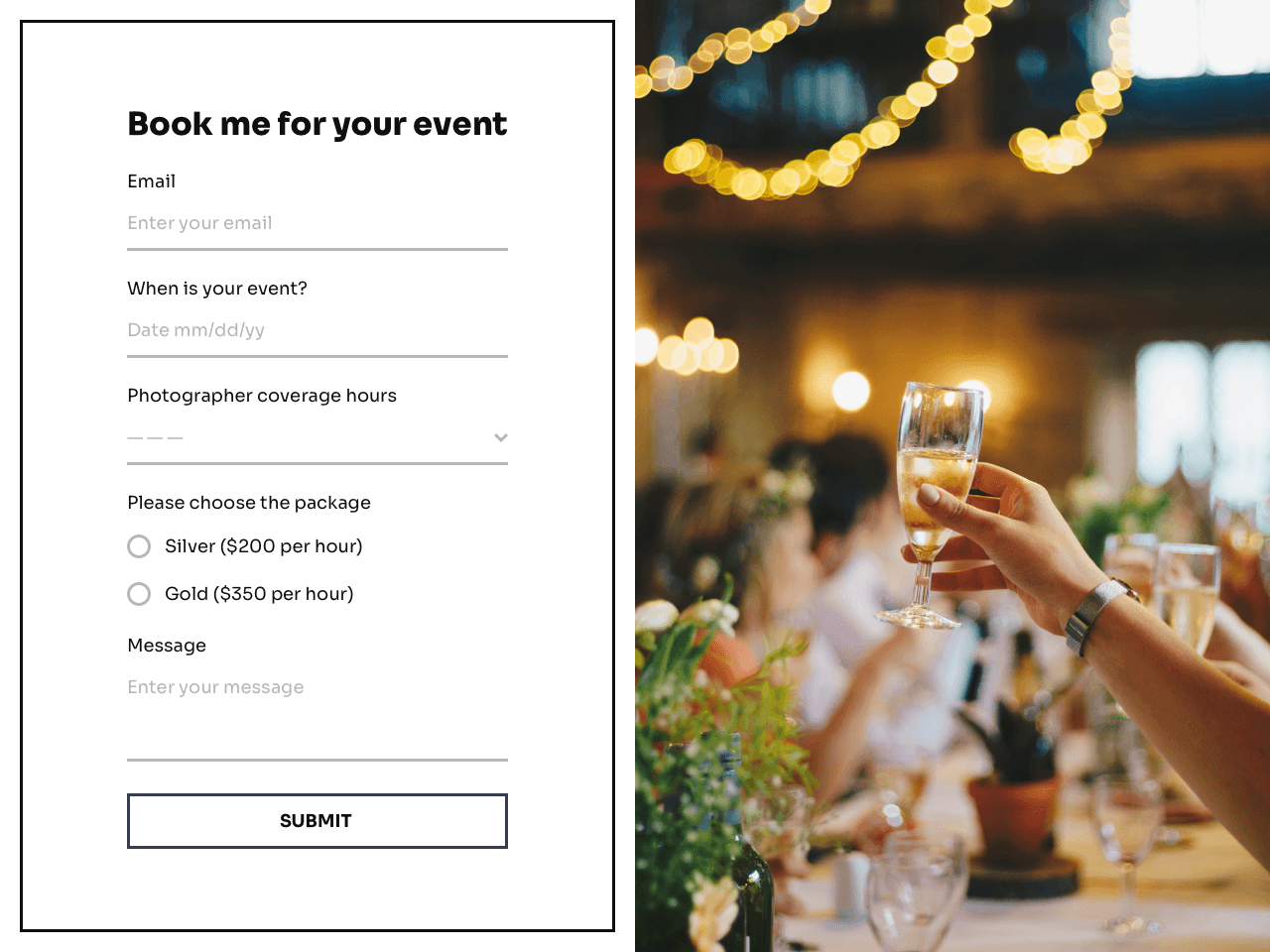 See live preview
Depending on your goals, you can link to other platforms where people can see your art, share your blog or the calendar of events. You'll be able to add fields and capture people's emails or feedback, too.
Here are some examples of calls to action to encourage people to click the link:
"Let's connect"
"See more of my work"
"Visit my studio"
On top of that, you'll be able to use your alias in your link. If you register an account using your name, the links to the forms you'll be creating will look like that: mindfulmike.getform.com/q04v6
Key Takeaways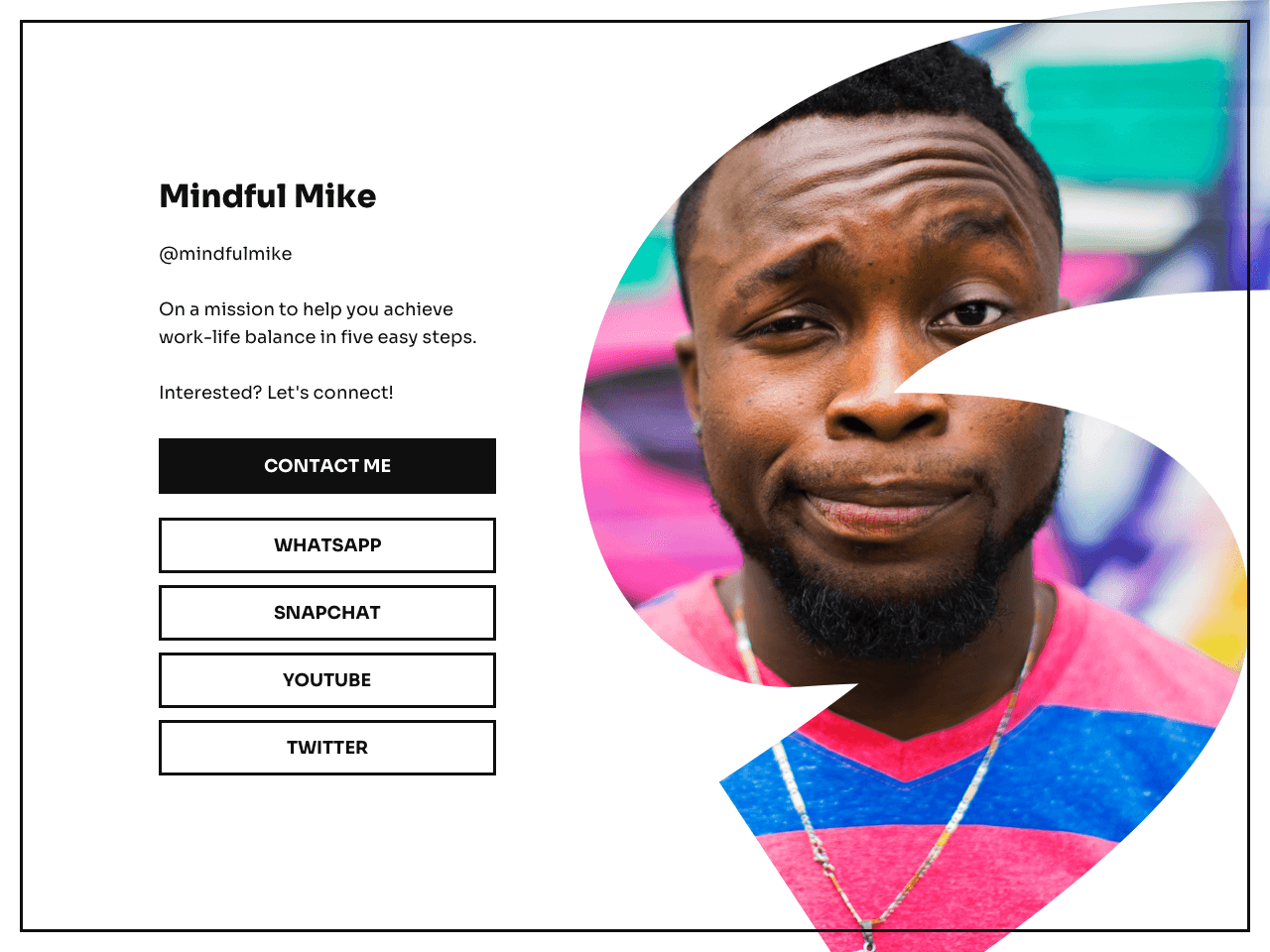 See live preview
When you're writing your Instagram Bio, it's crucial to take into consideration your goals.
Do you want more bookings? Are you trying to sell more books or courses? Do you want people to listen to your music?
You'll achieve your business goals faster if you have a clear idea of what action people should take when they visit your account.
Start writing your Bio with the call to action and gradually expand it by adding more information about yourself and your business. Then use Getform to create a landing page and link to it from the Website section of your Instagram Bio.
Getform is free to try and it doesn't require a credit card or any commitment. Give it a spin to see how it works.
Create Getform account
Optimize your Instagram Bio for conversions.
No coding or design skills required.
Get started
Evgeni runs a tiny, mighty copywriting agency called
Brief-er
. He helps brands sound more human by getting rid of the cookie-cutter with copy that feels like two friends catching up over coffee.

Evgeni Asenov
October 12, 2020
Join creators worldwide
Grow your online business without a website. Generate leads, tag your subscribers, send promo emails, and build automations.
Get started
650K
Forms displayed
this week
30K
Contacts collected
this week
5K
Automations runs
this week
15K
Broadcasts sent
this week