7 Inspiring Ideas to Create a High-Converting Email Capture Landing Page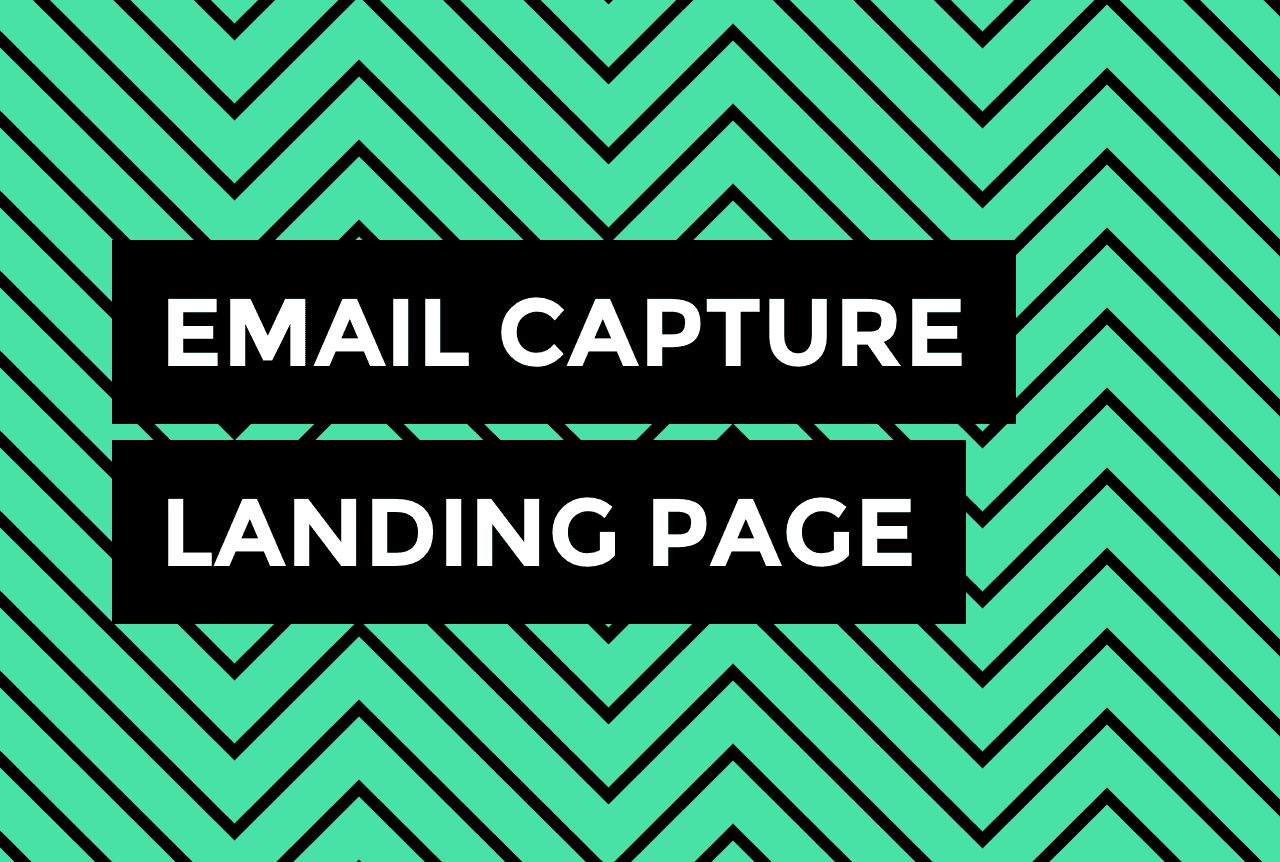 Charlene Boutin
August 24, 2020
- 9 min read
Ever given your email address in exchange for something in return?
Odds are, you've probably done this before. If so, you've encountered email capture landing pages.
The real question is, do you have your own?
Whether you are a solopreneur, ecommerce owner, SaaS company, or course creator, growing your email list is a crucial part of building any business.
Why?
I could go on and on, but here are just a few reasons why email marketing needs to be a part of your business plan:
To grow your email list, you need to capture emails. The best way to do this is via landing pages.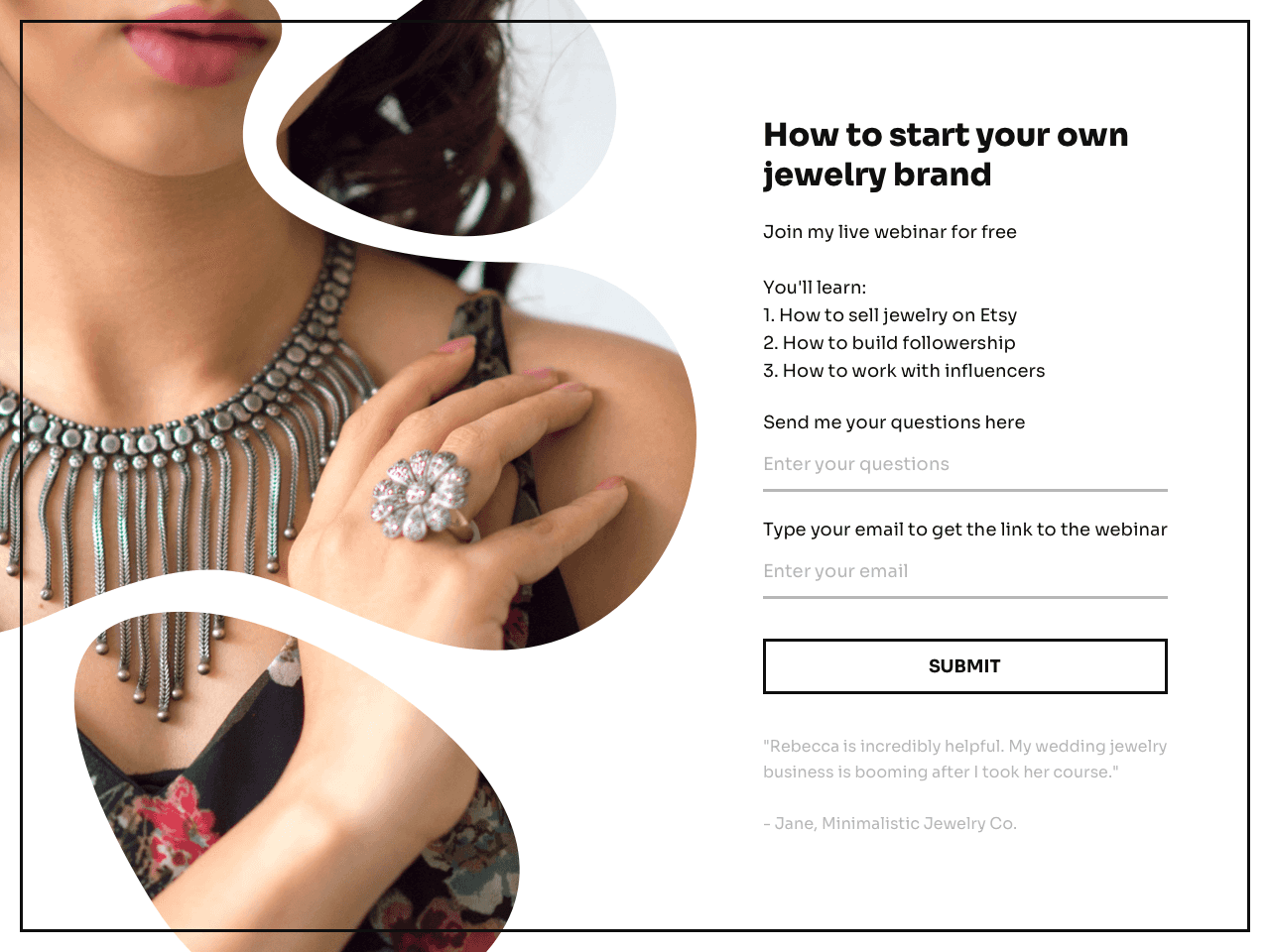 See live preview
And no – you don't need complicated sales funnel tools to get started. In fact, you don't even need to have a website!
What is an email capture landing page?
An email capture landing page – also called an opt-in page or lead magnet page – is any web page designed to get visitors to give their email addresses.
Usually, this page will be standalone from the rest of your website, meaning that there is nowhere for your visitors to click to.
That's because this page exists for a single purpose – capture email addresses!
In most cases, visitors will be given an incentive to sign up.
The more laser-focused your landing page is, the more likely visitors will not get distracted and actually convert.
For example, take a look at You Need a Budget's landing page for Get Started Bootcamp: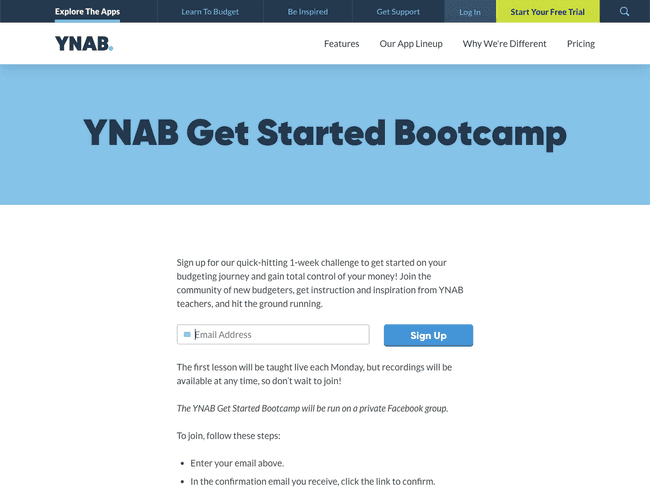 The first thing you see is the big headline, but afterwards, your eyes can go up to the menu and click away – instead of scrolling down to the opt-in form.
This page would likely have a lower bounce rate and a higher conversion rate if the menu header was removed entirely.
What do I need to create a landing page?
Surprisingly, you don't need much to create a landing page.
You can get fancy and design a new page on your website from scratch. However, you have to make sure your page is streamlined and doesn't show your usual website menu.
Another way to go about it is to use no-code landing page builders.
For example, a tool like Getform will help you create a simple standalone email capture landing page that doesn't require you to have a website. That means you can use it even if you're marketing your business on Instagram or YouTube exclusively.
The page may look something like this: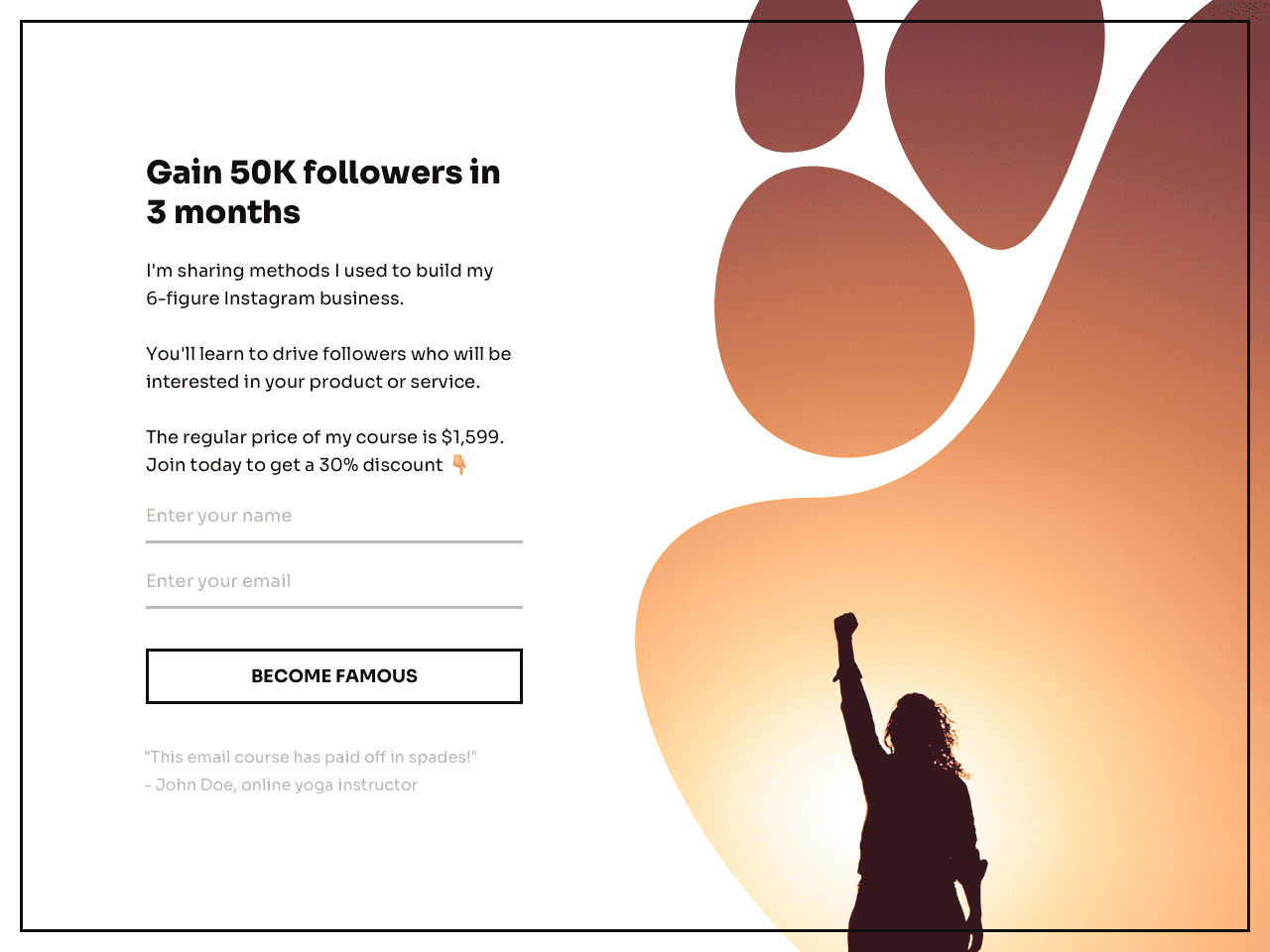 See live preview
This is a pre-designed template, by the way. Click it to activate a fullscreen preview and follow the instructions to turn it into your own email capture landing page. Of course, you'll be able to change the copy, the image, and the colors before publishing it.
Next, you can drive customers to your landing page via a direct link placed in an email, your Instagram bio , your Facebook ad, or anywhere else. In other words, you can start capturing emails and growing your list before you invest in a full-featured website.
Whichever route you decide to use, make sure you have opt-in bait – also known as a lead magnet – to entice your visitors to give their email address.
That's all you really need to get started!
Try Getform today
Create a beautiful email capture landing page, tailored for your brand. Dozens of templates, zero coding.
Get started
7 examples of compelling email capture landing pages
Not sure what to offer on your landing page in exchange for email addresses, or how to structure your page in the first place?
Here are seven awesome examples of engaging email capture landing pages to inspire your own! ✨
1. Kate Mckibbin – free online masterclass
Offering free masterclasses that are relevant to your target clientele is a great way to grow an email list.
This first example shows how simple you can start with your landing page, even if you are offering a complex training.
Although some of the other examples below are much longer than this one, it isn't always necessary. Sometimes, less is more!
Kate's free online masterclass landing page has the four minimum viable elements you need to create an engaging experience for your audience and capture their email:
An attention-grabbing hook. 'Want to steal my 5k funnel?' grabs your attention and piques your curiosity. Keep in mind that Kate most likely targets an audience that already knows what sales funnels are.
Benefit-driven description. Below the hook, you can clearly read the reason why you should join the masterclass: you'll discover Kate's 4-steps to automated, recurring revenue from your courses.
Outcome-driven description. Before the call to action, Kate ads a final descriptive sentence that doesn't just display the benefit, but also the outcome that she promises if you attend her masterclass.
The call-to-action button. When you click this button, a popup appears to allow you to sign up for the masterclass at the time you prefer.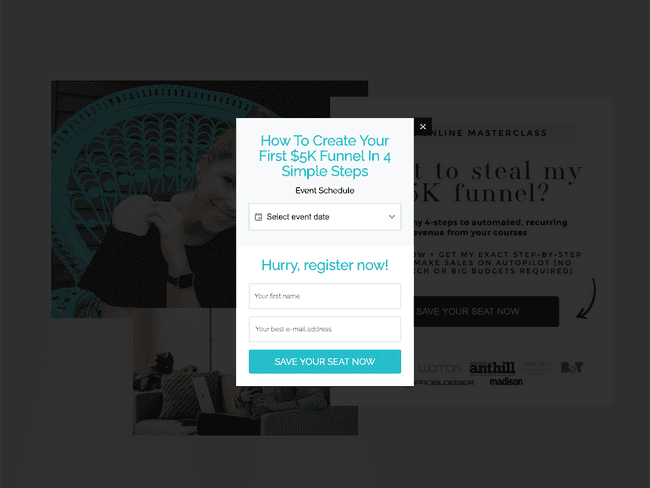 In addition to this, Kate added a social proof banner with the logos of publications she's been featured in. While you don't have to do this, it does add an element of authority.
So, if you have been featured in publications, don't be afraid to flaunt it!
2. Sandy Viteri – program waitlist
If you're selling an online course – or offering a high-ticket service that isn't always available – you can use a waitlist landing page to capture emails.
Typically, you'd want to send people who already know you and your brand to this type of page. This could be people who follow you on social media, your blog readers, or perhaps existing email subscribers who have shown an interest in this product or service.
Once again, you can keep this type of landing page simple.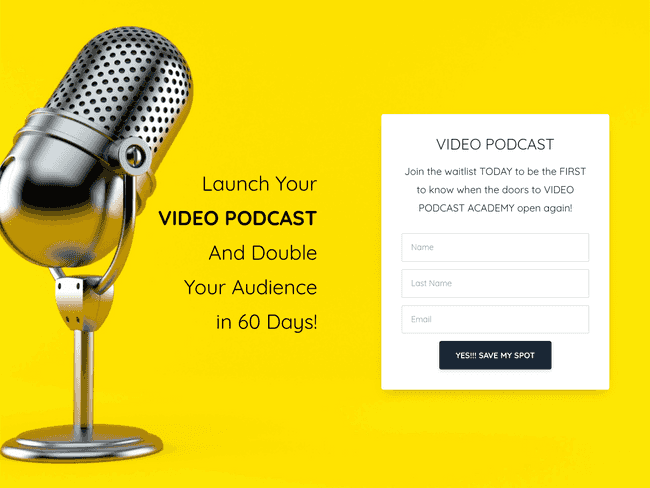 Sandy's page consists of a simple opt-in form with a one-sentence benefit-driven description. Her headline also describes the desired outcome from taking her online course: launching your video podcast and doubling your audience in 60 days.
Because this landing page isn't designed for completely cold audiences – people who don't know her brand – Sandy kept this page as minimalist as possible.
If you liked this landing page (or, better yet, if you happen to be launching a video podcast!), we've prepared a template just for you.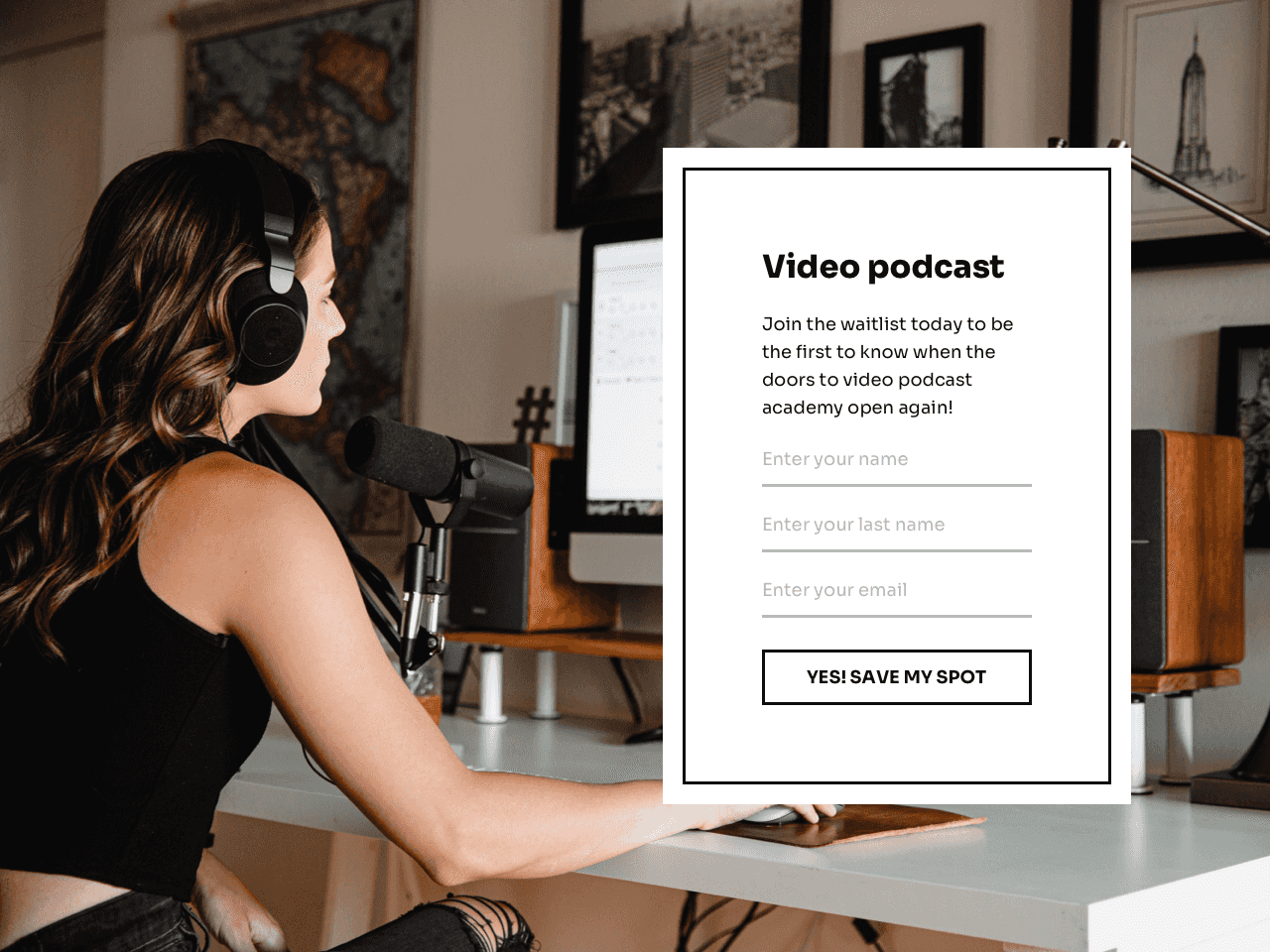 See live preview
Make a click on it to launch a fullscreen preview and follow the suggested instructions. Once you add the template to your Getform dashboard, you'll be able to edit the copy and the fields.
3. Sage Polaris – email templates
Now we're getting into more complex landing page territory!
Depending on your expertise, you could offer templates or swipes as an incentive to capture emails.
In the case of Sage Polaris , who specializes in copywriting for online course launches, she knows quite a lot about email – and how to nurture her email subscribers.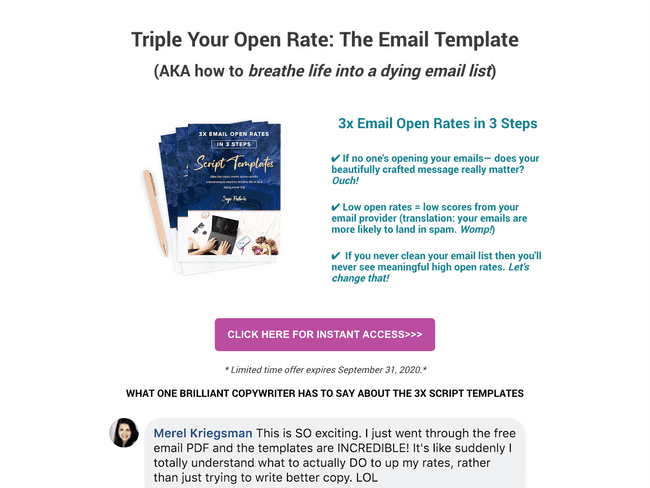 The top of her page isn't dissimilar to the previous examples. She piques your curiosity with an interesting hook, then explains the importance of improving your open rates before her first call to action.
But if you visit her page, you'll see it's much longer than that.
So what else does she cover on her email capture page?
A short blurb about who this is for
Some information about how to use the templates
Testimonials from people who have used her templates
A section that introduces who she is and why her expertise can be trusted
A deeper description of the benefits you can expect from using these email templates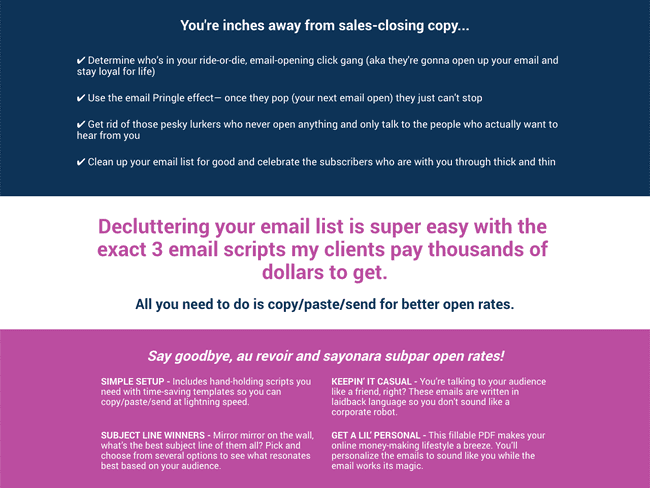 While a longer page isn't always necessary, it can help you further convince people of the reason why this resource is important for them.
And because Sage has been promoting this template for a long time, she has plenty of testimonials to choose from to help her spruce up that social proof and authority.
So if you have testimonials to show, definitely sprinkle those on your landing page!
4. Heather Sager – PDF guide
PDF guides aren't dead. If you have built an amazing PDF resource that helps your subscribers solve a problem or get one step closer to their goal, you can use this to grow your email list.
Make sure your landing page describes what this PDF resource will help your audience with.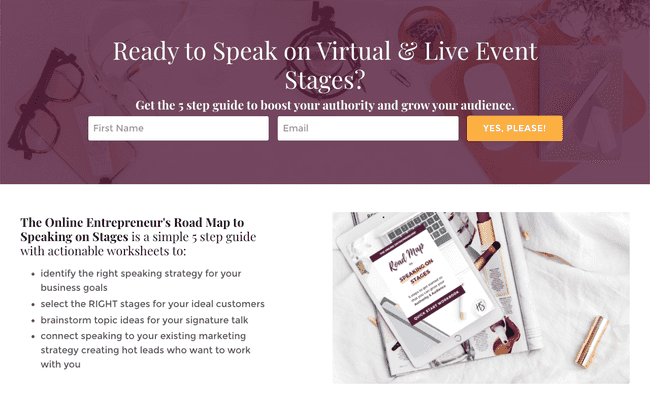 In Heather's case, her PDF includes an actionable worksheet that provides the first step for her potential clients to take on their own.
Not only does this help her grow her email list by providing amazing value, but it also gets her subscribers one step closer to being ready to work with her!
Apart from the basic info about the outcome of her PDF guide, Heather also created a short section about who she is, just like Sage did.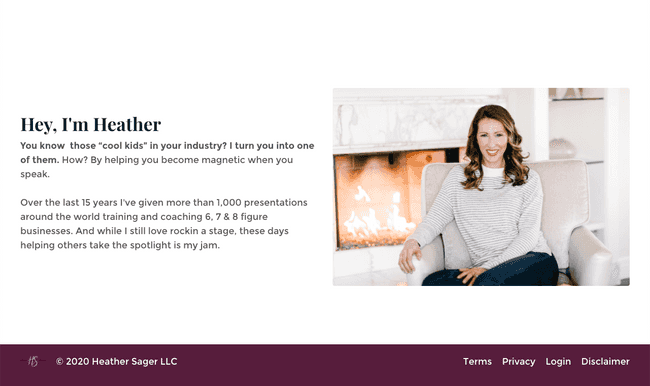 This helps with building authority, yes, but it has the added benefit of qualifying her audience. How so?
She explicitly states what her business does – help people become magnetic when they speak. If someone lands on this page and has no interest in becoming a speaker of any sort, they will understand that Heather is not for them.
On the other hand, the people who desire to get past the roadblocks that are preventing them from becoming great speakers will be magnetically drawn to her.
5. Convertkit – Saas workshop
Email capture landing pages aren't just great for service providers and course creators.
Software-as-a-service (SaaS) brands can also leverage landing pages to capture more emails in the hopes of converting more people to their paid subscription.
And while you can use a free trial to attract new subscribers, you can do much more than that.
What's a good way to ensure that the people who try out your product will succeed? Free workshops!
Convertkit runs several free workshops each month exactly for this reason. They are invested in the success of their audience, whether you are a paying customer or not.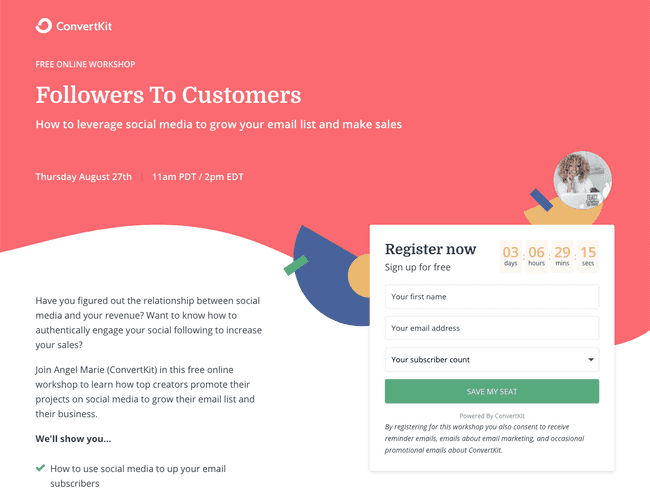 This landing page is accessible to the public, which means that you don't need to be a paying customer to sign up for this free workshop.
Because Convertkit is an email service provider, it makes sense that this workshop helps participants grow their email list and make sales.
Notice that unlike Kate's free training, this webinar has a countdown timer. This is because they are giving this workshop live.
If you want to give a live workshop, masterclass, webinar, etc, you should definitely use a countdown timer to add scarcity to your email capture landing page.
It will also indicate to your audience that the workshop is truly live, which can be a positive factor for people who want to ask questions after the presentation.
6. Tori Autumn – free book chapter
Alright – not everyone has a book that they wrote just lying around. But if you have written a book, you can repurpose it into a powerful list-building asset.
Tori Autumn , who coaches her clients on self-love and healthy relationships, has more than one email capture landing page. But one of them uses this exact strategy.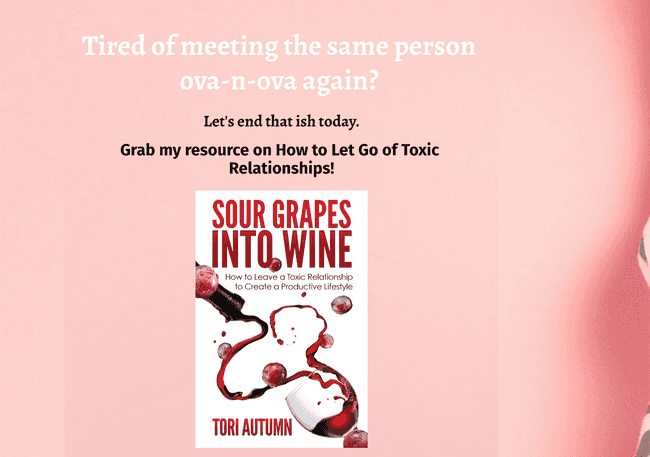 Her landing page is relatively simple – she introduces her book, then breaks down how the free chapter she's offering will benefit her audience.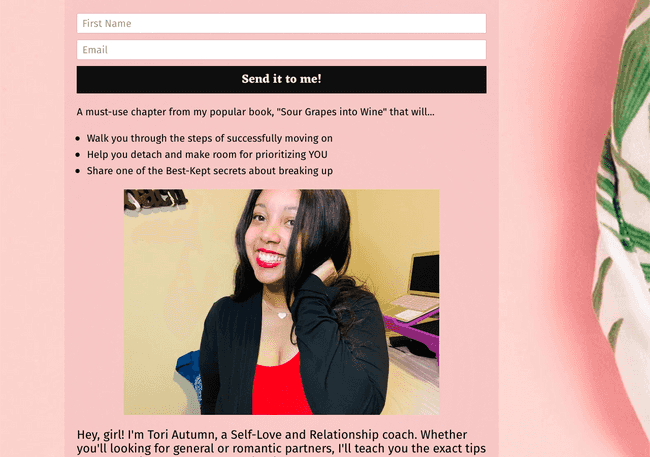 If you scroll down lower, you'll also find some info about her, as well as some testimonials.
Just one caveat if you're going to try this – make sure that your book, or at least the chapter that you're giving away, is actually related to your paid offers. For instance, if you wrote a book about health and fitness, but run an ecommerce business that sells handmade beauty products, the subscribers you would get from using your book as an asset wouldn't be valuable leads for your business.
7. Hillary Weiss – free feedback round
If you're tired of trying the same strategies everyone else is using – PDFs, free trainings, templates, etc – you can take a page from Hillary's book and offer something a bit more unique.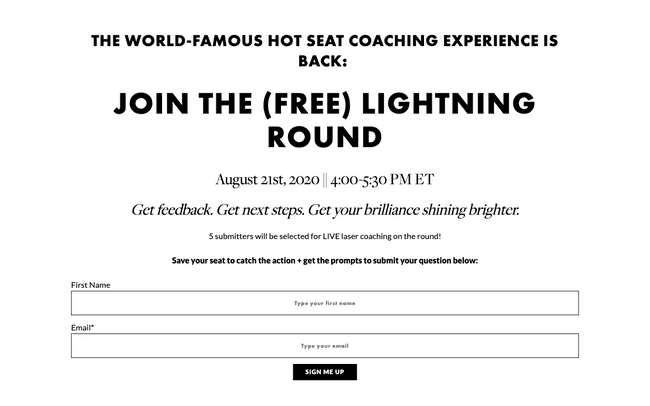 Unlike other free workshops or masterclasses, Hillary's lighting round event is not pre-recorded, or even pre-planned, for that matter. The content will entirely consist of her giving laser-focused coaching to five of the attendees who sign up.
She also gives the option to sign up without submitting a question, which is perfect for people who just want to learn from others – or who want a taste of what Hillary can do for them.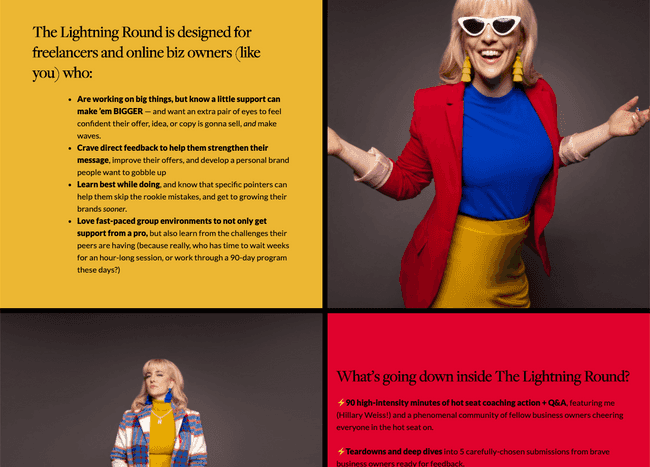 Here's the thing – this sort of email capture strategy does require some effort. But it's also an amazing way to showcase what you're capable of while offering real, actionable transformations for your attendees.
This type of live feedback session also works in a similar way to a contest. Because only five people will have a chance to get feedback from Hillary, there's an incentive to sign up JUST to get that chance. That's because she rarely offers one-on-one support like this for free.
This can work for a variety of business types, not just coaches and service providers. For example, if you sell products, you can provide laser coaching that is related to the products you sell.
Create your own email capture landing page the easy way
Looking at all these landing pages can be a bit intimidating. But truth be told, building landing pages is simpler than you think.
One of the easiest ways to create an email capture landing page without any tech or coding experience is by using Getform.
Because you can choose from an array of existing templates, you can have a simple landing page ready to go in minutes. Get started for free to start capturing emails and growing your business!
Try Getform today
Create an email capture landing page in minutes.
Works even if you don't have a website!
Get started

Charlene Boutin
August 24, 2020
Join creators worldwide
Grow your online business without a website. Generate leads, tag your subscribers, send promo emails, and build automations.
Get started
650K
Forms displayed
this week
30K
Contacts collected
this week
5K
Automations runs
this week
15K
Broadcasts sent
this week