Meet Getform. Form sharing without limits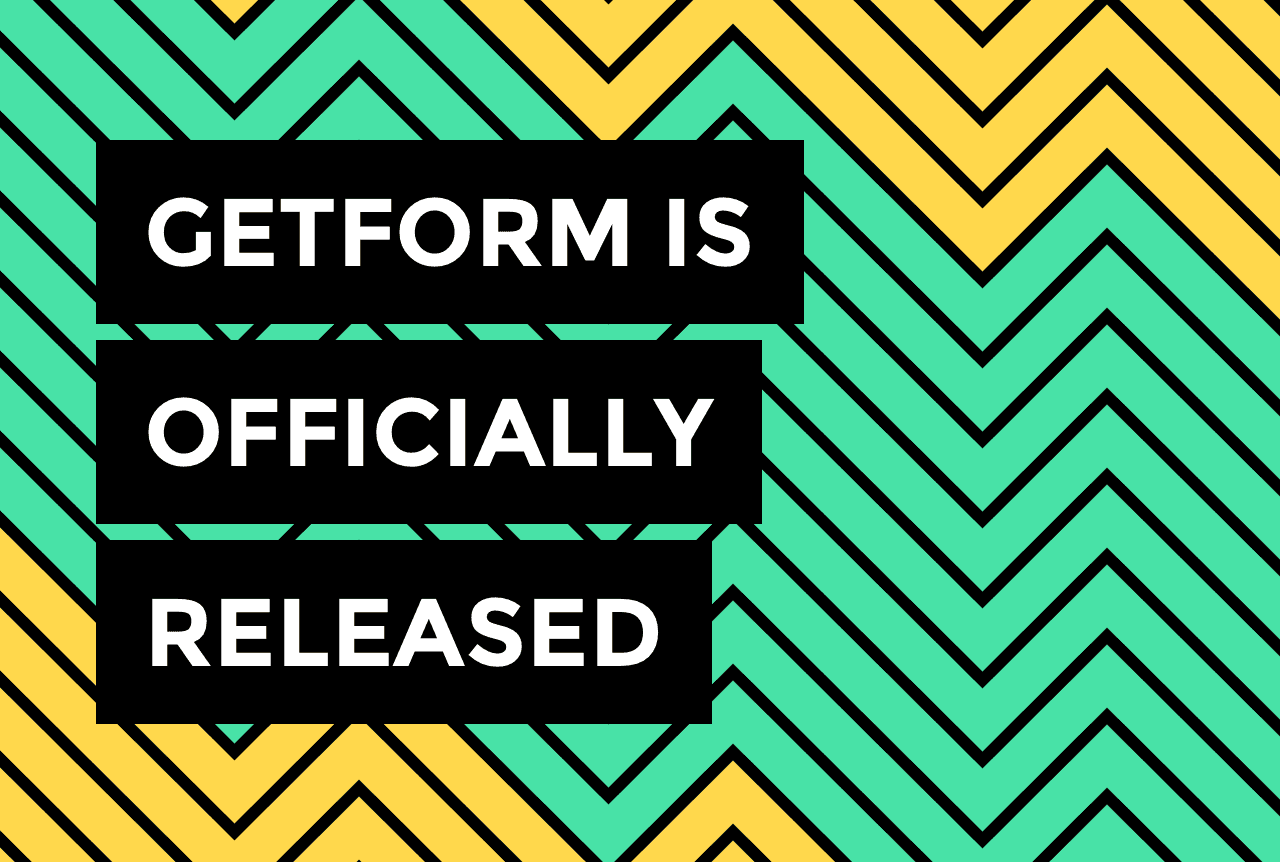 Natti Larsson
August 19, 2020
- 4 min read
After many months of working on a secret project, we're thrilled to announce that it's finally going live!
Meet Getform – your ultimate online form builder 🎉
Getform is designed to help you create beautiful custom forms and share them via direct links.
You can send forms via email, link to them from your Instagram bio or WhatsApp status, publish them on social media – or anywhere else!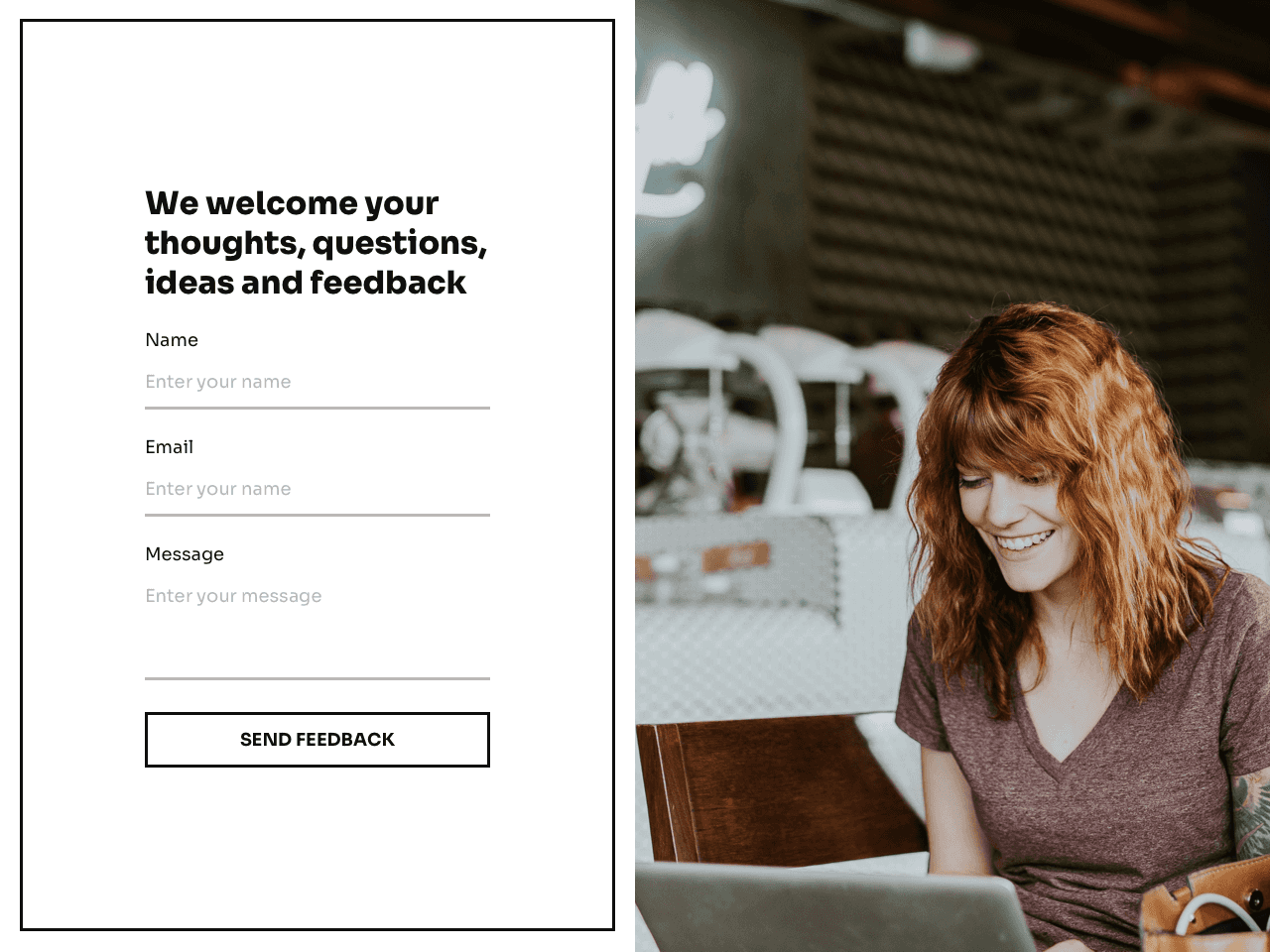 See live preview
This nifty little tool will be perfect for:
conducting surveys
collecting online orders
capturing email addresses
leveraging your Instagram bio
and much more!
The best part is that you don't need to have technical skills to use Getform! We designed it to make sure that creating professional-looking forms will be a piece of cake.
See it for yourself 👇
How Getform works
Once you register a Getform account, there are three steps to follow:
Create a form
Get a link to it
Share the link
Don't feel like creating a form from scratch? Then check out the Template gallery with dozens of popular form types. Pick a template to your taste, adjust the copy if you need to, share it with your audience, and start collecting responses.
All the data submitted through the form will be stored in your Getform dashboard for you to view and download at any point. Additionally, you'll be able to integrate Getform with Google Sheets, your CRM, email marketing software, or other apps – and store the data there. More on that in a few paragraphs.
Essential features to help you succeed
This is the first version of Getform, but we've already added plenty of tools you can take advantage of. Let's review the main features to give you an amazing headstart!
User-friendly dashboard
Did you think form creation is a boring or complicated process? Think again.
Getform brings an intuitive wizard-based form builder with a clean interface, layout templates, and multiple presets to create a stunning form in a couple of clicks.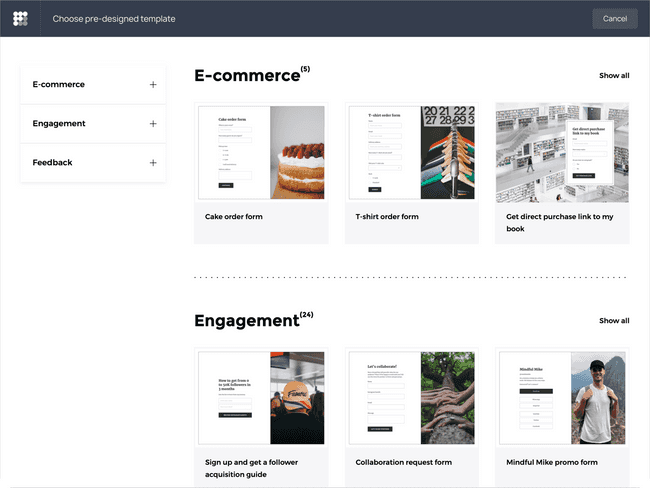 Perfect mobile and desktop appearance
All the forms you create automatically adapt to smaller screens to provide the best experience for mobile users. You don't even need to do anything!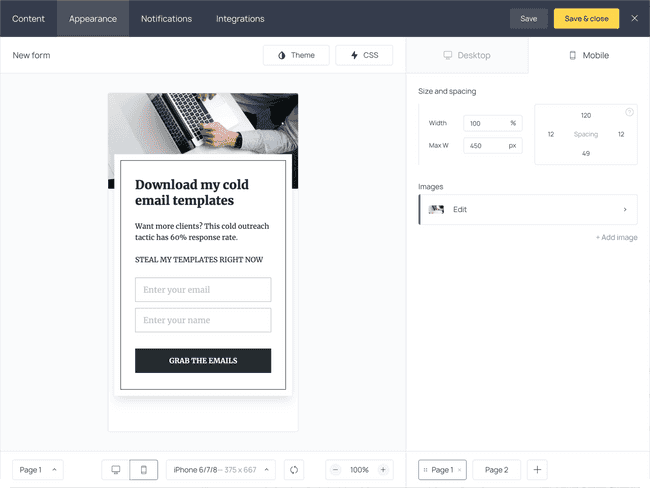 If you want, however, you'll be able to change the sizing and the image for the mobile version using a separate tab designed specifically for that. When designing your forms, you can also preview them with different screen resolutions right in the dashboard to ensure everything looks impeccable on any device.
CSS editor
Need your form to look in a very particular way? If you know a bit of coding, you can take its customization to a deeper level with a built-in CSS editor. Access color, size, font, and position controls right in the dashboard to achieve the desired look.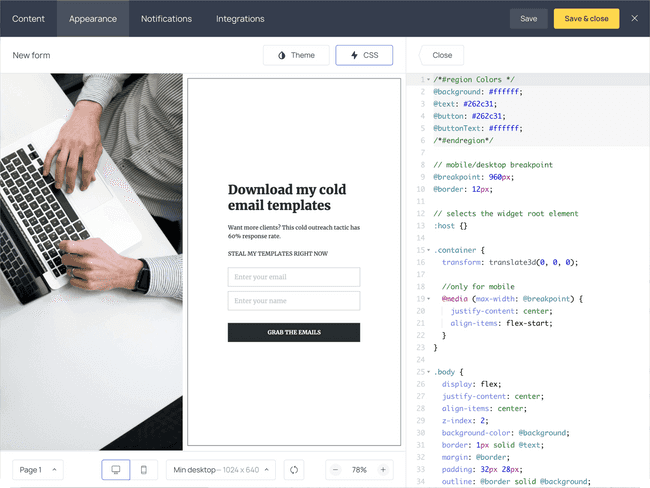 Multi-page forms
Your forms won't be limited to one page only! You can create as many pages as you want and design each of them individually. Multi-page forms are helpful for breaking questionnaires into multiple steps, adding intros, displaying success and thank you pages.
Built-in image search
Have you ever spent hours looking for a perfect image? We know the pain! And that's why we've added a large gallery of high-quality images right to the dashboard. No need to spend time turning every stone on the Internet.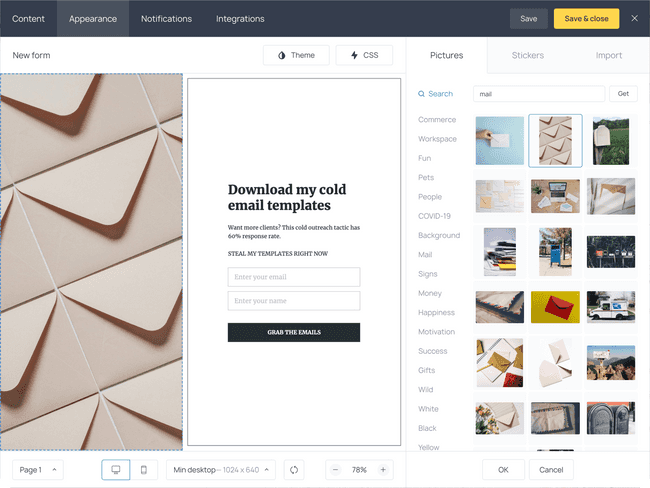 You can sift through a collection of stickers, add high-class images from Unsplash and eye-catching GIFs from GIPHY. On top of that, you'll be able to import images directly from Instagram. Now, how cool is that?
Seamless integration
If you're going to use online forms for growing your business, you might want to connect it to other software that helps you stay organized. Getform allows you to do that easily!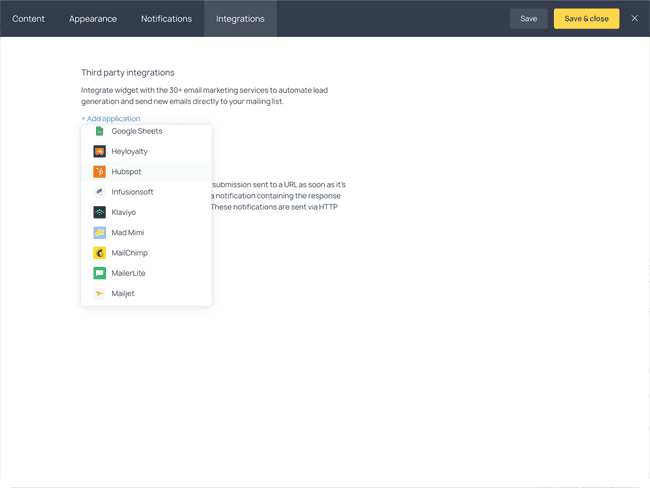 For instance, if you're working on growing your audience, you can integrate Getform with the most popular email marketing services and send all the submitted email addresses directly to the list. For those of you who prefer using other ways to store data, you can also integrate forms with Google Sheets, CRM software, hundreds of apps from the Zapier library, and webhooks.
So far so good? And we're just getting started!
What's on the roadmap
In the next version of Getform that we're already working on, you'll see more awesome features.
For example, apart from online forms, you'll be able to create inline forms. That means all you creative bloggers out there will get a handy tool for embedding email capture forms (or any other forms, actually) right into the text.
Another upcoming feature to be excited about is the skip logic and branching for surveys. It will allow you to create multi-level surveys and redirect respondents to specific questions depending on the answers they provide.
Are you thrilled yet? Stay posted to be the first one to try them out.
How you can use Getform: ideas to get started
There are probably over a hundred cases when having your own online form is helpful and even crucial for your business.
To help you get started, we've prepared a few ideas you might want to try.
Create an order form for your Instagram online store
Starting your online business on Instagram? Whether you're selling products or services, you probably need an order form to refer customers to.
Getform got your covered. You can grab one of the online order form templates from the gallery or design your own from scratch.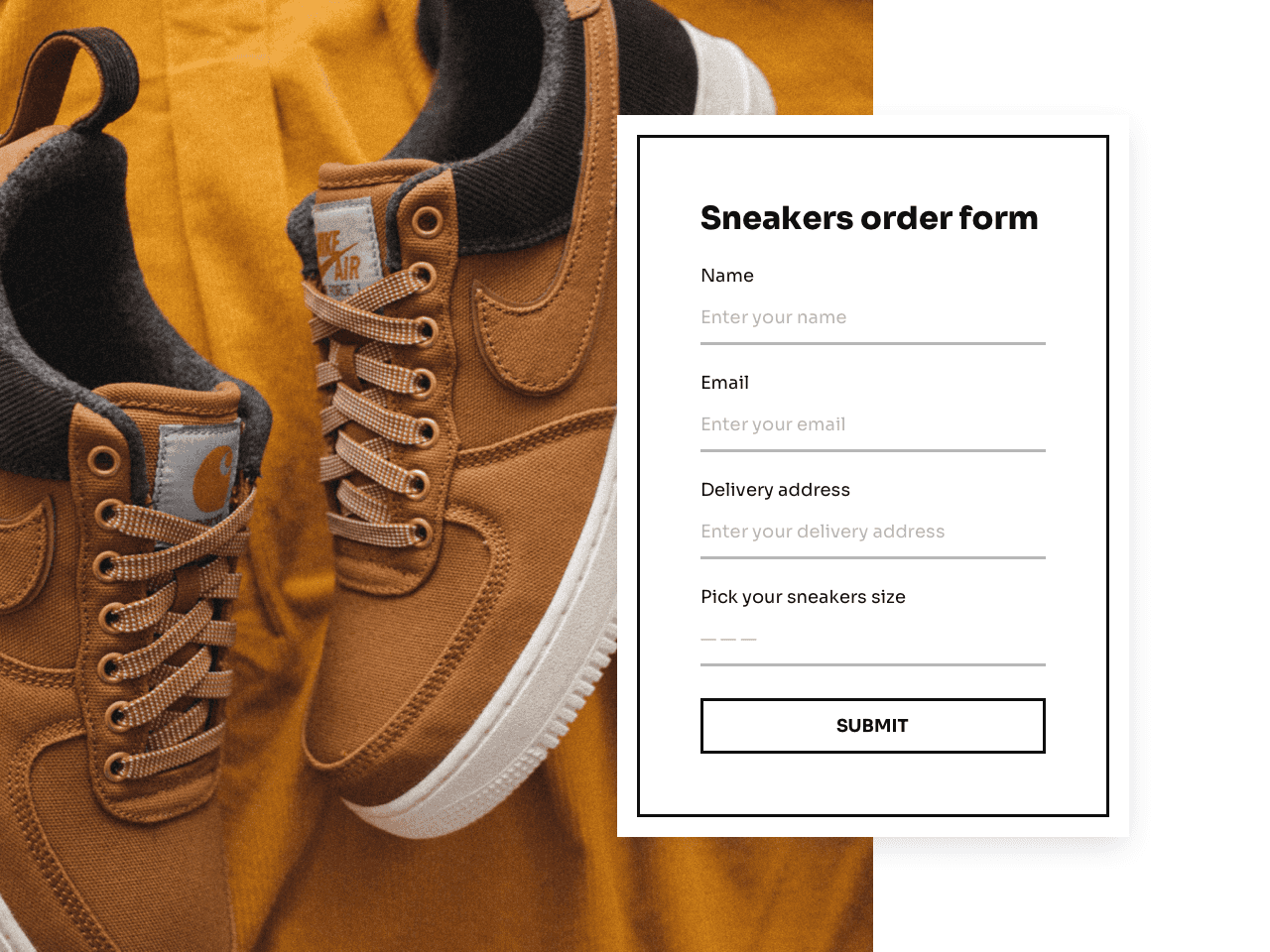 See live preview
Once you do, copy the link to it and paste that link to your Instagram bio. When your potential buyer clicks the link, the order form will pop up in a new window and they'll be able to fill it out.
The submissions will be collected in a convenient report downloadable from your dashboard. Easy as ABC!
Collect feedback using survey forms
Everybody needs feedback. Valuable insights from customers, colleagues, peers, or followers can help you take your project to the next level.
And thanks to Getform, collecting feedback has never been easier.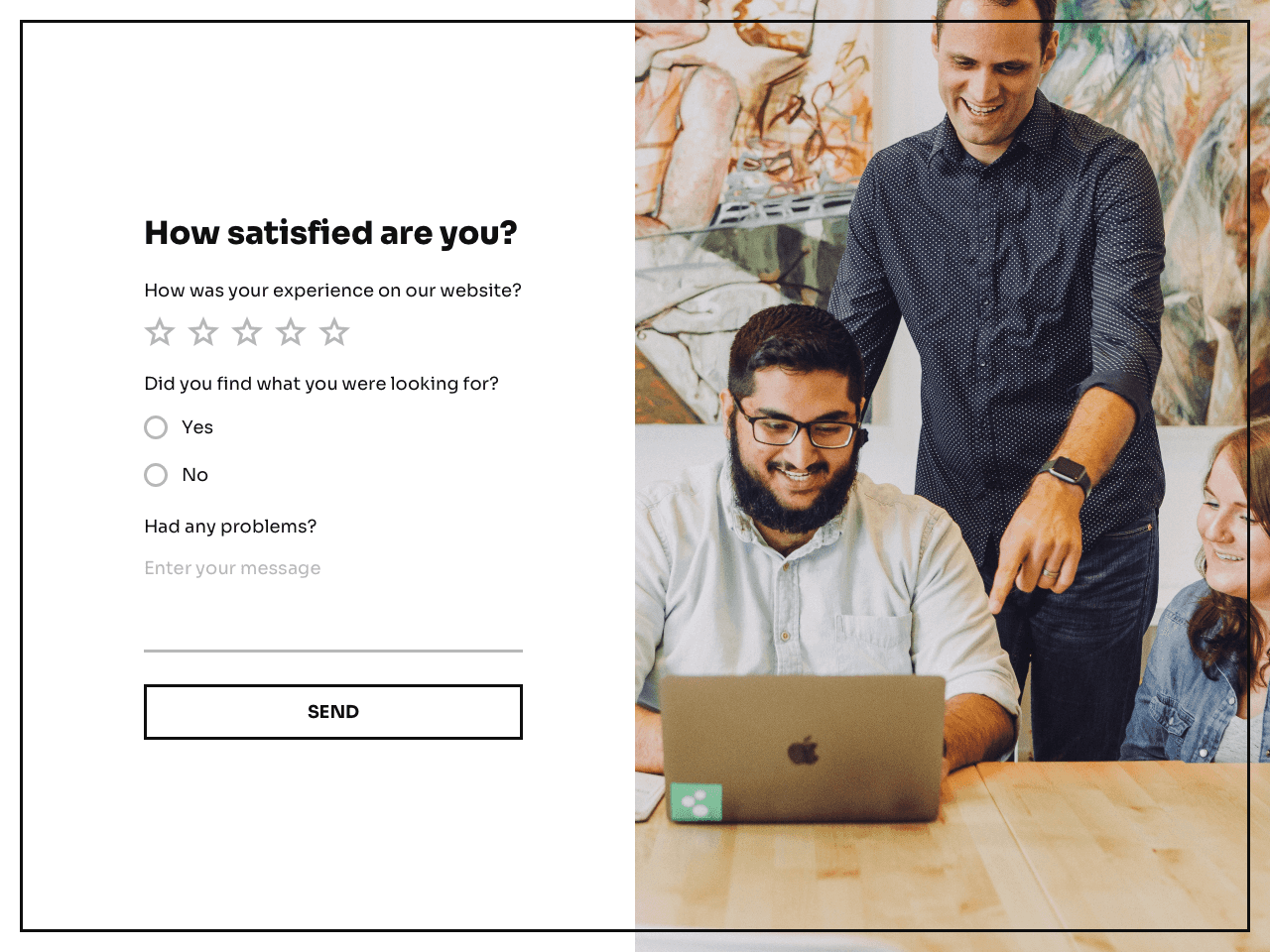 See live preview
Create your own feedback survey form and publish it openly on one of your platforms or share it directly with those whose opinion matters to you.
You can customize response options using checkboxes, dropdown menus, radio buttons, and star rating scales. You can also capture emails of the respondents or provide them with something valuable at the end of the survey. For instance, you can add a link to download exclusive content or display a discount code.
Grow your email list with an opt-in form
Email has a 3x greater reach than Facebook and covers a 15x more audience than Twitter. With Getform, you'll be able to attract email subscribers on any platform and grow your list faster.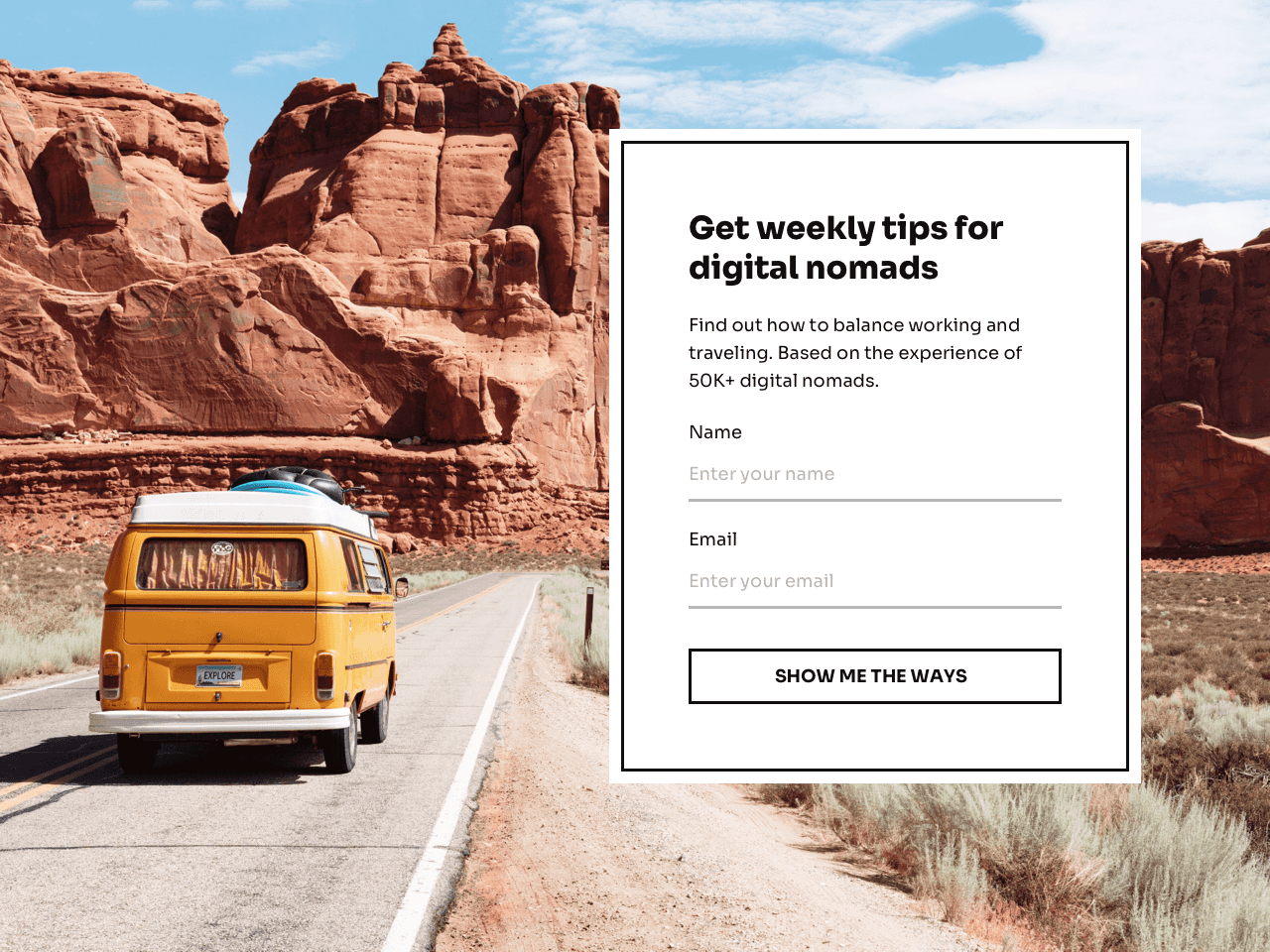 See live preview
Pick a preset from the template gallery or create a form by yourself, and link to it from your Youtube video descriptions, Instagram bio, Twitter, Facebook posts, email signature, or anywhere else.
Drive your audience to other platforms
Growing your social media presence? Then you want to make sure your followers connect with you on multiple channels. The most elegant way to cross-promote multiple platforms is by creating a so-called "link tree".
Essentially, it's a pop-up landing page featuring links to your pages, blog posts, videos, or direct downloads. You can easily create such a page using Getform and share it with your audience via a short direct link.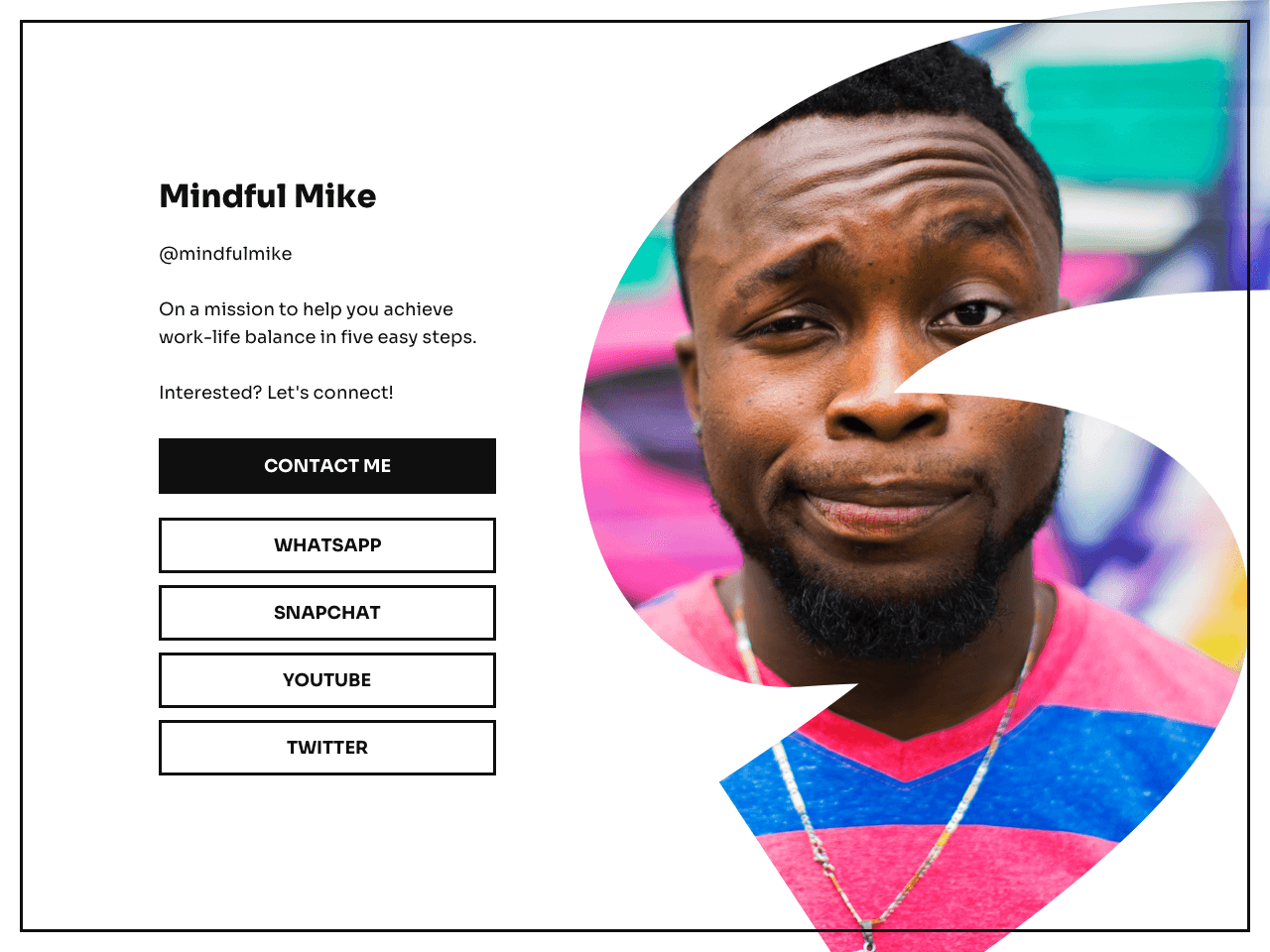 See live preview
Grab this template and tailor it to your needs by changing the image, adding or removing buttons, placing an email capture or any other form. This is a perfect solution for such platforms as Instagram and WhatsApp where you can only use one URL in the profile description.
Try Getform today
Ready to dive into the world of stylish forms reflecting your brand? Then go ahead and create an account right now.
Got any questions? We're on Twitter, Facebook, and Instagram. Ask away!
Try Getform today
Add customer feedback forms to your website.
No coding. No credit card. No commitment.
Get started

Natti Larsson
August 19, 2020
Join creators worldwide
Grow your online business without a website. Generate leads, tag your subscribers, send promo emails, and build automations.
Get started
650K
Forms displayed
this week
30K
Contacts collected
this week
5K
Automations runs
this week
15K
Broadcasts sent
this week