How to Get Emails from Your Instagram Followers: Step-by-Step Guide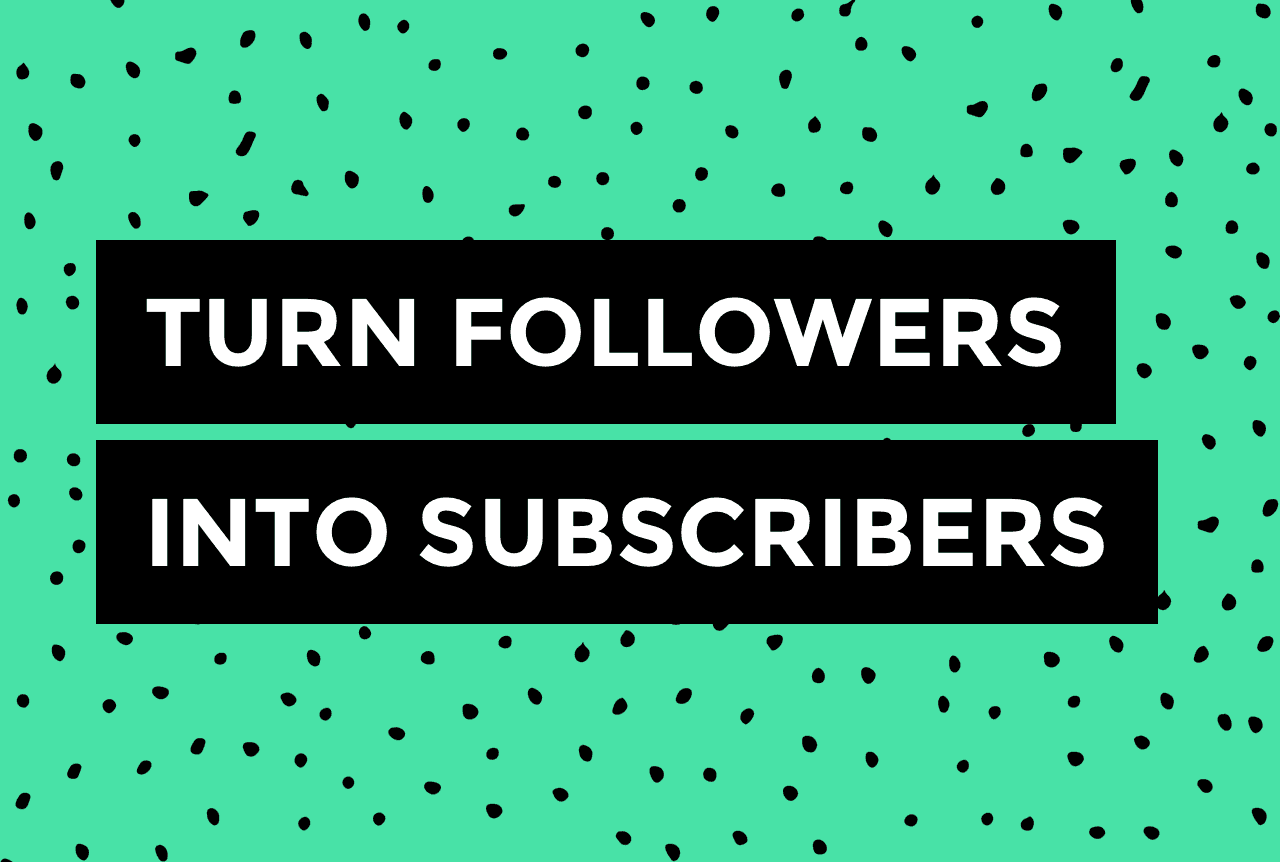 Jackie Pearce
September 28, 2020
- 5 min read
When it comes to marketing on social media, few platforms beat the power of Instagram.
As of 2020, Instagram has one billion active users on it every single day, making it one of the best platforms to find potential customers.
However, most businesses get stuck trying to turn their audience into anything tangible off the platform.
For example, you may have thousands of followers, but how do you make sure you can reach them all when you need to announce a special offer or promote a new product?
By getting your Instagram followers to join your email list.
Once they do, you'll be able to maintain the conversation in their inbox without worrying about the quirky Instagram algorithm.
In this post, we'll show you exactly how to get emails from Instagram followers and turn them into engaged subscribers.
Why it's important to collect emails from Instagram followers
Most business owners remember a few years ago when Facebook decided to make changes and ruin organic reach for brand pages.
Big brands who had spent their time and energy building massive followings quickly lost touch with their audience almost overnight. All of a sudden, they now had to pay Facebook if they wanted their posts to show up in the feed of people who already liked their page.
The smart brands stayed ahead of the curve and converted these people to their email subscribers. Whether or not Instagram is going to take the same path is still yet to be seen, but either way, the sooner you build your email list, the better.
One of the best ways to do that is via the link in your Instagram bio – the only promo link allowed by Instagram. Some businesses use it to drive people to their online stores, but instead, you can link to your Instagram landing page designed to collect emails 👇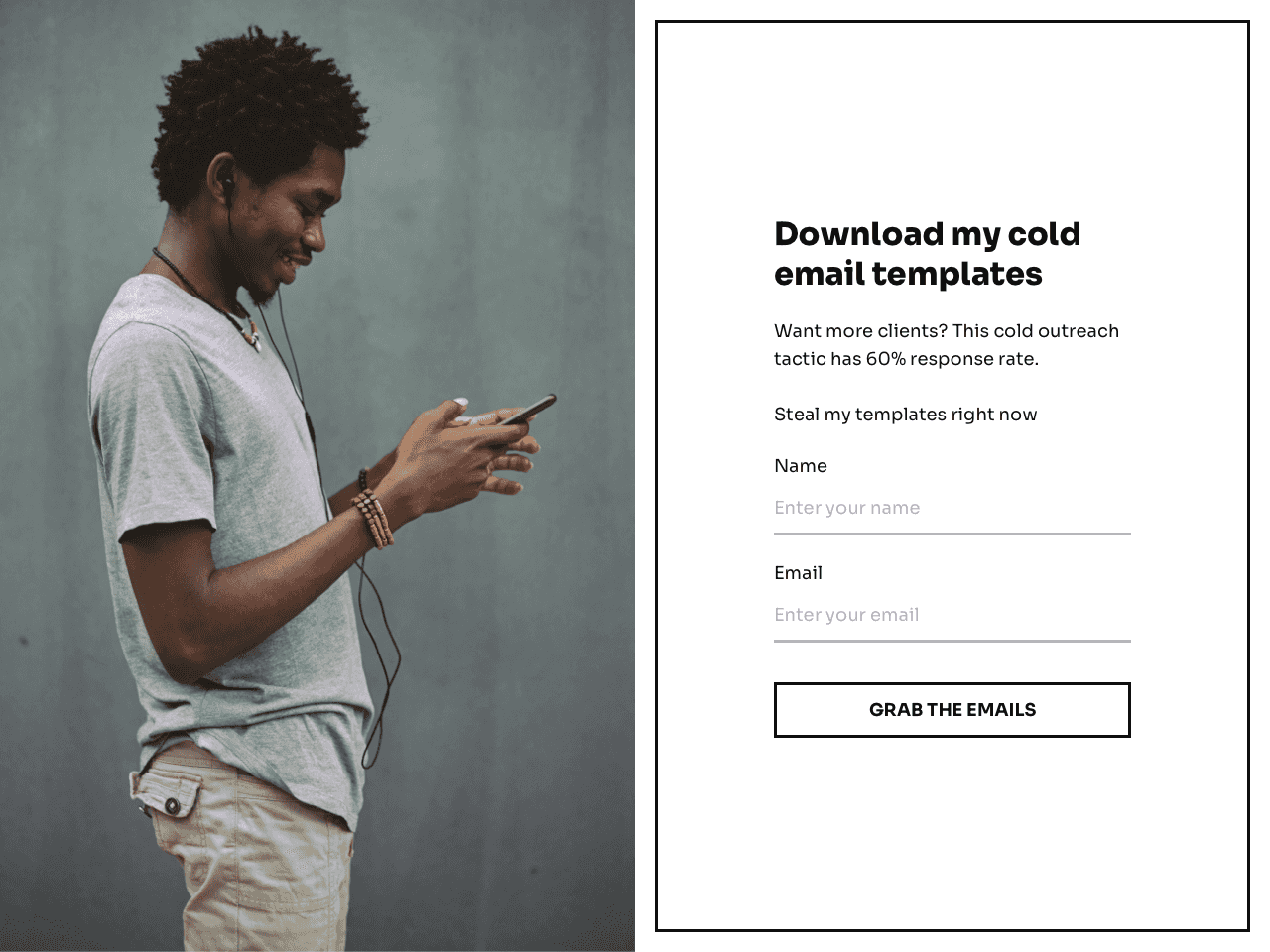 See live preview
How to start collecting email addresses from your Instagram followers
To create an email opt-in form like the one above, you can use tools like Getform.
Getform is an app that allows you to quickly build custom landing pages and share them through short links – including the one in your Instagram bio. This gives you the ability to direct people from your profile to your email subscription form.
Not only can you collect emails through Getform, but you can also:
Drive people to other pages
Conduct surveys
Get feedback
Process online orders
Collect service requests
Receive partnership requests
Conduct giveaways
And more!
Or you can combine multiple fields and buttons to create a perfect page tailored to your business needs!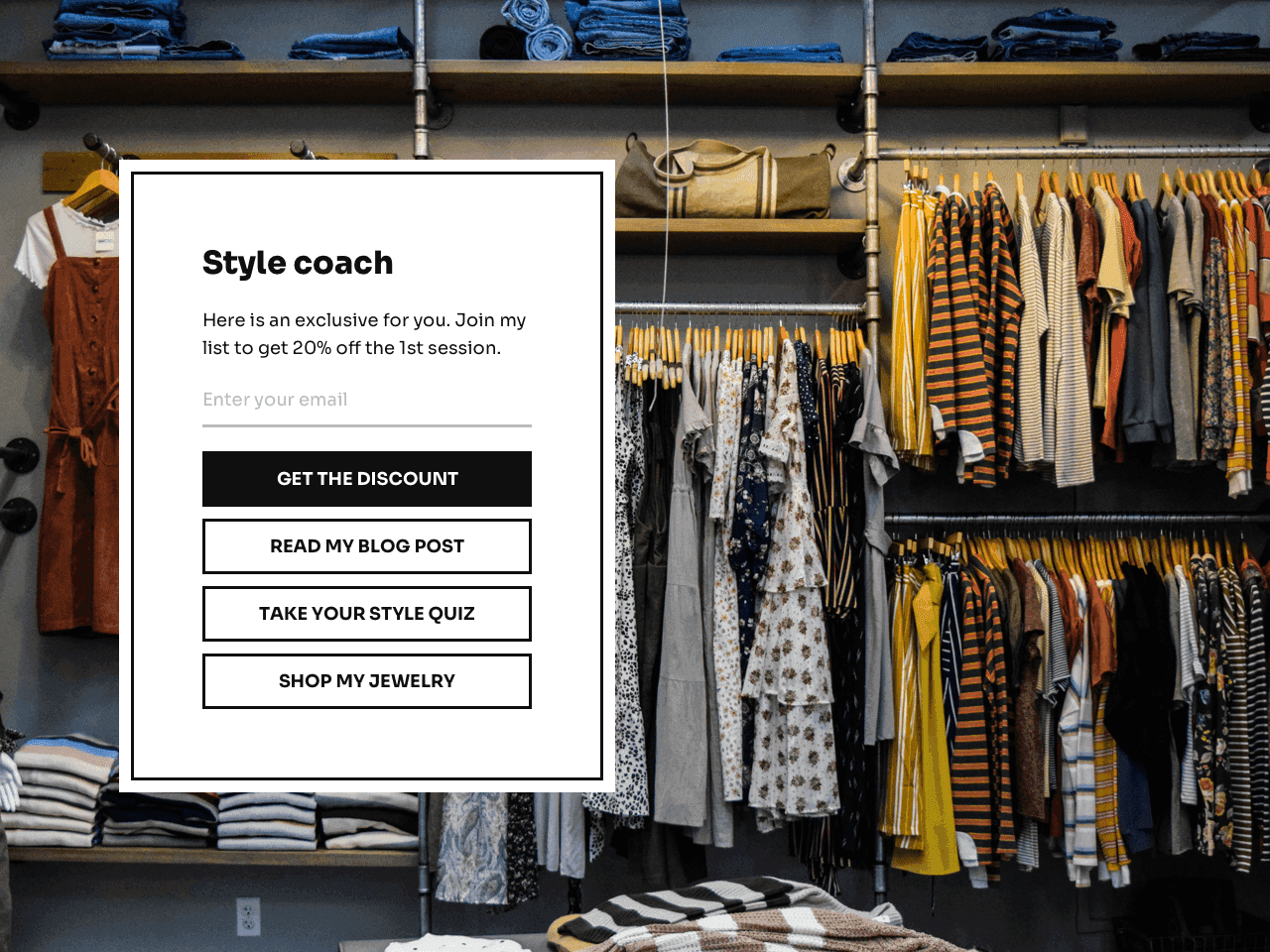 See live preview
Try Getform for free
Create a landing page to collect emails from your Instagram followers – within minutes! Free up to 100 form submissions per month.
Get started
How to set up an Instagram landing page in Getform
Once you get to Getform, you'll need to sign up for an account. If you're not an expert at setting up online forms, don't worry because this app requires zero technical knowledge and offers quite a few templates to help you get the ball rolling.
Here's what your dashboard looks like once you sign up: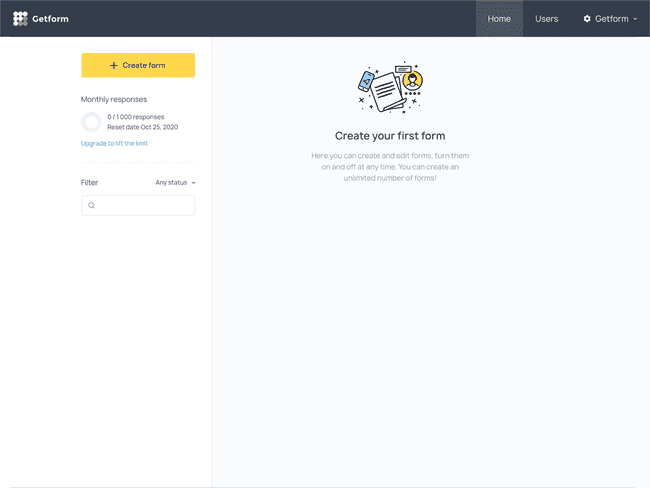 To get started, click Create form and begin making your first one. Inside, you get the option to either create your own form from scratch or to go to a template gallery and choose from the pre-designed options.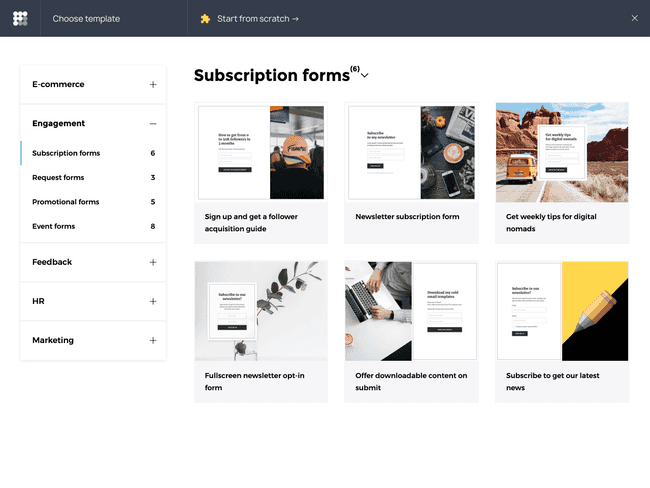 In the gallery, you'll be able to search through the templates based on your goals. Use the menu on the left-hand side to open the selection of email subscription forms, pick the one you like, and open it in your dashboard for editing.
Once you follow these steps, this is what you'll see in the dashboard: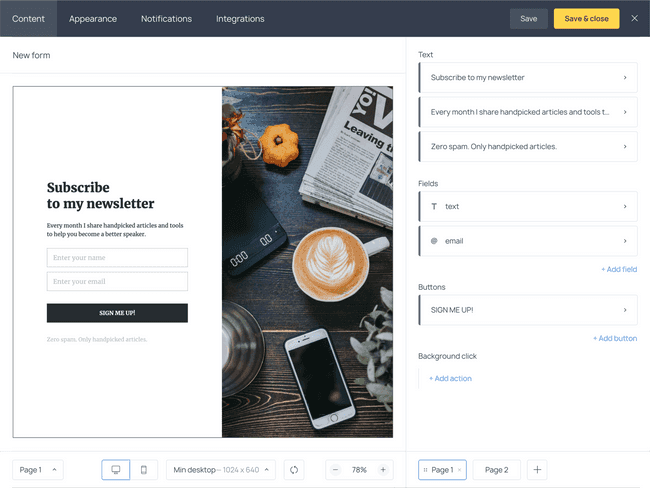 Now, you'll have the option of customizing the copy, the fields, and the buttons using the menu on the right-hand side. In the Appearance tab, you'll be able to replace the image, color theme, and the style of your form, too.
It might be a good idea to connect your subscription form to your email marketing software. To do that, use the Integrations tab and select the app you are using from the menu. If you haven't chosen email marketing software yet, no worries. The collected email addresses will be stored in your Getform account, and you'll be able to download them at any moment.
As soon as you save the form, the app will prompt you to get the link to it, so you can put it in your Instagram bio right away.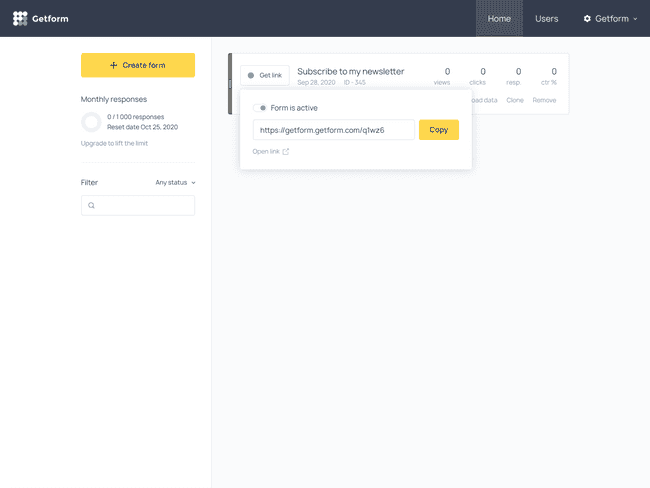 All you need to do is log into your Instagram account and hit the Edit profile button. Then, you'll be able to customize your bio and add the link to the form you've created.
From there, you can also edit your bio to tell them why they should click on your link and join the list. Most bloggers and businesses use emojis pointing to the link to make sure people don't miss it.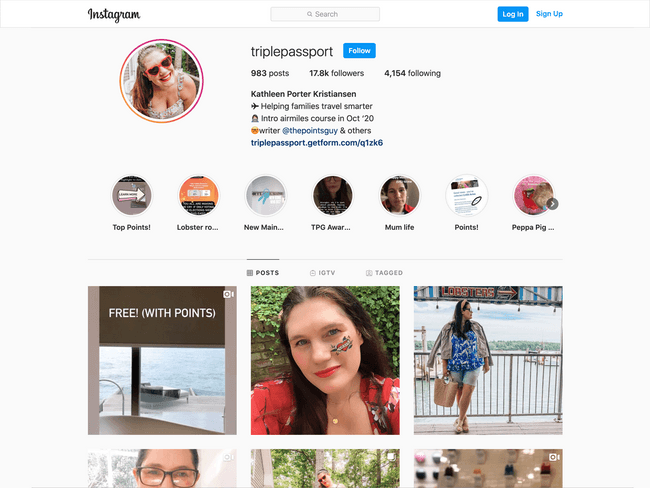 How to convince your followers to sign up for your email list
Now that you have the form, how do you get your Instagram followers to fill it out? Because let's face it: signing up for another newsletter when most people's inboxes are already full doesn't sound too enticing.
Consider creating a lead magnet.
Lead magnets are a proven way to get email addresses from your Instagram followers, and you've probably seen some bloggers already using them.
Essentially, a lead magnet is something valuable you're ready to offer in exchange for an email subscription.
Here are some examples to get your creative juices flowing:
If you sell cookbooks, you can offer a free ebook with your 10 favorite recipes
Personal trainers can offer PDFs with favorite at-home workout routines
Tutors can offer downloadable guides to the subjects they teach
Business coaches can offer a link to a recent webinar they did
B2C companies can offer first-dibs on an upcoming product
If you're selling products, services, or online courses on Instagram, the best incentive to join your email list will be a discount.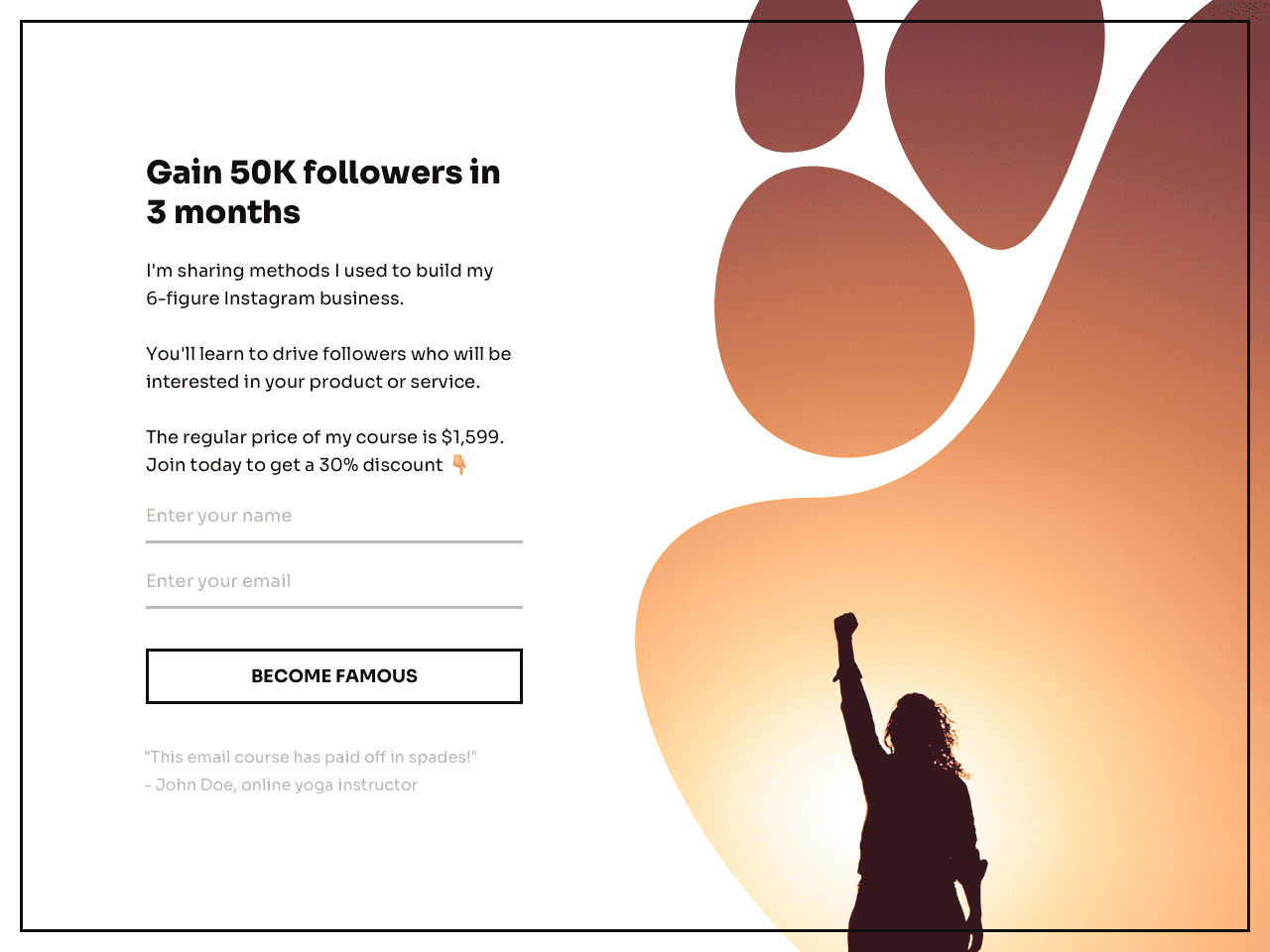 See live preview
You could also get people to sign up for your email list by running a giveaway, hosting a webinar, and of course, offering exceptional content in your newsletter. Depending on your business and how it is structured, there are endless ways to convince people to give you their email list through a form.
To deliver the promised incentive, you can use the submission success page. When designing your form, just open the second page and paste either the link to the lead magnet or the code to get the discount.
Once people fill out the form and hit the Subscribe button, the submission success page will display automatically.
Alternatively, you can use the Notifications tab to set up an autoresponder and deliver the lead magnet via email. This feature allows you to create an automated message that will be sent to the new subscribers even if you haven't set up email marketing software for your business yet.
Start collecting emails from your Instagram followers today
Using this guide, you should be well on your way to turning Instagram followers into email subscribers. This means you can always reach them directly in their inboxes and multiply sales by nurturing your subscribers and converting them into customers.
With Getform, setting an email subscription form is a matter of minutes – even if you've never done anything like this before. Waste no time, and you'll see the results before the end of the free trial!
Try Getform for free
Collect emails from your followers like a pro!
Ready-to-use templates and intuitive dashboard.
Get started
Jackie Pearce is a copywriter from Denver, CO.

Jackie Pearce
September 28, 2020
Create forms with personality
Leverage insights for your business with a full-featured form builder that requires no website, design or coding knowledge.
Get started
Handcrafted
templates
Mobile
responsiveness
CSS
editor
Picture & GIF
search
Multipage
forms
Seamless
integration
Performance
charts
Responses
report