Create a post-purchase survey form for your business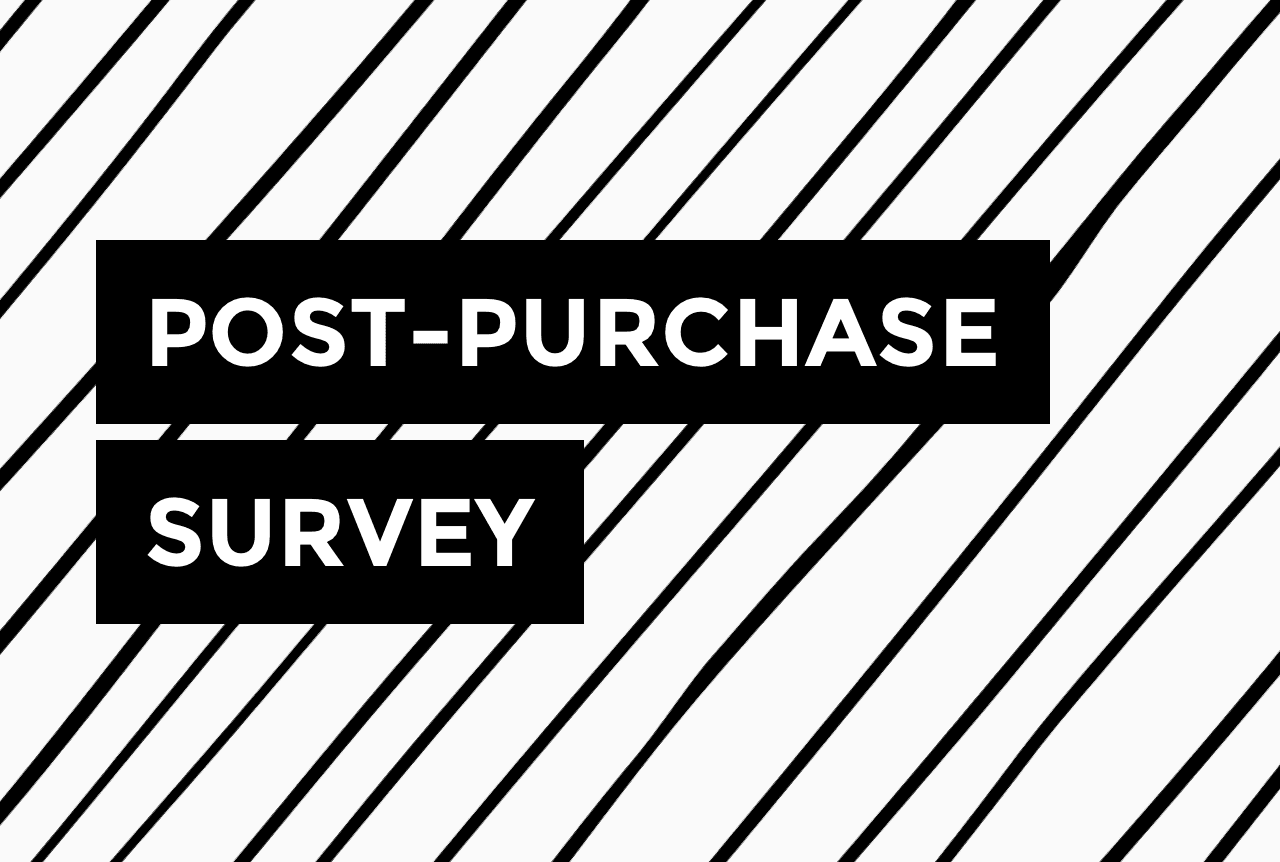 Nina De la Cruz
November 03, 2021
- 5 min read
Whether you're selling products on your website or social media, it's always a good practice to conduct a post-purchase survey.
Why?
Because most people aren't inclined to provide feedback unless they're asked to do so.
Meanwhile, receiving feedback from your paying customers is crucial because it helps your business grow.
If you want to conduct a post-purchase survey, there are two ways to go about it: you can display it right in your store or send a survey form to your customers after they've purchased from you.
In the tutorial below, we'll show you how to do the latter using this Getform template 👇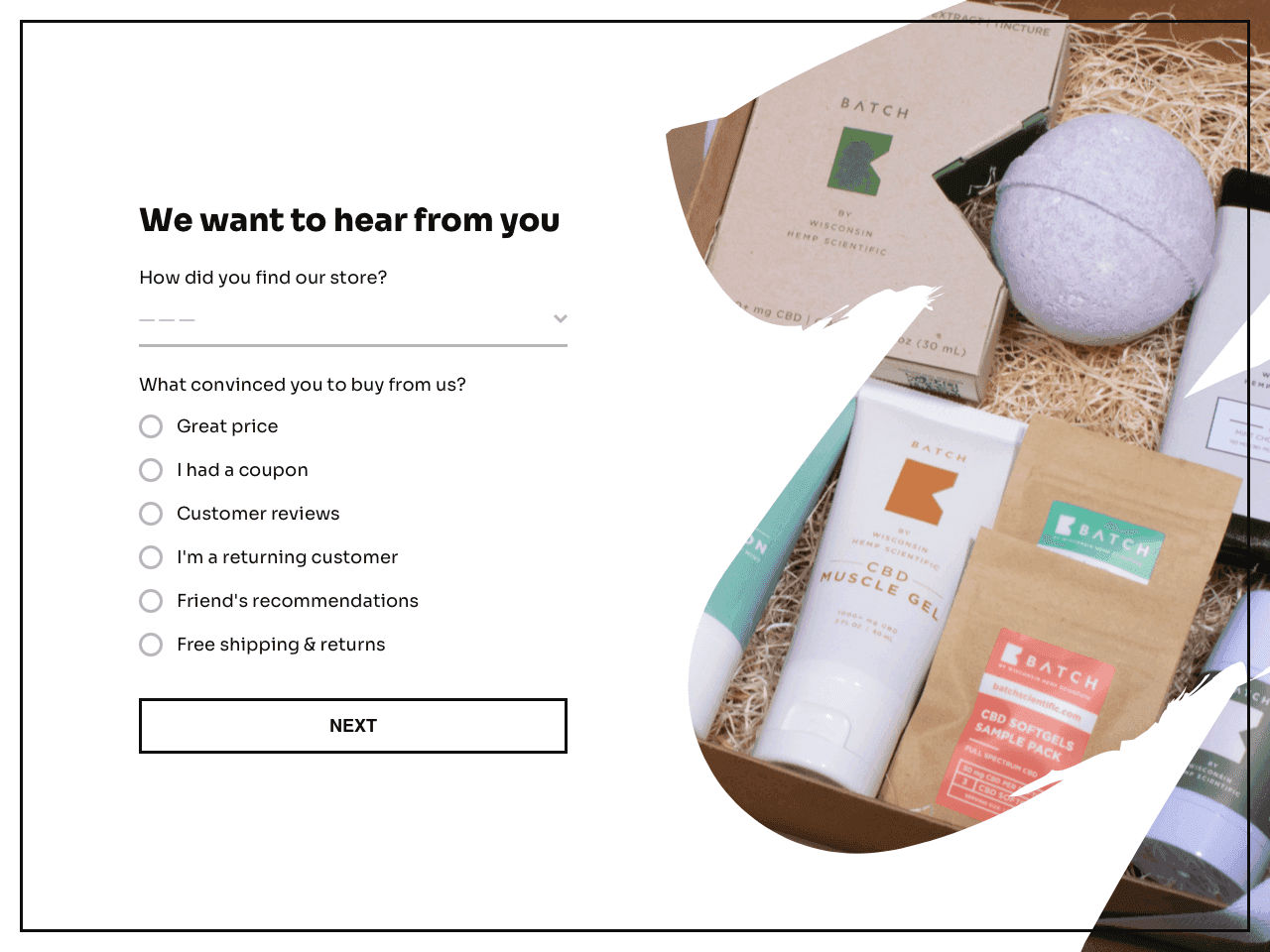 See live preview
Getform allows you to build custom survey forms and share them via direct links. For example, you can send this form to your customers via email, messenger, or social media.
Following the steps below, you'll learn how to change the content and the style of the form, share it with customers and view responses. We'll also share some tips for making your post-purchase survey more efficient.
Try Getform
Create a post-purchase survey for your business
and start collecting insights. Get 100 responses per month for free.
Get started
How to create your own post-purchase survey in Getform
Every post-purchase survey is different. Depending on your goals, you may want to ask customers:
to evaluate their shopping experience
to share their feedback about the product
to tell you more about themselves
Even if the template featured above doesn't fully align with your goals, worry not. You'll be able to easily add new pages, change fields and questions.
Ready to try it? Follow the instructions ahead.
Step 1. Add the template to the dashboard
To get started, click on the template and follow the prompts on the right-hand side to add it to the Getform dashboard.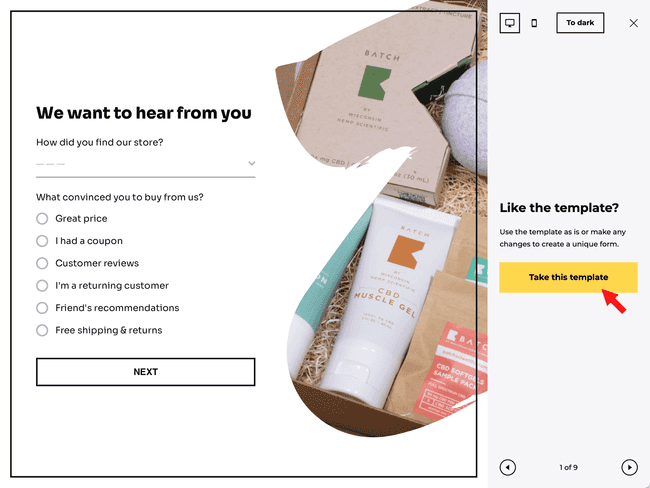 If you've created an account already, sign in using your account information. If not, at this stage, you'll need to sign up.
Step 2. Change the content
Once you're in the dashboard, the editing process is very intuitive. To change the title, just click on it and type your text. To change or remove one of the existing fields, click on it and proceed with the changes.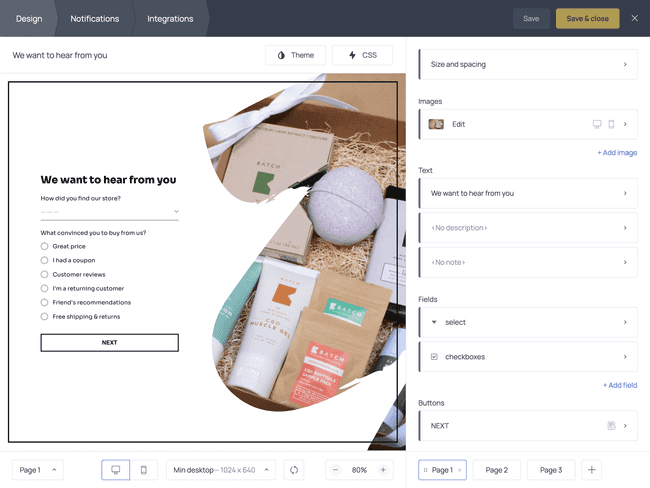 To adjust the form, you can click on its elements in the preview window or the right-side menu – both parts are responsive. For example, here is what you'll see if you click on the field with checkboxes 👇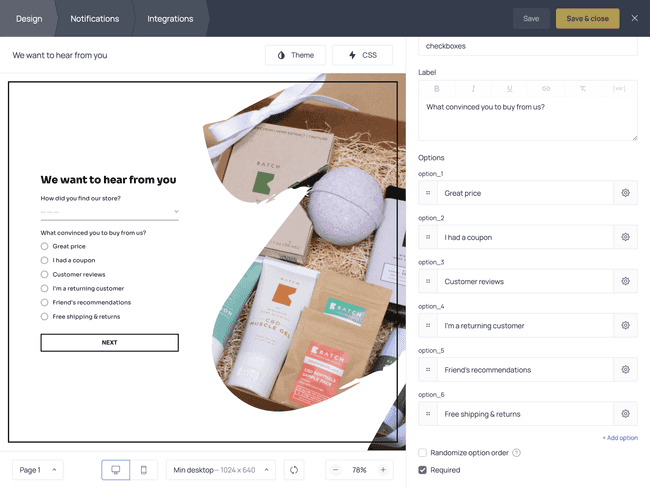 Notice, you can change the question, edit response options, make the field required or optional, or remove it entirely.
When you're done with the questions, go ahead and edit the submission success message – this is what your respondents will see once they hit the SUBMIT button. In your dashboard, the submission success message is located on Page 2. Use it to thank customers for participation, suggest the following steps, share useful content, or provide a coupon code.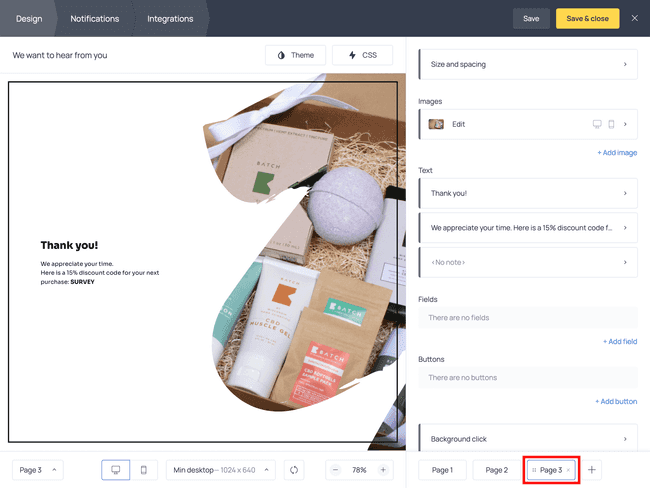 Want to add an extra page to the survey? Use the '+' sign next to Page 2. There's no limit to the number of pages you can create, however, the more pages there are in a survey, the higher the abandonment rates will be.
💡 When adding extra pages, remember that you need to add the 'Submit' action to each transitional button. Just click the button to open its settings, open the Actions menu and select 'Submit.' This action saves the submitted information and takes respondents to the next page.
Step 3. Change background image and check mobile preview
If you've selected a template with a background image, you may want to change the creative. That's also easy: click on it and select 'Change' on the following screen. Then you can either select a new picture from the built-in stock image gallery or import one of your brand images.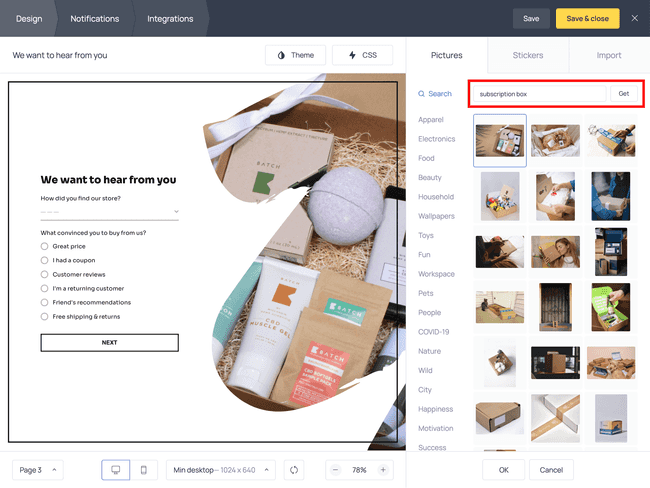 Now, since many customers will be opening your post-purchase survey on their mobile devices, you should check the mobile preview as well. For some templates, Getform will automatically remove the image to better adapt the form to smaller screens. For example, this is the case for our template 👇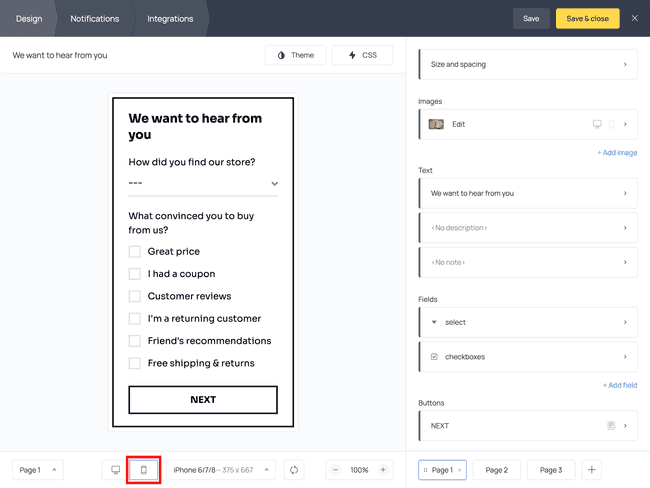 What you want to check is that the form isn't too long and looks convenient on mobile. If you notice that there are too many questions for one page and the survey looks crowded, you may want to create an extra page and place some of the questions there.
Step 4. Get the link to share the survey with your customers
At this point, the form is ready. Hit Save & close in the top right corner and get the sharing link from the dashboard.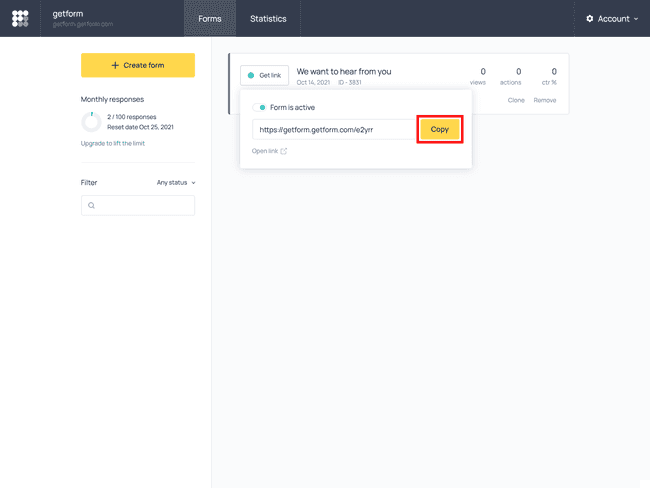 Before sharing the form with your customers, we recommend testing it. Open the link you've copied in a new tab and fill out the fields just like your customers would. If everything looks and works well, you can start sending the survey out.
Once you start receiving responses, they will be stored under the Statistics report in your dashboard.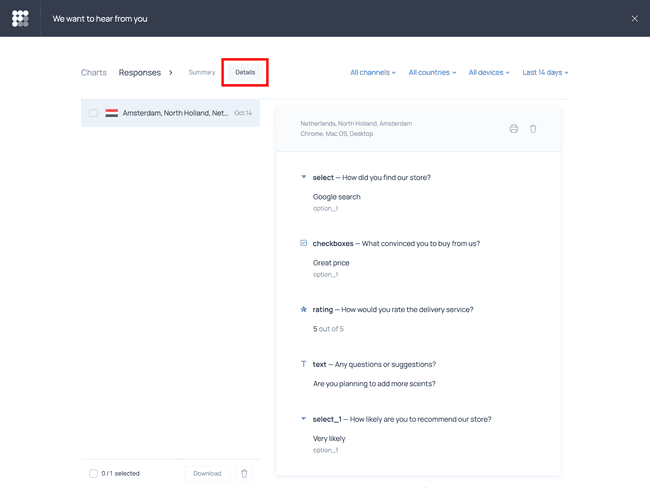 You may also choose to receive submissions directly in your email or send them to a Google Sheets file. To implement that, use the Notifications and Integrations tabs in your Getform dashboard.
Question examples for a post-purchase survey
Planning to build your own post-purchase survey? Here are some question examples you can use:
How did you hear about our store?
What convinced you to purchase the product?
What was the one thing that almost stopped you from buying?
Was the delivery on time?
How would you evaluate the package?
Have you had a chance to try the product already?
What was your first impression of the product?
What are the most important characteristics of this product for you?
How likely are you to purchase this product again?
How likely are you to recommend our store to your friends?
How can we improve your experience next time?
As you can see, questions can be related to any stage of customer experience. However, you do want to keep the timing in mind. For instance, if you want to ask about the purchase experience or website usability, there's no point to do it a month after the purchase. At the same time, if you want to learn about your customers' impression of the product, you should give them enough time for evaluation before conducting the survey.
Tips for increasing post-purchase survey response rate
Apart from the timing, there are a few other factors you should take into consideration before sending out the survey. Among those factors, the most important one is your customers' time. Here are 3 quick tips to help you get more responses 👇
Offer an incentive
For most people, surveys aren't the most favorite thing to participate in: surveys take time, and their lives are busy enough. If your survey contains more than a couple of questions – and especially if you've included open-ended questions – consider offering a free sample or a discount coupon for the next purchase. This will not only increase the chances for survey completion but also show that you value your customers' time.
Keep it short
Most post-purchase surveys that don't offer an incentive include just one or two questions. The reason? High survey abandonment rates increase with each additional question. So yes, the fewer questions there are, the more submissions you'll receive.
If you want to sneak in a few extra questions, use dropdown menus, checkboxes, and radio buttons to let customers select from pre-filled response options.
Craft a personalized intro
Another great practice is including a personalized intro preceding the survey form. For example, in the intro message, you can use a customer's first name, thank them for purchasing from you, explain why you're running the survey, and say how long it will take to complete. If you're offering an incentive in exchange for participation, make sure to mention that as well.
It's time to create a post-purchase survey for your brand
Whether you're a beginner selling products on Instagram or an established brand, post-purchase surveys are essential. They provide you with valuable insights from people who chose you over competitors, and if you're not asking for their feedback, you might be missing important pieces of information.
With Getform, creating a post-purchase survey is quick and easy. Get an account today and start collecting responses.
Try Getform
Create a post-purchase survey for your business
and start collecting valuable insights. Get 100 responses per month for free.
Get started

Nina De la Cruz
November 03, 2021
Join creators worldwide
Grow your online business without a website. Generate leads, tag your subscribers, send promo emails, and build automations.
Get started
650K
Forms displayed
this week
30K
Contacts collected
this week
5K
Automations runs
this week
15K
Broadcasts sent
this week