Create a new client intake form for your business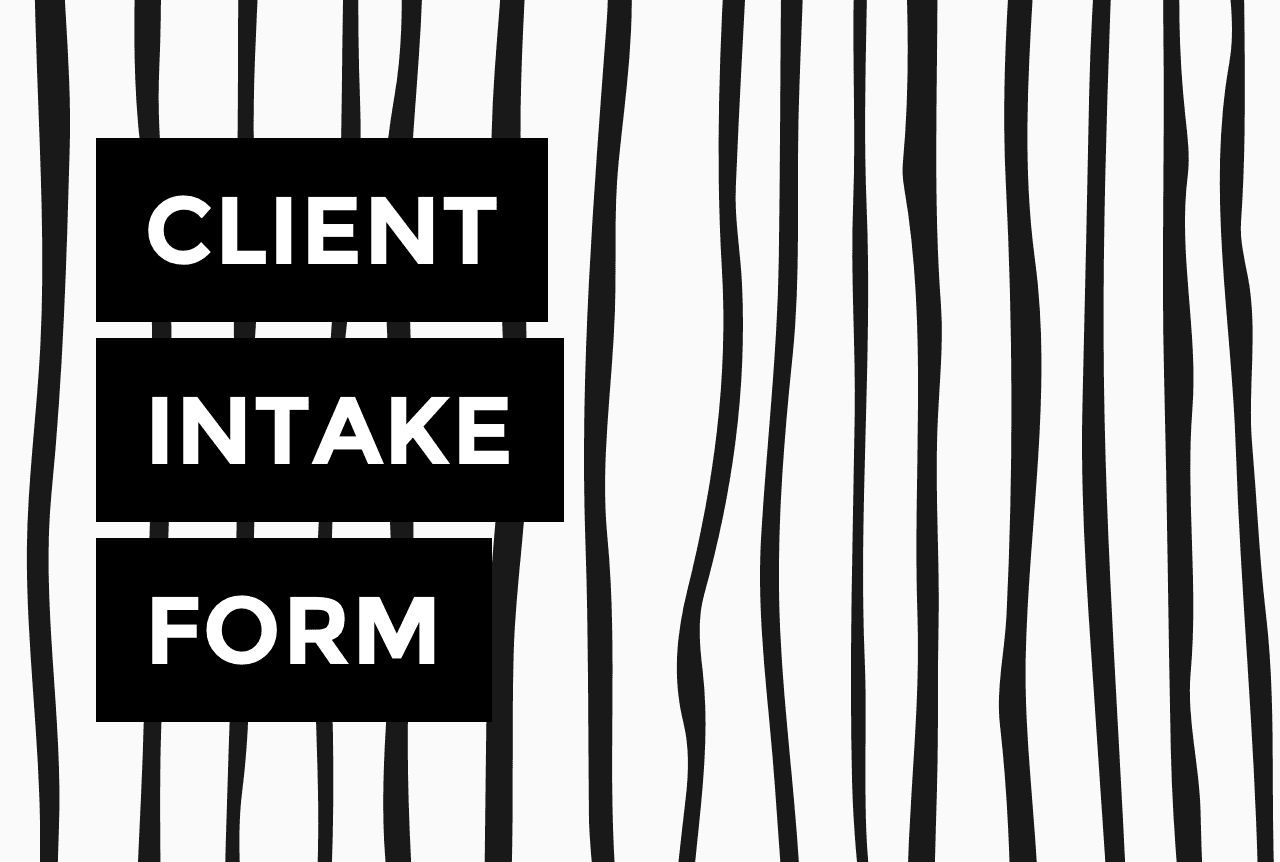 Olga Chatay
December 06, 2021
- 5 min read
A client intake form is the first touchpoint between you and your prospects.
It's a questionnaire that helps you collect the most essential information about your potential clients before you start working with them: their needs, their goals, their budget, and their special requests.
Client intake forms help you get just the right amount of information to decide if you and the prospect are a good match.
Consider this client intake form designed for a real estate agent: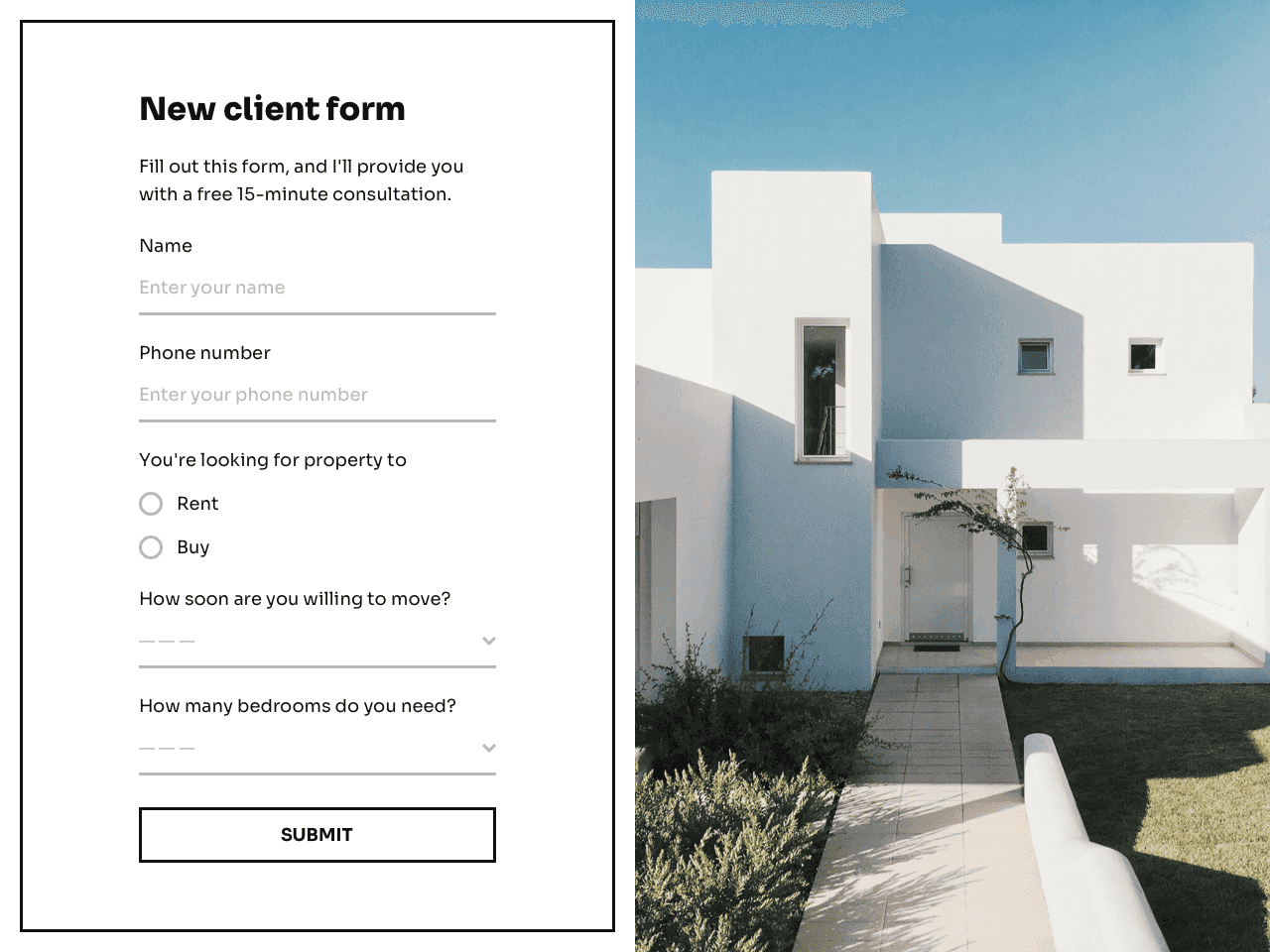 See live preview
Feel free to click this template and test the form to see how things work!
Powered by Getform, a free online form builder, this questionnaire is designed to help the agent better prepare for the initial call.
Below, we'll show you how to create your own client intake form within a few minutes.
Try Getform today
Streamline your client onboarding process with a client intake form. No credit card required. Up to 100 responses per month for free.
Get started
How a new client intake form works
Once you've created your client intake form (more on that in a moment), you can copy its URL. Publish this URL on your social media or send it to your prospects via email or messenger.
Each time your prospects click it, the form will open in their browser, and they'll be able to fill it out, whether on desktop or mobile device. When they do, you'll get an email notification and will be able to respond directly from your inbox. You can also integrate it with your CRM, Excel, or any other software.
If you receive fewer than 100 form submissions per month, Getform will remain free for you. No credit card or commitment required.
Sounds like something you've been looking for? Then let's get to see how it's done.
How to create a new client intake form, step by step
Step 1. Add the form template to your dashboard
The fastest way to get started is to click the template featured above and follow the prompts on the right-hand side.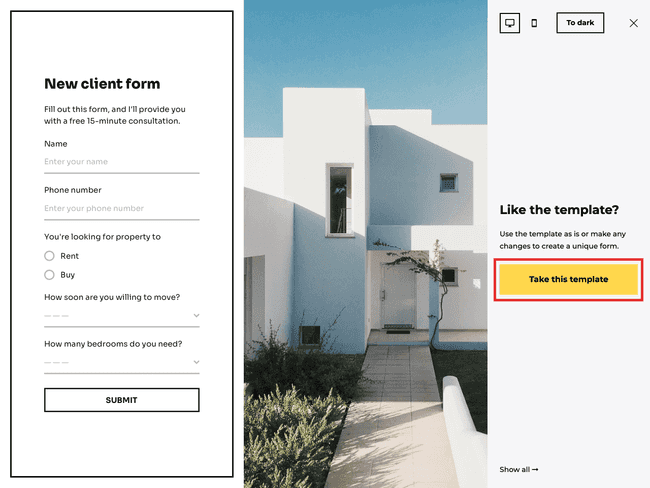 You'll be taken to the Getform dashboard with the template ready to be edited.
💡 Want to see more templates? Check out the gallery.
Step 2. Customize the content of your client intake form
Once in the dashboard, you can edit questions, add or remove fields and pages. For example, to change the title, description, or specific field click on it right on the template and type your text. To add a new field, click + Add field in the right-side menu; to remove a field, click it and hit Remove.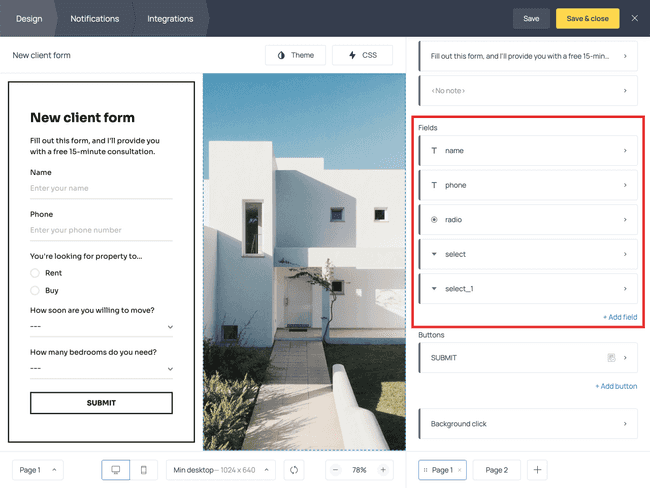 We recommend keeping a client intake form short, but if you want to add another page, you can do it. Just make sure to apply the right settings to the button at the end of the form. For instance, if the button is meant to record the information on the current page, you should select the 'Submit' action from the menu 👇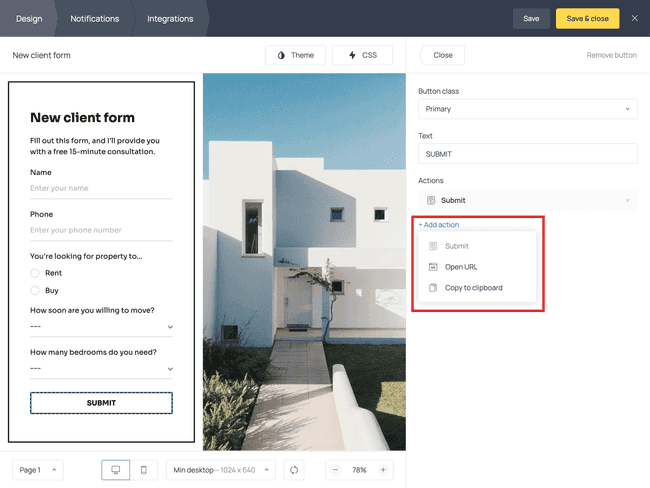 By the way, you can add as many buttons to a single page as you want. For instance, you can use some of them to drive people to other URLs, such as your social media, website, or blog. To implement that, apply the 'Open URL' action from the menu.
Step 3. Let your prospects know what happens next
Use the last page of the form to thank your prospects for filling it out and explain what happens next. For instance, you can notify them about an email they should receive from you, indicate the average response time, or redirect them to a 3rd-party page, such as F.A.Q., blog, or your calendar.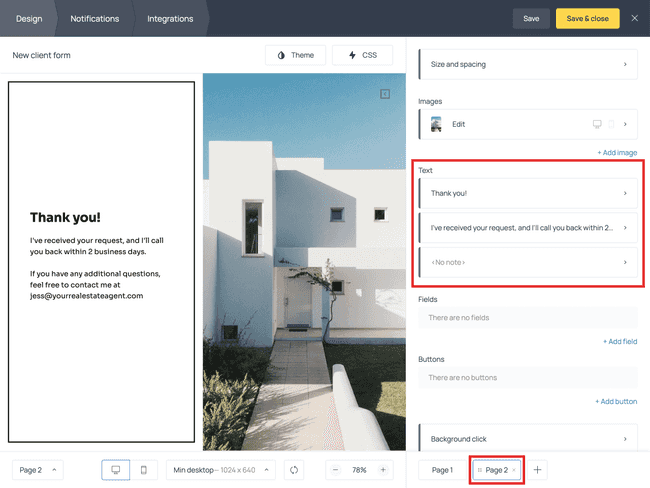 This last page is also a great place to ask how your prospects learned about your business. You can do that by adding a new field with radio buttons and pre-written responses 👇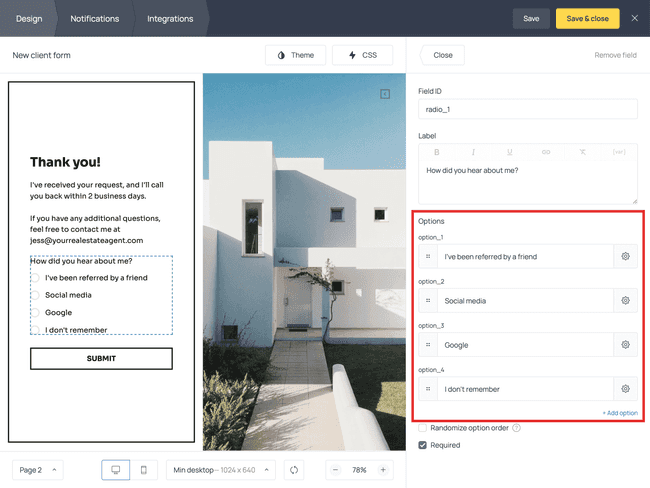 Remember to also add a 'SUBMIT' button when you're done.
Step 4. Replace the image
Finally, you may want to replace the default image with something more relevant to your business. To do that, click it and proceed to 'Change image.' From there, you can either upload your own creative or select a new image from the library.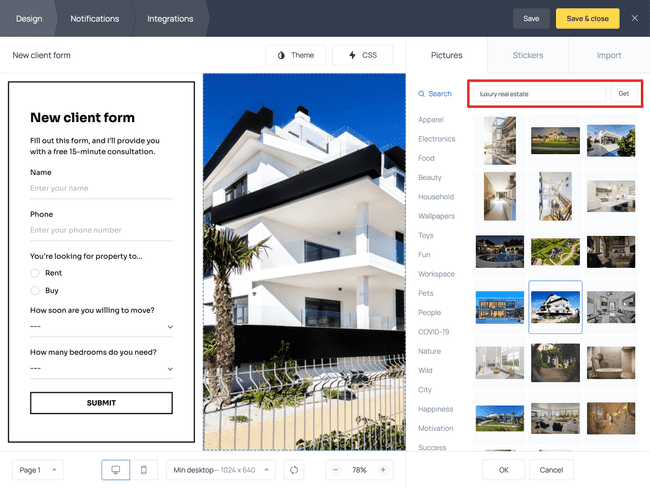 You can also change the color theme and font by using the Theme menu at the top.
Step 5. Set email notifications
If you're done working on the content and appearance, open the Notifications tab and paste your email address if you want to receive notifications about new queries.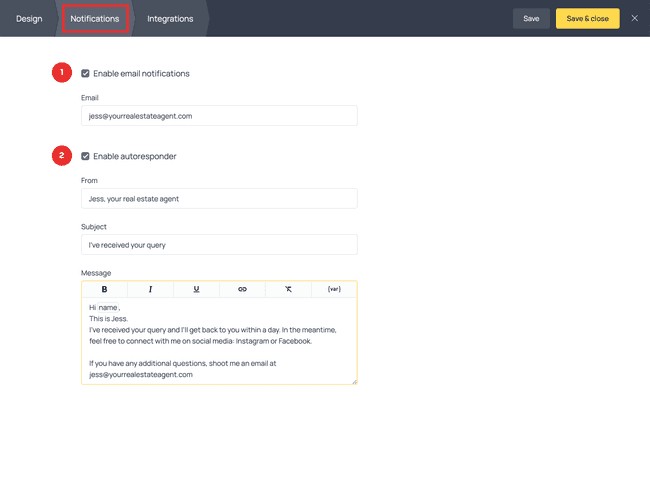 You can also use this tab to create an automated email that will be sent to everyone who fills out the form.
💡 In addition to your inbox, form submissions also remain in your Getform dashboard, under the 'Statistics' report.
Final step. Copy the form URL
Congratulations! Your form is ready. To copy its URL, go to your Getform dashboard, hit Get link, and proceed to Copy.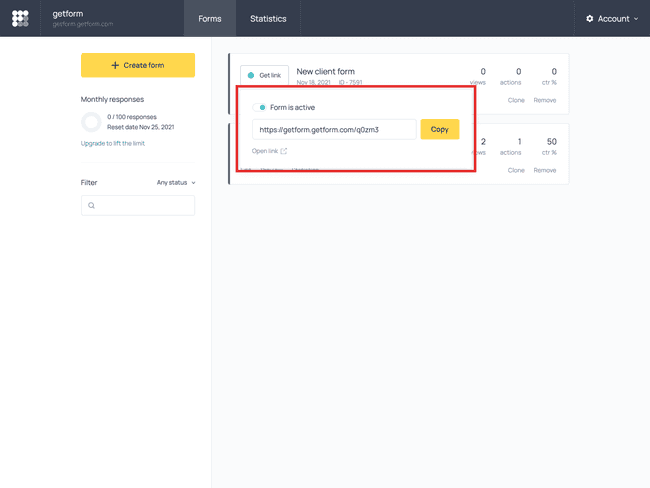 Go ahead and paste it to your Instagram Bio, your email signature, your Facebook page, or anywhere else!
When should a client fill out an intake form?
A client should fill out your intake form before the initial call or consultation. The form is designed to help you evaluate your prospects and make your further communication with them more efficient.
Ideally, an intake form should be accessible to the public from your business page or social media, so that prospective clients don't have to contact you before filling it out.
What should a client intake form include?
As a rule of thumb, a client intake form should not contain many questions – only the bare minimum to provide you with just enough data for a quick evaluation of a prospect.
It is the next step when you want to ask in-depth questions using a
client onboarding questionnaire
. Before you get to that point, you need to figure out if you and that client are a match at all.
Of course, the questions you'll use will depend on your business, but typically they fall into these three categories:
Personal and contact information: name, email address, phone number, or social media
Background information about the client and/or their business
Expectations, deadlines, and special requests
If the context allows, you may also ask about budget restrictions. These details will help you make an informed decision about whether you should take that particular client. If you receive multiple requests, this data will also help you prioritize them.
Remember, asking the right questions will help you find the right clients for your business.
Wrapping up
A new client intake form is a huge timesaver for both you and your prospective clients. It helps organize incoming queries, eliminate unnecessary negotiations, and arrange your schedule. At the end of the day, having all requests in a single place can help you manage your team's work more efficiently, too.
So, what are you waiting for? Create a client intake form today and give it a spin!
Try Getform
Create a perfect client intake form and streamline incoming queries. No technical knowledge or design skills are required.
Get started

Olga Chatay
December 06, 2021
Join creators worldwide
Grow your online business without a website. Generate leads, tag your subscribers, send promo emails, and build automations.
Get started
650K
Forms displayed
this week
30K
Contacts collected
this week
5K
Automations runs
this week
15K
Broadcasts sent
this week