How to grow your email list on TikTok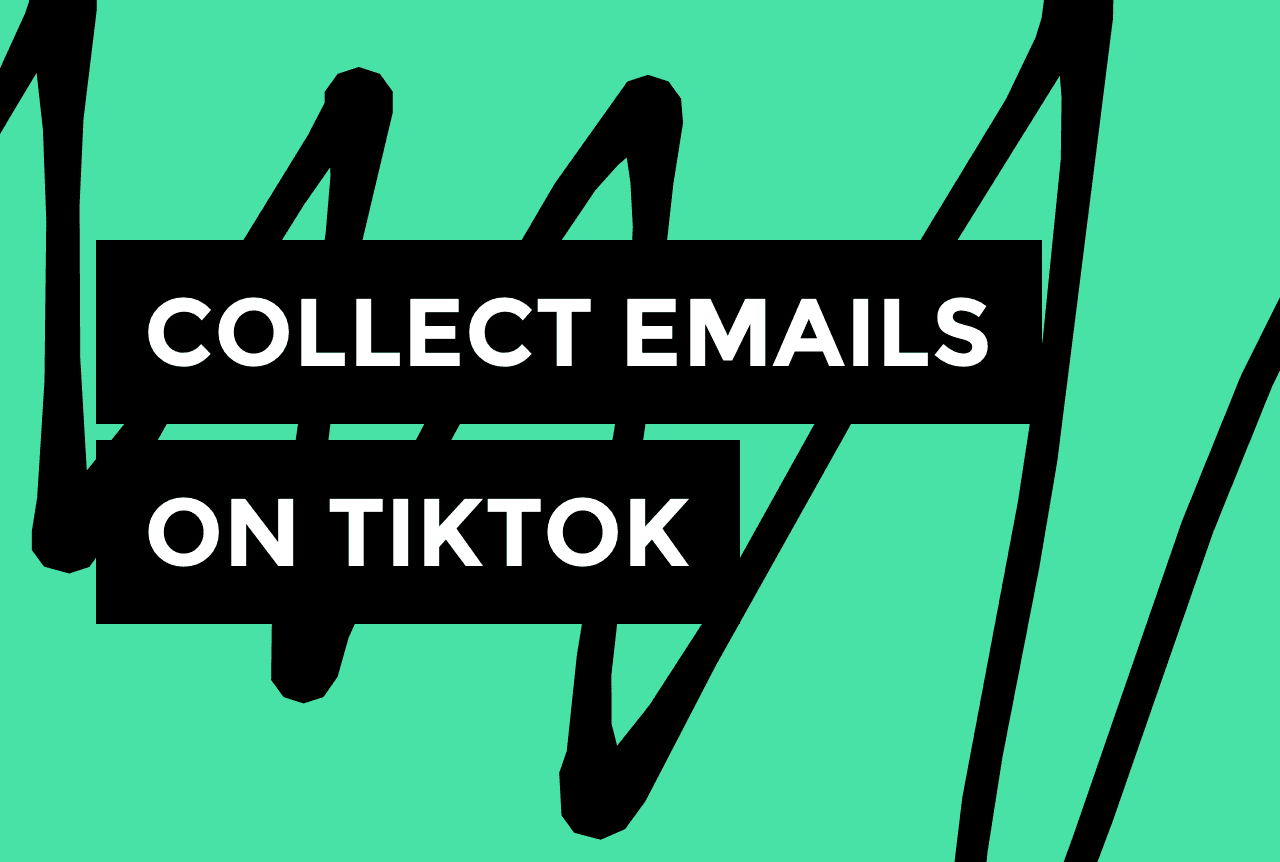 Giorgia Mangoni
May 26, 2022
- 10 min read
If you're a creator, TikTok is among the best platforms to grow your following. With more than one billion users, your content has a huge reaching potential.
But publishing content on TikTok doesn't always mean all of your followers will see it at once. Besides, if you ever want to share something more long-form, TikTok is simply the wrong platform for that.
With that in mind, it's a good practice to have an alternative communication channel with your audience, where you're more in control over content format and delivery time. For many creators, email is exactly that. With an email list, you can be sure all subscribers will get your newsletter and have an opportunity to give it the time and thought it deserves, instead of skipping to the next TikTok video.
But how can you leverage TikTok to build your email list?
There is a simple solution: create an email capture landing page and link to it from your TikTok account. Here is an example of what it could look like: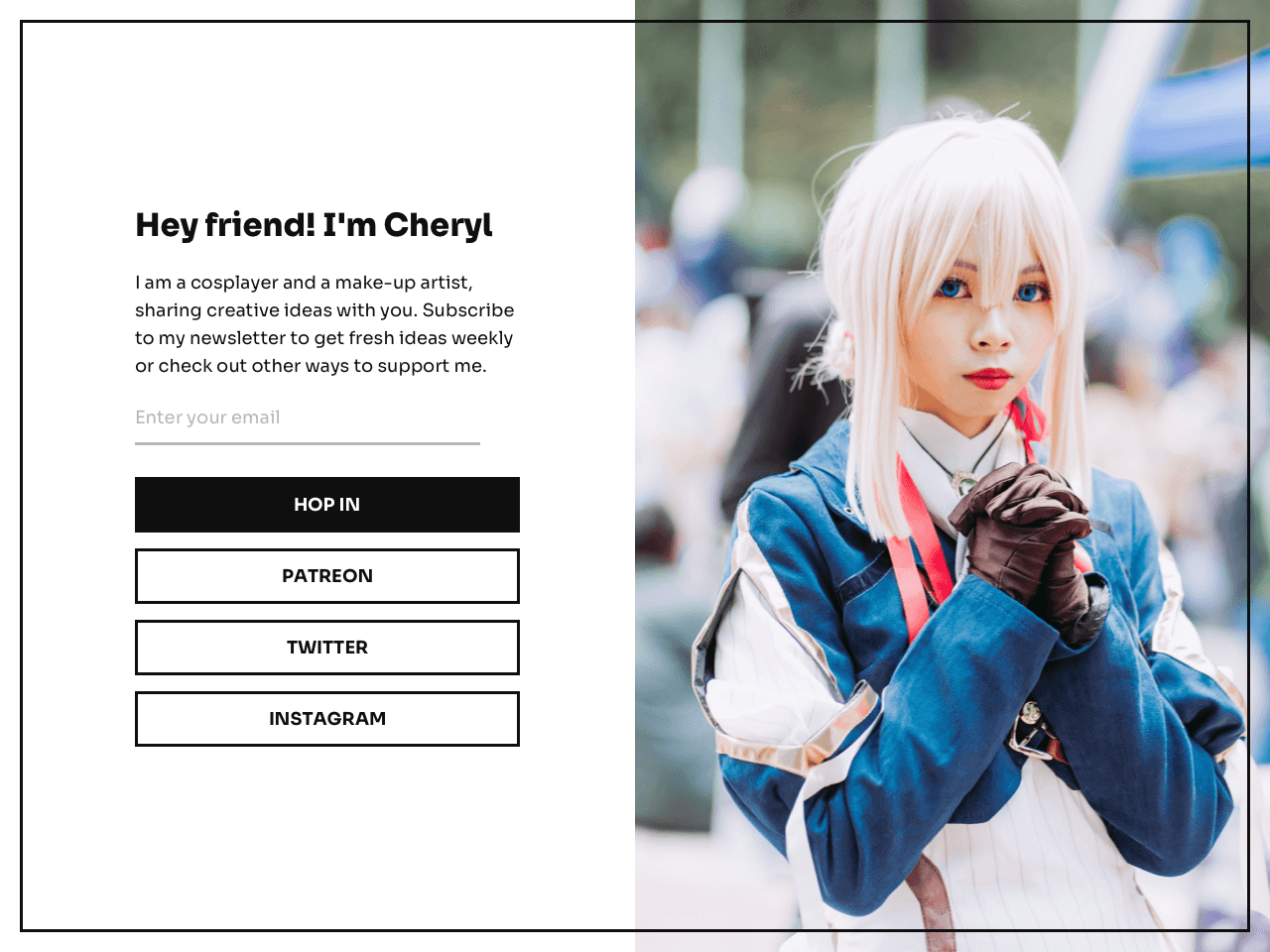 See live preview
You can create a landing page like this one within minutes using Getform. Getform is a zero-code landing page builder that is free for up to 100 form submissions per month. Also, it has a rich gallery with landing page templates for any purpose.
In this article, we'll show you:
how to create an email capture landing page, coding-free
how to share the link to your landing page in your TikTok account
and how to give people a good reason to subscribe
Try Getform today
Create a landing page and start growing your email list on TikTok. Free up to 100 subscribers per month.
Get started
Create an email capture landing page for TikTok
Step 1. Pick a template from the gallery
For starters, choose a template from the Getform gallery to make the creation of your landing page faster and easier.
When you've set your eyes on a suitable template, open it and hit the Take this template button on the right side of the screen. You'll be prompted to create an account if you don't have one (it's free), and then the template you picked will be brought to the Getform dashboard for editing.
This is the template we've selected: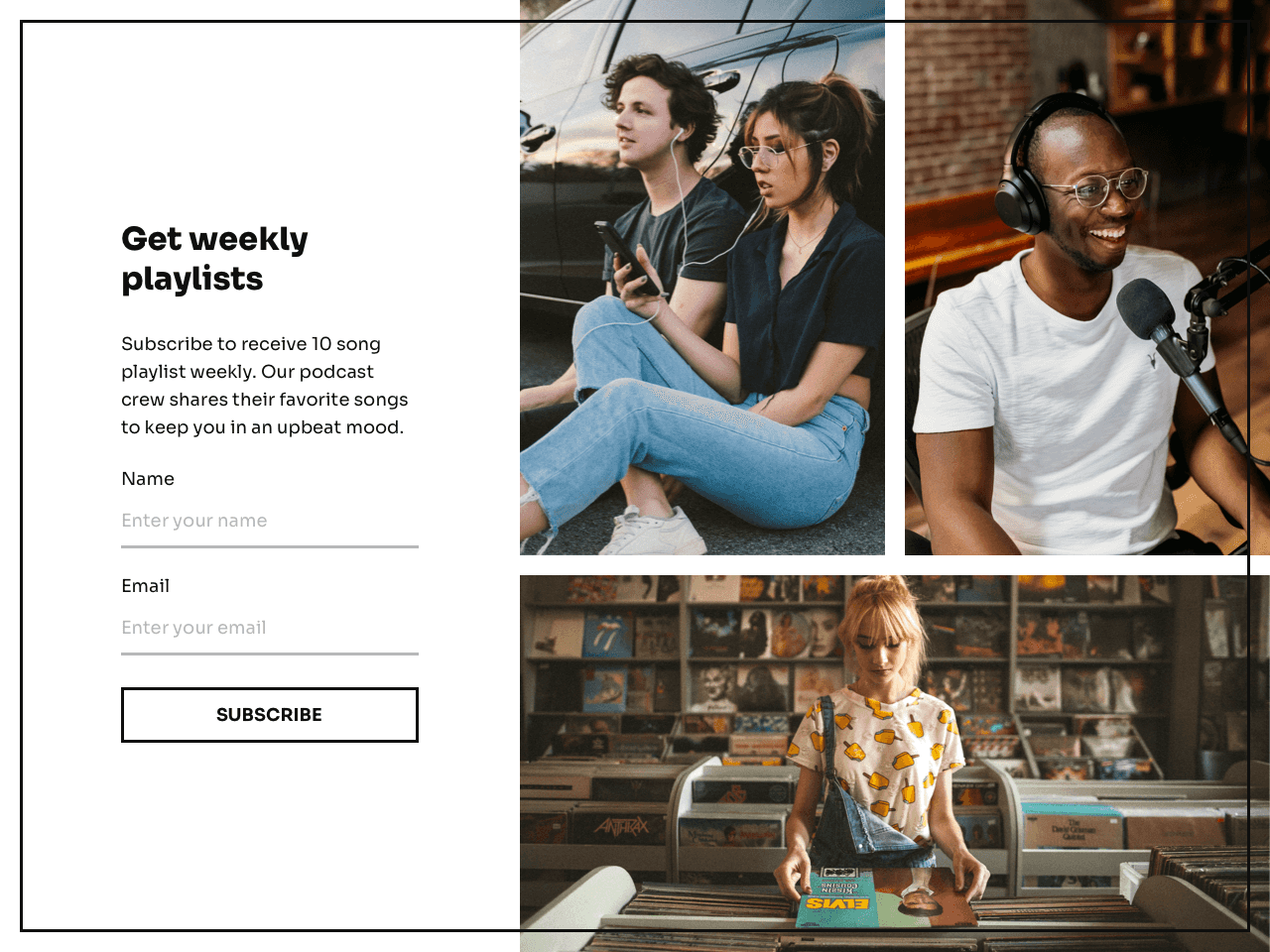 See live preview
Step 2. Edit the copy of your landing page
From the Design tab of the dashboard, you'll be able to edit the content of your landing page. Click on any of the text elements in the preview and type your text instead: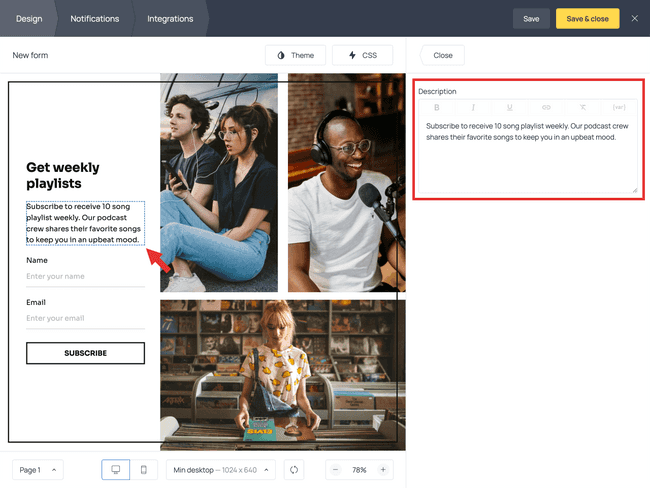 If you need different fields on your landing page, you can remove the existing ones and replace them. To remove a field, click on it in the preview and hit the Remove field button in the top-right corner of the screen: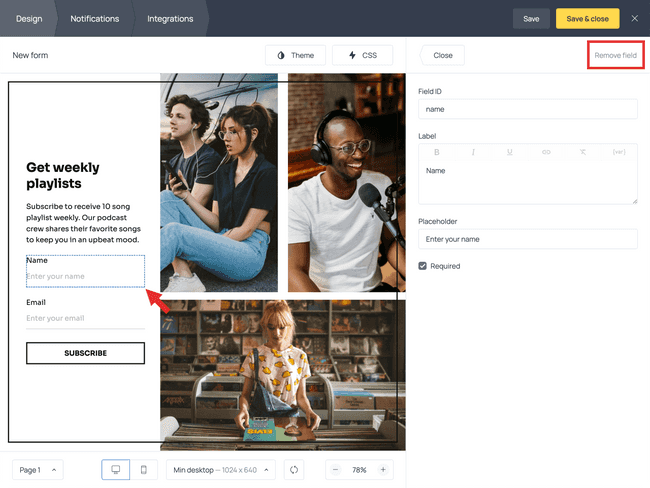 To add a new field, click the + Add field button on the menu on the right and pick the field type you need: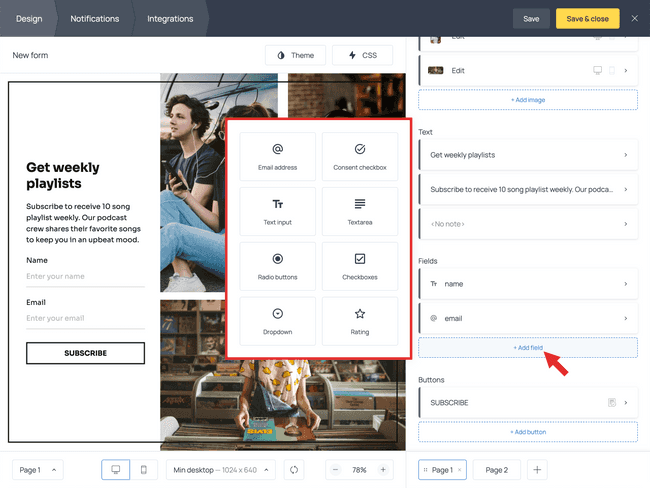 Once you are happy with the copy and fields of your landing page, it's time to make it look like it's really yours.
Step 3. Customize the appearance of your landing page
The Design tab also allows you to adjust the appearance of your landing page so that it aligns with your brand identity.
For starters, change the image(s) of your template so that they reflect your personal brand. Click on the image you'd like to change, and then proceed to the built-in stock image gallery to choose an alternative. You can also upload one of your own pictures if you prefer.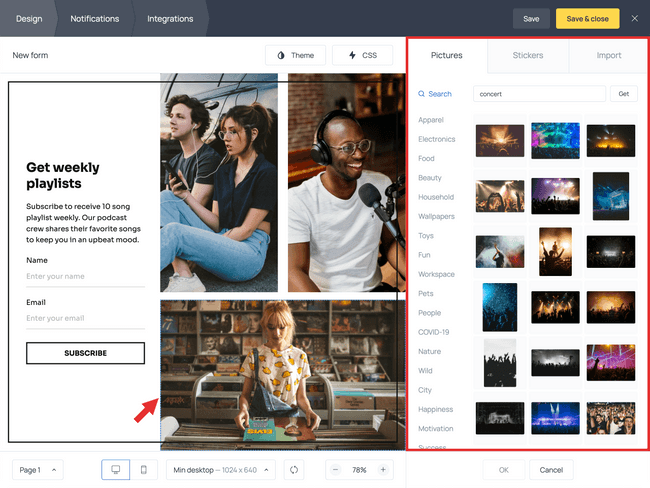 Next, check out the Theme section of the dashboard. There, you can apply a different pre-made theme, change the colors of the elements individually, and select a different text font: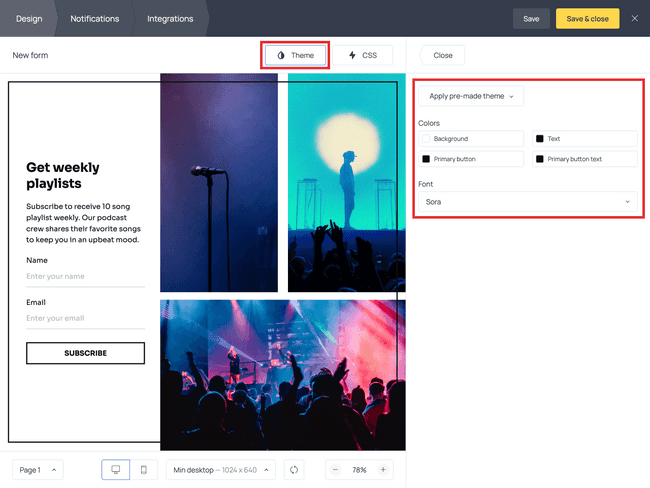 You may have noticed that the template has a second page. On this page, also known as 'Thank you' page, you are supposed to thank your subscribers for joining your mailing list and/or confirm that they'll receive what they've signed up for. Make sure to edit this page as well so that it matches the style of the first one:
And that concludes the creation of your landing page, code-free as promised. Next, we'll discuss how to manage your newly-acquired contacts.
Step 4. Connect your landing page to email marketing software
When you have an email list, you'll need to use email marketing software to manage your newsletter. Getform allows you to set up an integration with various EMS, including Mailchimp, Klaviyo, Sendinblue, and more. This way, the emails that you collect on your landing page will be automatically sent to your EMS, without any extra steps.
To set up an integration with EMS, go to the Integrations tab. Click the + Add application button and choose your preferred EMS from the list of services available for integration: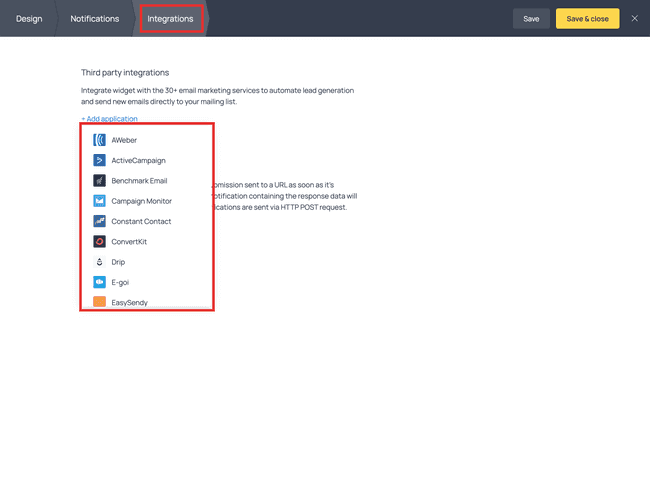 Follow the prompts to ultimate the integration setup.
Once you are done editing and setting up your landing page, click Save & close and activate your page from the Getform dashboard.
Share your landing page on your TikTok account
Once you complete these steps, your email capture landing page will be ready. To get the link to share it, click the Get link button next to your landing page in the Forms section of the Getform dashboard: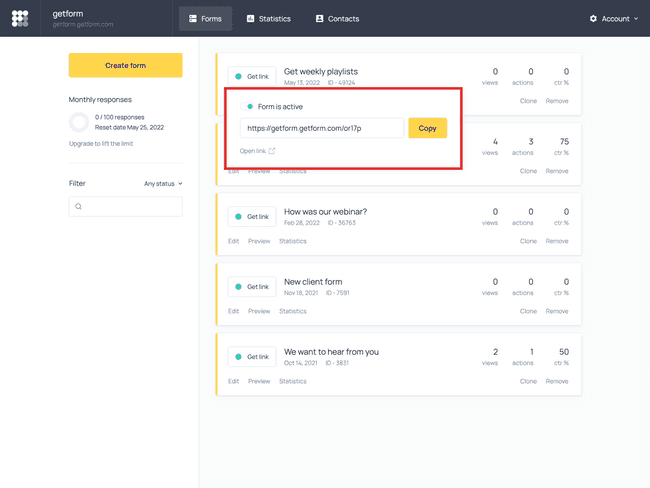 Now it's time to share this link on TikTok so that your subscribers and anyone who happens to visit your profile can land on your page and join your list.
Here are our suggestions on how you can do that.
Share the link in your TikTok bio
If you want to make sure everyone who visits your TikTok profile will know about your landing page and get a chance to subscribe, share the link to your page in your bio.
To be able to do that, you need to have a business account on TikTok. TikTok business accounts are free, so you'll just need to change your account's settings. You can learn how to do that on TikTok's dedicated page.
Make sure people know what they'll get in return if they subscribe, and add a call-to-action (CTA) to your profile description.
Notice how Marcella, a lettering artist and the owner of the Lovable Letters TikTok account, links to the landing page from her bio.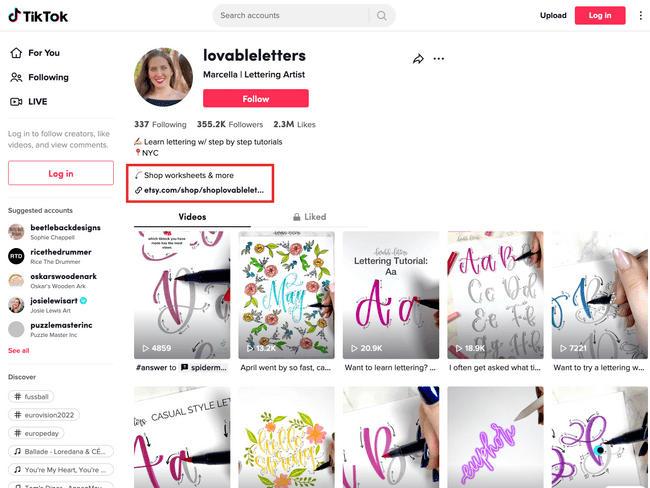 Marcella - lovableletters, lettering artist on TikTok
As you can see, there is a clear mention of what people can expect to get by clicking the link. In this case, it leads to a page with multiple worksheets and freebie offerings.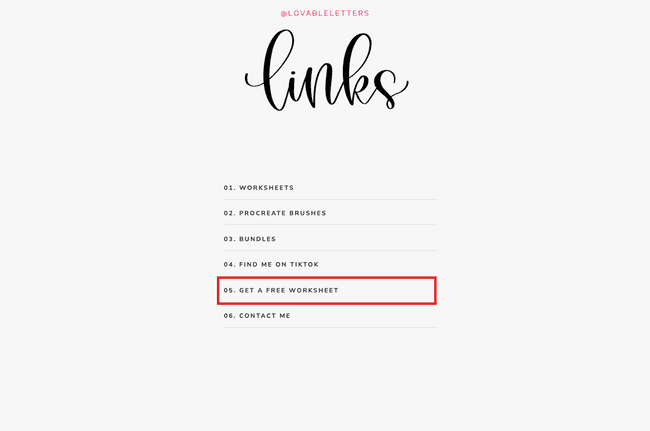 One of Marcella's links opens an email capture landing page that offers a free worksheet in exchange for subscription.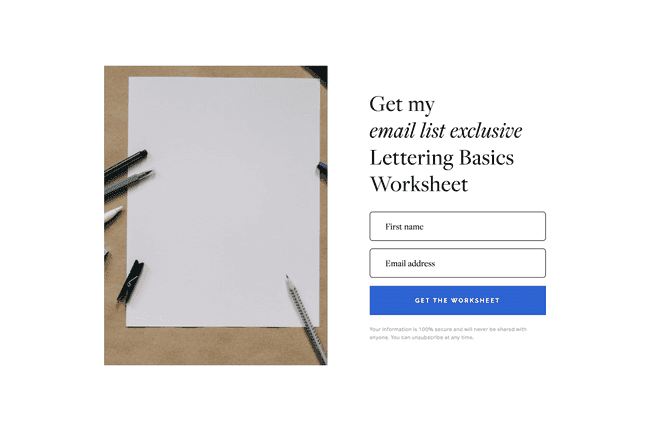 Here are other examples of CTAs that you can take inspiration from:
"Subscribe to learn all you need to know to successfully run your own business"
"Subscribe to my newsletter and get a free smoothie recipe book"
"Sign up to get the first chapter of my new book delivered to your inbox for free"
"Want a free decluttering plan for spring? Sign up to my newsletter 👇"
We'll talk more about what you can offer in exchange for email subscription in the last section of this article.
Mention your newsletter in your content on TikTok
If you want your viewers to visit your landing page and subscribe, take advantage of every opportunity to mention your newsletter.
For example, you can let people know that you have a newsletter at the end of your videos (in speech or writing), tell them that the link is in your bio, and invite them to check it out.
In your calls to action, you want to focus on the benefits of joining your email list, and let your potential subscribers know what's in it for them.
If you host live sessions, mentioning your newsletter during them would also be a good strategy to drive people to your landing page. Live sessions are a great way to engage your audience. They make your followers feel "closer" to you. You'll look more like a real, trustworthy person in their eyes, and they might be more inclined to check your content.
Lead magnet ideas for creators
Earlier in this article, we mentioned different ways to incentivize people to join your list. Marketers call these incentives 'lead magnets', and they can take many forms.
A lead magnet can be an ebook, a checklist, access to a webinar, templates, etc. Basically, any piece of free content that your audience could be interested in is good lead magnet material. Depending on your means, your niche, and the kind of audience you are trying to reach, you'll need to choose the most appropriate option.
Below, we've gathered lead magnet ideas for creators in different niches. Check them out 👇
Lead magnet ideas for artists
If you're an artist, your choice of a lead magnet will depend on the kind of creative work you do. That's why we included in our list of suggestions lead magnet ideas that cover a wide range of artistic professions.
Here they are:
Art prints and posters
Tips for beginners in your field
Access to a streamed session of painting/drawing/sculpting/anything artsy
Color mixing cheat sheets
Affiliate discounts
Toolkits
Free patterns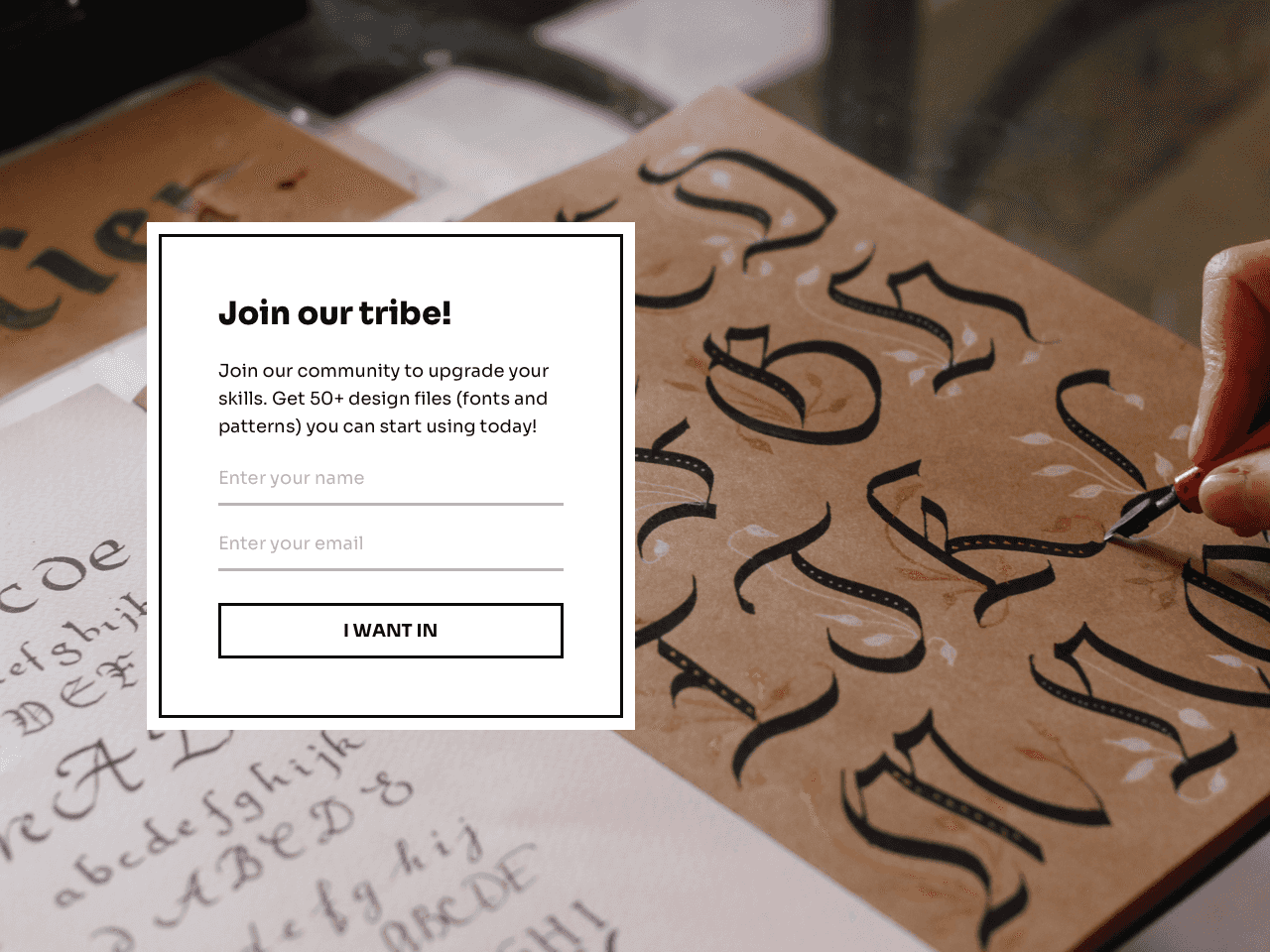 See live preview
Lead magnet ideas for coaches
If you're in the coaching business, there are endless possibilities for you to choose from when it comes to lead magnets.
In exchange for subscription you can offer:
Training programs
Training tips
A training log template
Access to a video lesson
An ebook with recipes
A full meal plan
A calorie calculation spreadsheet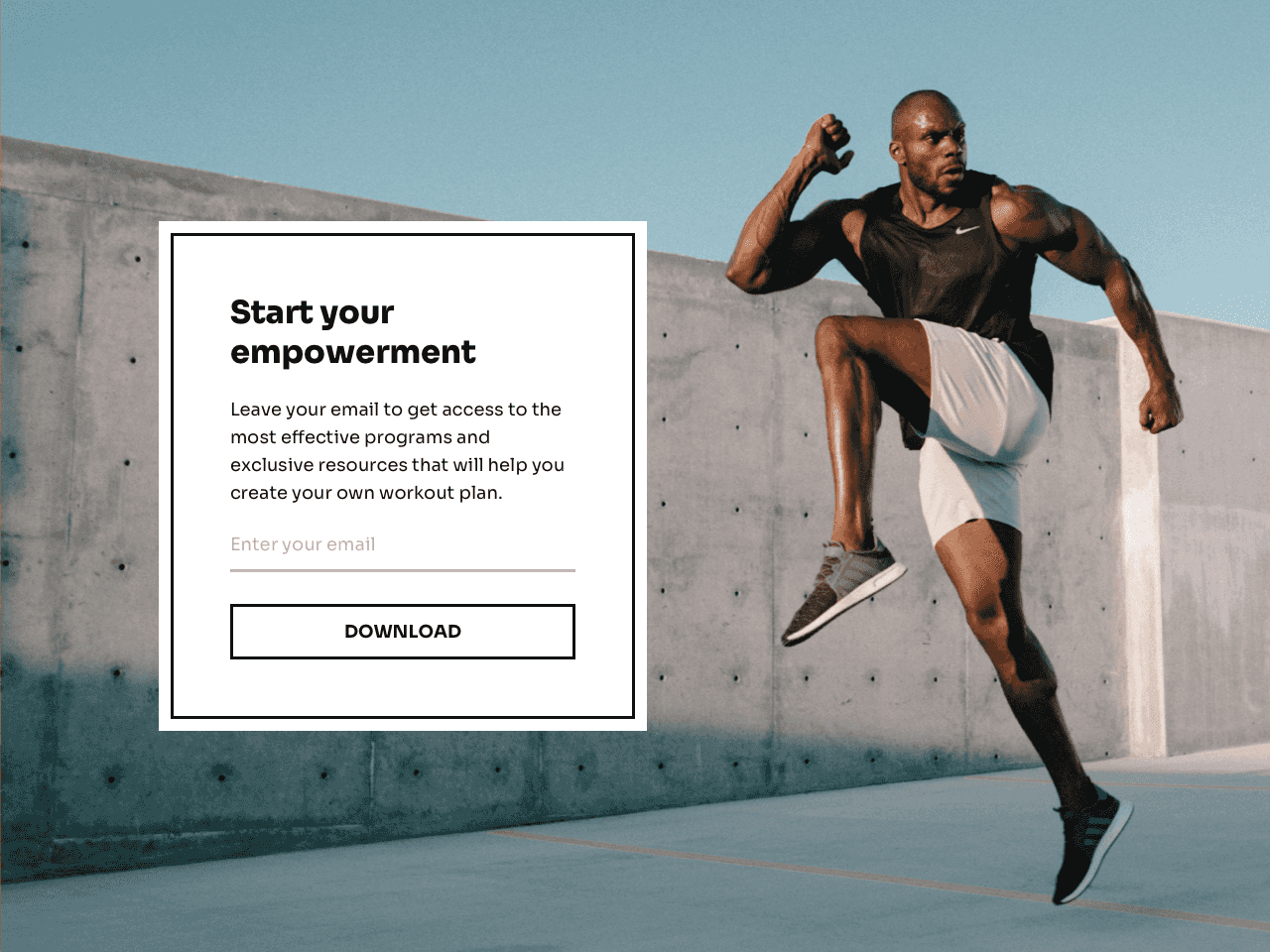 See live preview
Lead magnet ideas for course creators
If you're a course creator, it would be a good idea to offer a sneak peek of your course to tempt your subscribers to buy the whole thing.
You can offer:
Access to a shorter version of your course.
Access to a couple of lessons of your course
Checklists
A list of best practices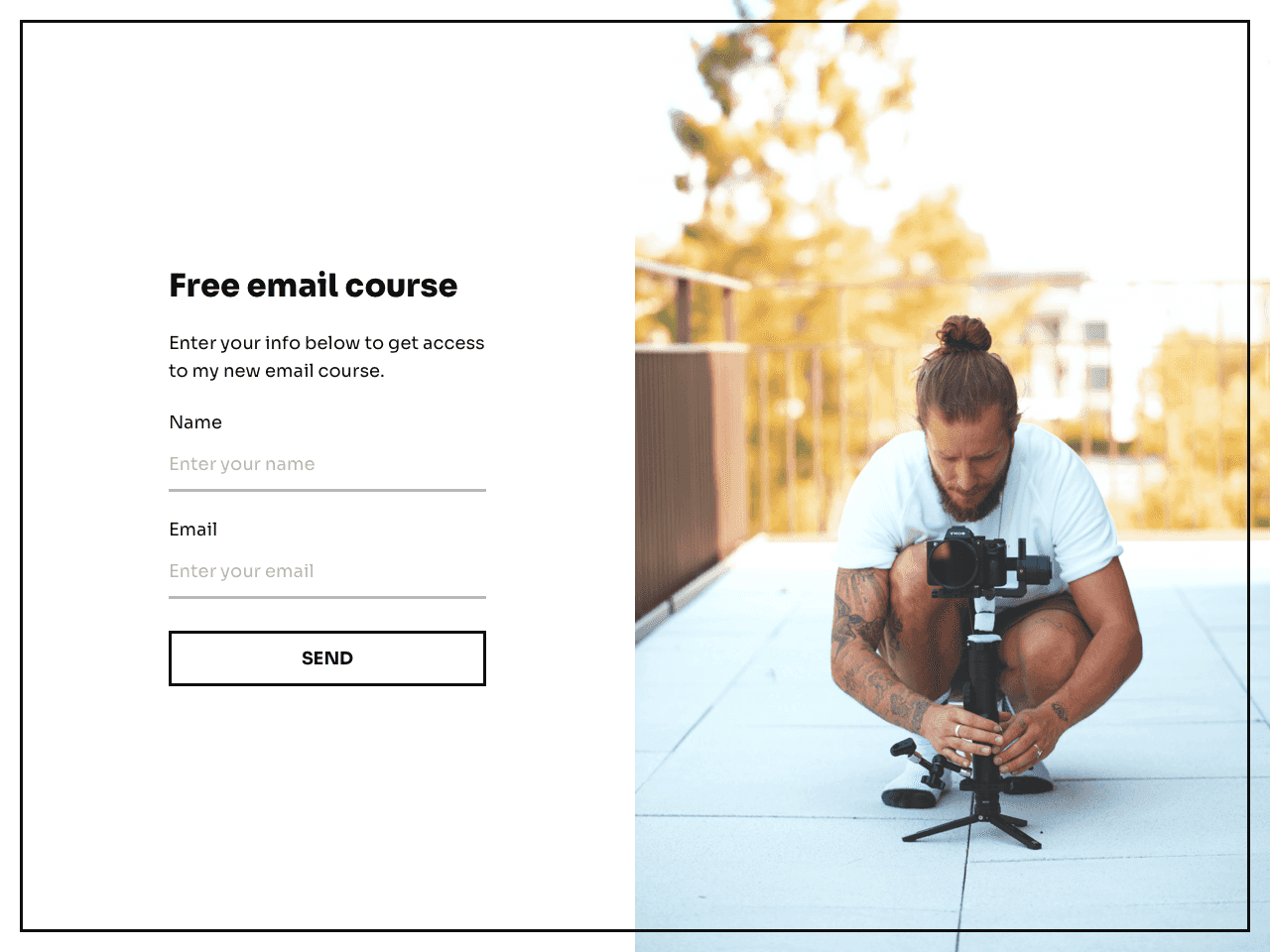 See live preview
Lead magnet ideas for chefs
If you're in the culinary business, worry not: there are plenty of ways to make people hungry for your content.
Just to give you a couple of examples, you could offer:
Exclusive access to a live (or recorded) cooking class
Tips on how to prepare a specific dish
A recipe book
A cookware buying guide
A list of recommended brands
Herbs & spices combination chart
An affiliate discount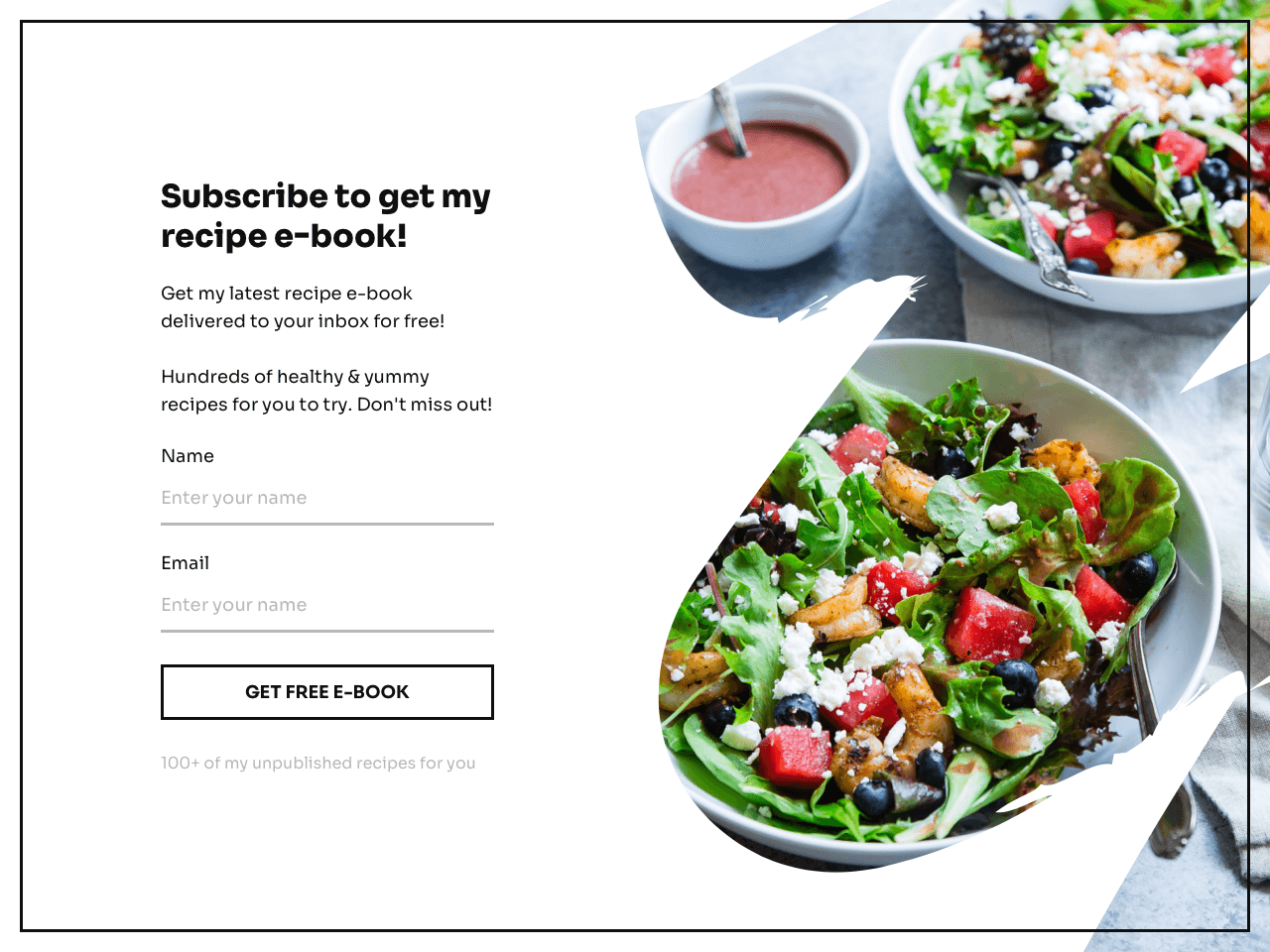 See live preview
Lead magnet ideas for teachers
Teachers and tutors can make good use of lead magnets to incentivize potential students to sign up for their lessons.
If you're a teacher, you can offer:
Free study materials
Study tips
Exam preparation checklists
A free first lesson
See live preview
Lead magnet ideas for photographers
If you're a photographer, there are two main types of lead magnets you can offer: lead magnets for people who just appreciate your work, and lead magnets for fellow photographers who want to learn from you.
Your fans may be interested in receiving:
High-resolution versions of your best photos
A selection of unpublished photos
Whereas fellow photographers in your audience may appreciate:
Buying guides
Lighting hacks
Quick video tips
LUT sets for still images
A list of great spots for landscape photos in your area
Tips on how to make the most of the equipment
Tips on how to best capture specific subjects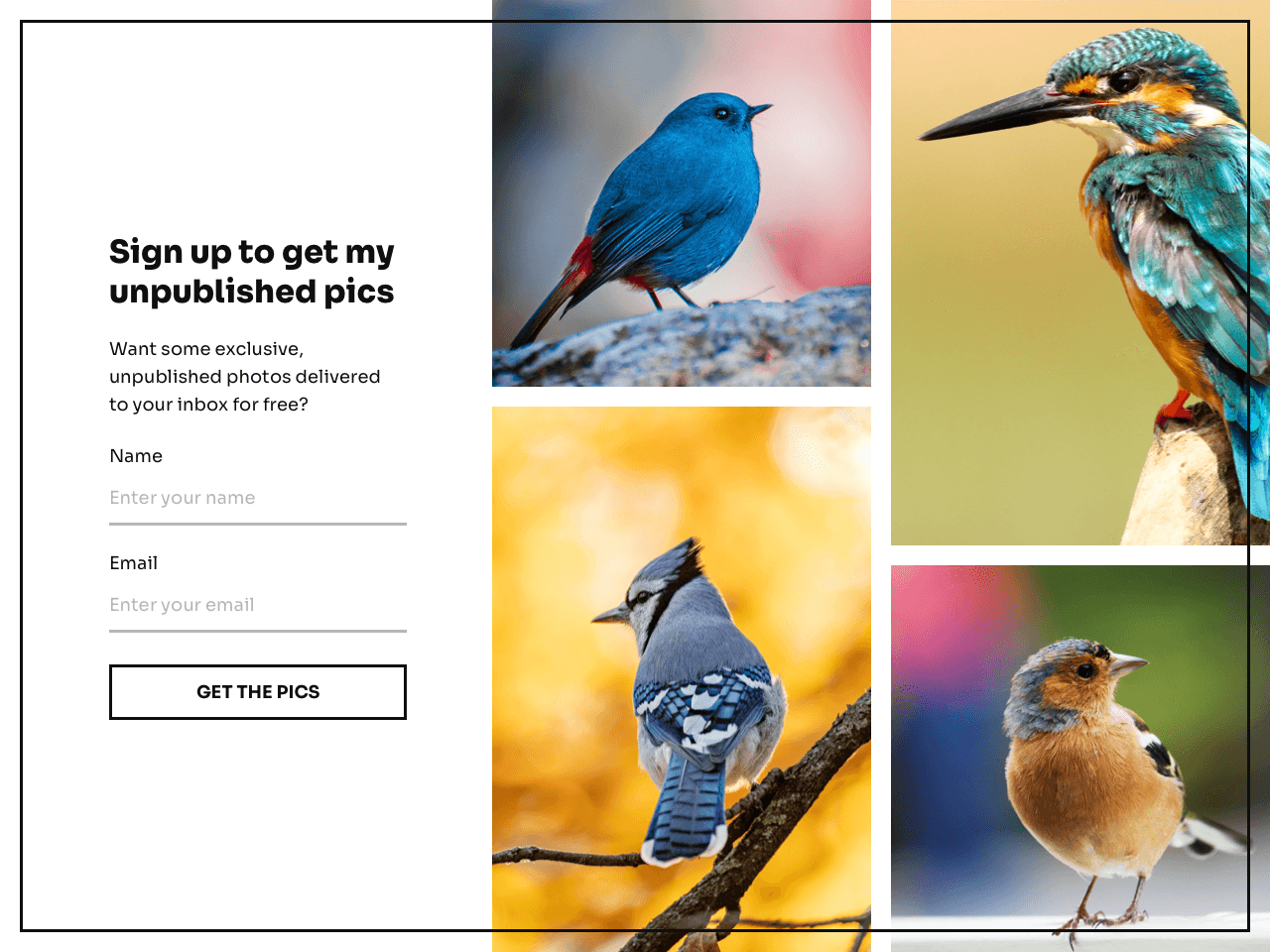 See live preview
Start growing your email list with TikTok today
Now that we've told you all you needed to know about email list building on TikTok, it's time for you to put the new knowledge into practice. Grab one of the templates featured above, play around with it, have fun, and start growing your email list!
Try Getform today
Create a landing page and start growing your email list on TikTok. Free up to 100 subscribers per month.
Get started

Giorgia Mangoni
May 26, 2022
Join creators worldwide
Grow your online business without a website. Generate leads, tag your subscribers, send promo emails, and build automations.
Get started
650K
Forms displayed
this week
30K
Contacts collected
this week
5K
Automations runs
this week
15K
Broadcasts sent
this week