How to Create a Branding Questionnaire [+Customizable Templates]

Charlene Boutin
October 13, 2020
- 7 min read
So you just landed a new client for your marketing, copywriting, branding, or design services – congratulations!
Now what?
Before you can map out project deliverables, timelines, and objectives, you'll first need to understand your client's brand identity. When you have clarity on their brand, you'll be able to deliver a project that fully aligns with your client's purpose.
This is where the branding questionnaire comes in.
What is a branding questionnaire?
A branding questionnaire is a set of questions and requirements that you can send to clients – or to your internal team – in order to develop a brand identity.
Here is an example of a branding questionnaire template, powered by Getform, that consists of 30 questions. Feel free to grab it and remove or add any fields or questions 👇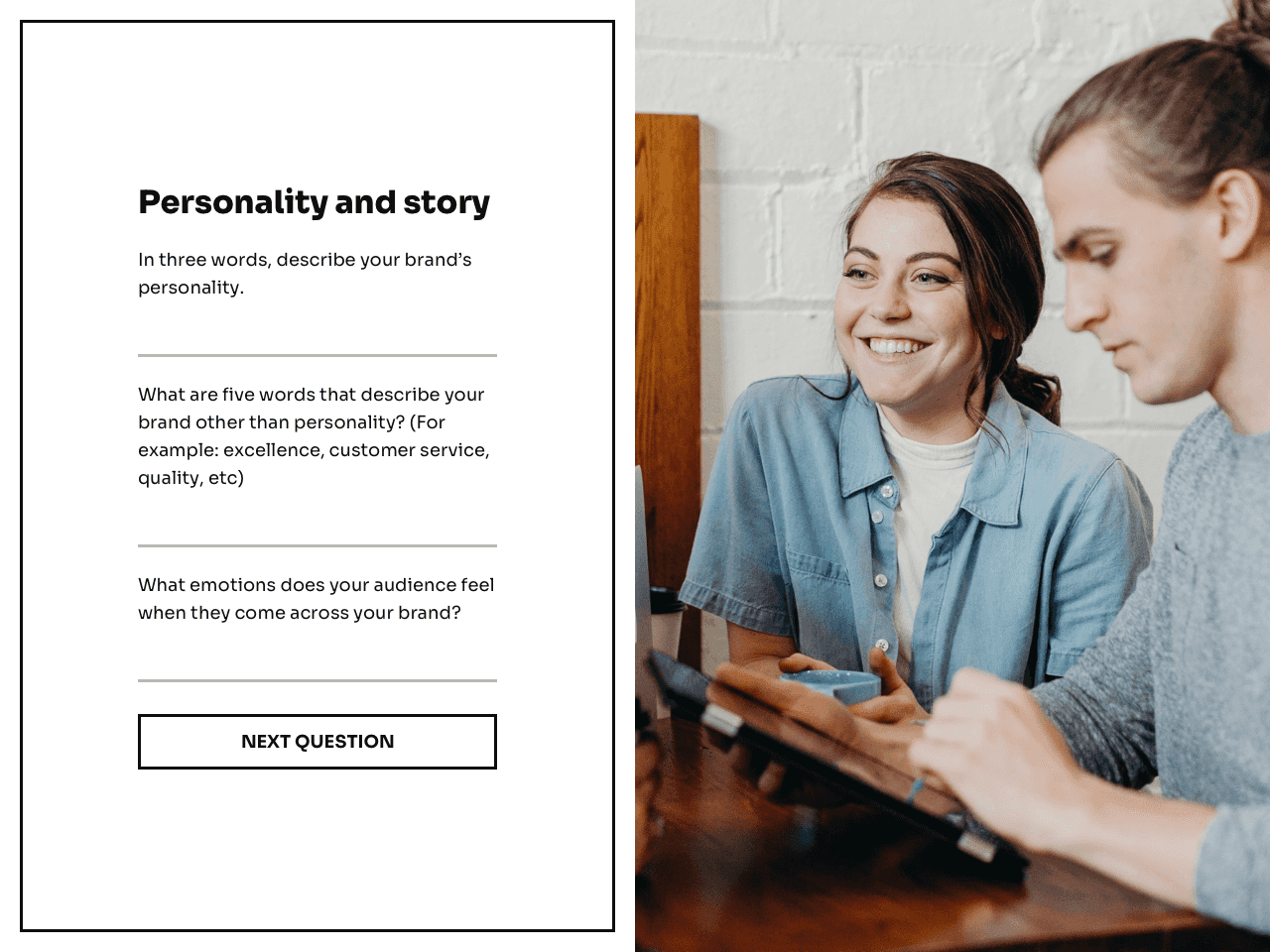 See live preview
At the end of this post, you'll find five more pre-designed templates – each dedicated to a separate element of branding: brand voice, customer persona, unique selling proposition, competition, visuals.
Branding questionnaires are useful if you help your clients with a logo design or complete brand development. However, they can be a huge help even if you're not a branding strategist or branding agency.
Whether you are developing a new website, planning a marketing strategy, or writing sales copy for your client, you'll have more clarity on who they are as a business when you have them fill out an effective branding questionnaire.
More clarity will mean that whatever you do for your client will be aligned with the rest of that client's identity.
Try Getform for free
Create a branding questionnaire within minutes. Dozens of templates. Free up to 100 form submissions per month
Get started
Why your client needs a branding questionnaire – even if you're not developing their brand
Your client's brand can be compared to their DNA.
That's because a brand is so much more than logos or color palettes. A brand is a complete identity. Whether your client is a solopreneur with a personal brand or a multinational corporation, every business needs a solid brand to make their mark on their market.
When you hear a company's name, what is the first emotion that comes to mind? This is just as much an integral part of branding than all the visual aspects of that business.
Branding is made up of several elements, including (but not limited to):
The values that drive the business forward
Mission statements and vision
Short-term and long-term objectives for the business
What type of audience the business wants to attract and serve
The relationship the business has (or wants to have) with their customers
The unique selling proposition this business has to offer to their prospective customers
How the business sets themselves apart from their competitors
The tone of voice used in copywriting elements
Visual elements such as logos, color palettes, and design style
When done right, a company's brand identity will tell you where they came from, where they are headed, and what purpose drives them forward.
But why does this matter?
If you want your clients to succeed, they need to have a solid grasp of their brand identity. That's because people don't just buy from companies – they buy from people.
A brand identity doesn't just humanize your client's business – it also allows them to stand out from the competition. Many customers will choose to buy from one company over another just because of their brand identity, even if the product isn't the best of its kind.
In a way, a strong brand identity doesn't just differentiate your client from their competitors – it eliminates the competition entirely, because no other brand will be exactly like theirs.
A branding questionnaire will help you filter clients
Branding questionnaires aren't just useful to help your clients succeed. They are also an amazing tool that you can use to understand where your potential clients are at in their brand development.
For example, if you run a marketing agency that only helps clients who already have a solid grasp on their branding, you'll be able to tell whether or not the client is ready to work with you from the branding questionnaire alone. If they are disorganized and lack clarity, this could be a sign that they need to hire branding experts before working with you (unless this is a service you offer).
It works the same way for copywriters and copywriting agencies. Unless you offer a branding strategy and development packaged with copywriting work, it will be difficult to write effective copy without a clear brand identity to work from.
On the other hand, if you do offer branding development, this questionnaire will let you know exactly where your client is at. That information will help you map out the milestones, timeline, and objectives for your project in a realistic way.
What does a branding questionnaire need to uncover?
Before you sit down and create your own branding questionnaire, you first need to figure out what you need to know about your client.
And here's the truth – the more you know, the better. But you need to start somewhere.
At the very least, you'll need to uncover more information about the following:
Visual identity

Yes, the visual identity will include colors and logos, but beyond that, it should answer the question: what do people feel when they see the visual side of this business?

Voice

Everyone and every brand speaks (and writes) in a different voice. For example, if you compare posts on the Getform blog to the posts on the Salesforce blog, they won't feel like the same voice.

Personality

Personality will shape the visual identity and the voice of a business amongst other things. If a business was a person, what words would you use to describe them?

Message

How does the company inspire their customers to take action and buy from them?

Values and purpose

This includes the ethos of the business, as well as the uniting purpose that drives everyone in the business forward to the same objective.
Depending on the nature of the work you do for your clients, you may want to uncover other things as well, such as growth goals in the next year. However, these types of questions may be better off in a client onboarding questionnaire so that you can keep the branding questionnaire… well, branding-related!
Planning your categories for your branding questionnaire
At first glance, it might make sense to separate your question categories in the five groups based on the elements discussed above.
But that's not necessarily the most effective way to move forward.
Why?
Many of these five elements may include overlapping questions. So here are the groups I suggest instead:
Personality and story
Ideal customer avatar and audience
Unique selling proposition
Competition
Visuals
You are free to present these question categories in any order you wish, but I listed this order for a reason.
Chances are, your client is already comfortable with the story of their business. This will help them start the branding questionnaire on the right foot and will create a smooth transition for the more difficult questions.
The ideal customer avatar and audience comes before the unique selling proposition, since the USP should be driven by what the audience needs. Competition comes next because it is difficult to know who you are competing with unless you have already established what it is you do and who you help.
Finally, I suggest ending with visuals for a simple reason: visuals should be a representation of the other elements, and not the other way around.
If your client lets their visual preferences guide their unique value proposition and ideal customer avatar, chances are the brand will stand on shaky ground.
On the other hand, a visual identity that leans on a solid foundation of personality and purpose will be much more meaningful than visuals chosen at random.
Questions you should include in your branding questionnaire
Want to know exactly what to write in your branding questionnaire? Here is a breakdown of all the questions you should include, separated by the categories we discussed above.
There are customizable templates for each group of questions. You can use them if you decide to only ask your clients questions about a particular part of their brand identity.
Personality and story
In three words, describe your brand's personality.
What are five words that describe your brand other than personality? (For example: excellence, customer service, quality, etc)
What emotions does your audience feel when they come across your brand?
What do you want your customers to feel AFTER they purchase from you or experience your offers?
Why was your business founded?
What is your brand's story – how did it come to be what it is today?
What is your brand's language?
What is your mission statement?
What are your values?
See live preview
Ideal customer avatar and audience
Who is your ideal customer? Describe their personality and demographics in detail.
What does a typical day look like in the life of your ideal customer?
What does your ideal customer struggle with on a daily basis?
What deeper pain points does your ideal customer struggle with?
Describe your ideal customer's goals, dreams, desires, and aspirations.
Why haven't they achieved these goals, dreams, desires, and aspirations yet? What is currently stopping them?
How have existing solutions failed your ideal customer in the past?
What is it about your brand's personality and story that resonates with your ideal customer?
How do you interact with your ideal customers?
See live preview
Unique selling proposition
What pain points do you solve for your ideal customer?
What outcomes can your ideal customer expect when they buy from you?
What is unique about the way you help your ideal customer?
Why do your ideal customers trust you?
See live preview
Competition
List three to five of your competitors.
How are you similar to your competitors?
How are you different from your competitors?
How do your offers differ from what your competitors offer?
What is it about the way you help your ideal customer that resonates more than your competitors?
What other brands do you admire, competitor or not?
See live preview
Visuals
What are your colors and color palettes? Why have you chosen these colors?
What is your font? Why have you chosen this font?
What is your existing logo?
What is the story behind your existing logo?
How does this logo communicate your brand?
Are you happy with the way your brand's visual identity is currently represented?
See live preview
Start your client projects on the right foot with a clear brand questionnaire
By using all of the above questions in your branding questionnaire combined with an onboarding questionnaire, you should be able to gather all the necessary information to complete any type of project for your client while ensuring you are headed in the right direction.
If you want to create your branding questionnaire quickly and easily, you can use the Getform templates included in this post. Feel free to modify the questions and tailor them to your needs. Once ready, you'll be able to send your questionnaire directly to your clients via a short link.
All the submitted information will be conveniently stored in your Getform account, and if you want, you'll be able to integrate it with Google Sheets or your CRM, too.
Sign up for Getform
Convenient online form builder for your business.
No credit card, no commitment.
Get started

Charlene Boutin
October 13, 2020
Create forms with personality
Leverage insights for your business with a full-featured form builder that requires no website, design or coding knowledge.
Get started
Handcrafted
templates
Mobile
responsiveness
CSS
editor
Picture & GIF
search
Multipage
forms
Seamless
integration
Performance
charts
Responses
report