Build an automation to promote a product/service launch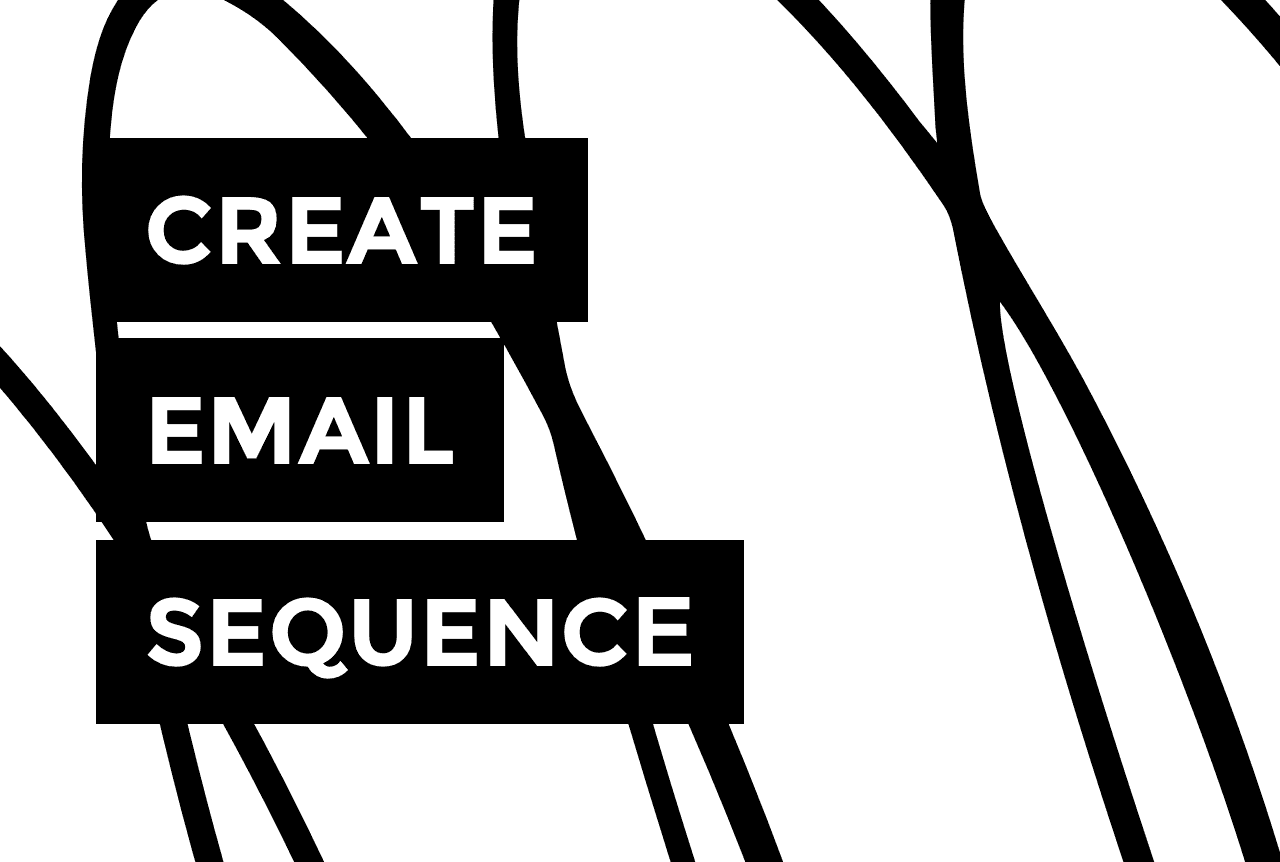 Giorgia Mangoni
October 13, 2023
- 8 min read
If you're planning to launch a product, a service, or a course, you want to start promoting it before the launch day.
This way, you'll ensure that as many people as possible know about the product or service you're launching.
One proven way to promote whatever you're launching is by sending an email sequence about it to your subscribers.
In our example, we'll create an email marketing automation to promote the launch of a copywriting course, but you can apply the structure to any other product launch.
For more ideas on how to market an online course, head over to our dedicated article.
Try Getform today
Create an email sequence to promote your product launch. Intuitive email editor and lots of email templates.
Get started
If you don't have an email list yet, choose a list-building form template from Getform's gallery and follow this guide to building an audience without a website.
To start building your automation, go to the Automations tab and click + Create automation. Select New contact created as your automation trigger: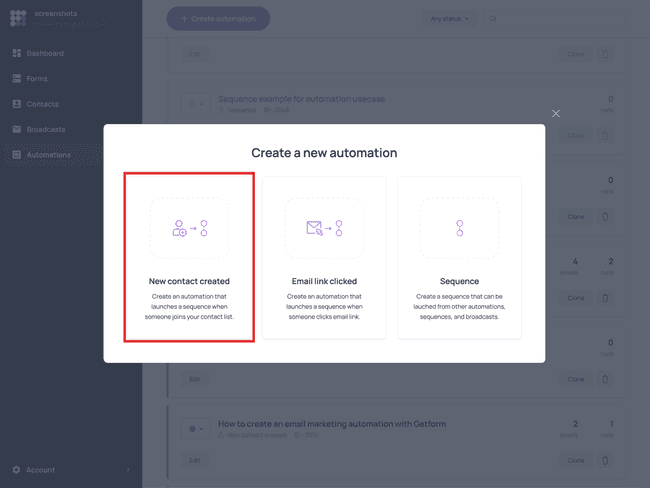 Create a welcome email for your new subscribers.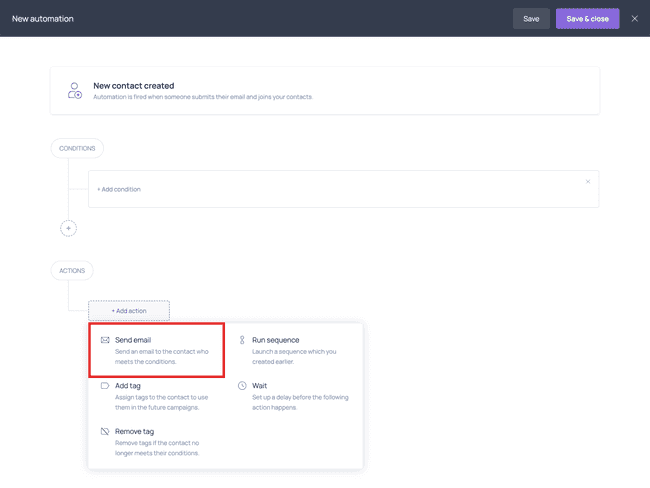 You can mention that you have a big announcement coming, as we did in the example below: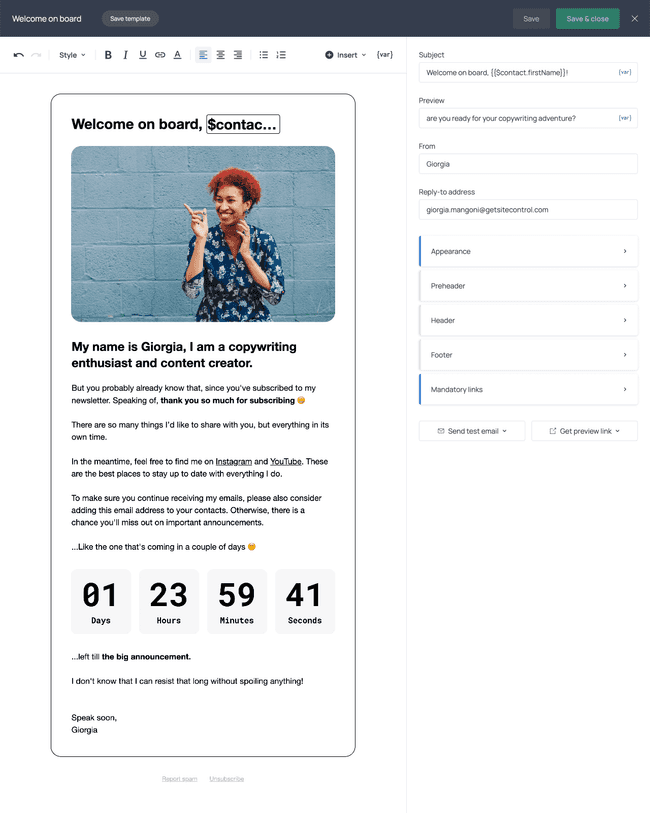 Next, set a time delay before you send your next email. In our case, the waiting time is going to be two days, as displayed on the countdown timer in the welcome email: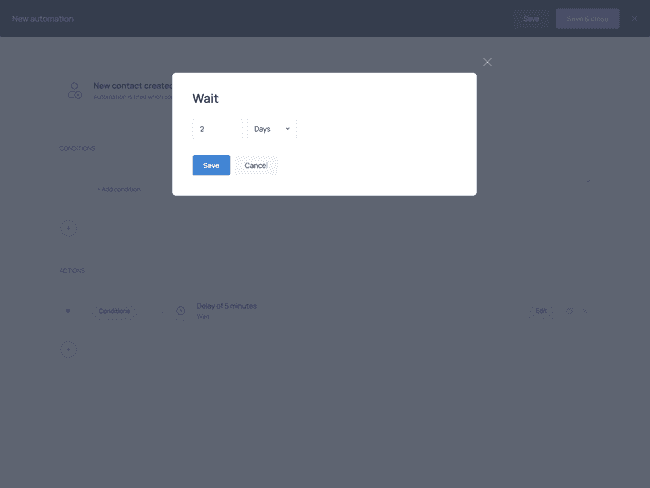 It's now time to send your subscribers an email where you inform them of your upcoming product/service launch and its timeline.
Here's an example where we announce the copywriting course and tell our subscribers when signing-up will be officially open: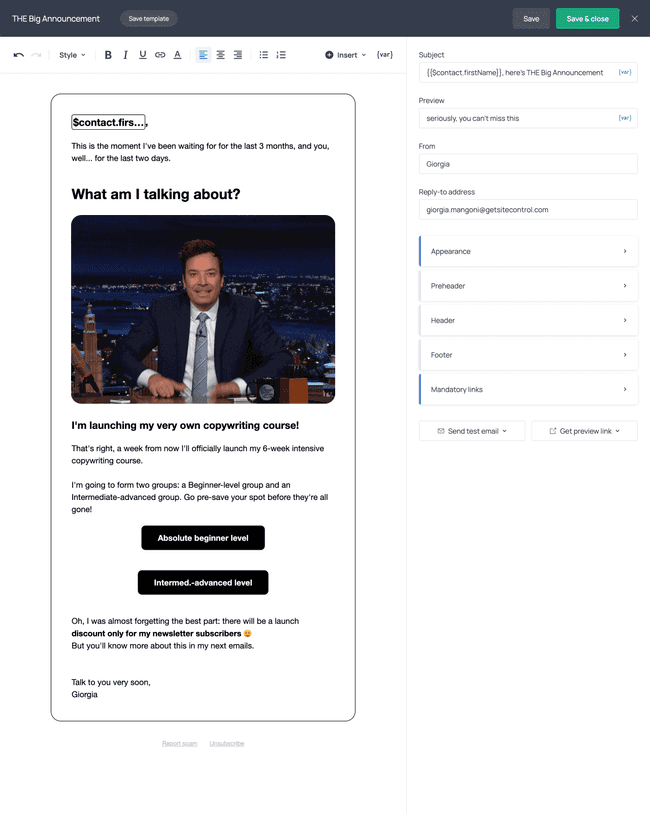 The email features two buttons that lead to two different pages. This is the point where we split our audience into two segments: those interested in the beginner course, and those interested in the intermediate-advanced course.
With the help of two more automations, we'll send each group only emails about the course they have expressed interest in (by clicking the corresponding button).
If your case is different and you don't need to split your audience, you can just keep adding emails to your welcome automation.
Let's move on to creating an automation targeted at the contacts interested in the beginner course.
From the Automations tab, click + Create automation, and this time select Email link clicked as the trigger:
For starters, edit the trigger settings to launch the automation when contacts click the first button in the announcement email ('Absolute beginner level'):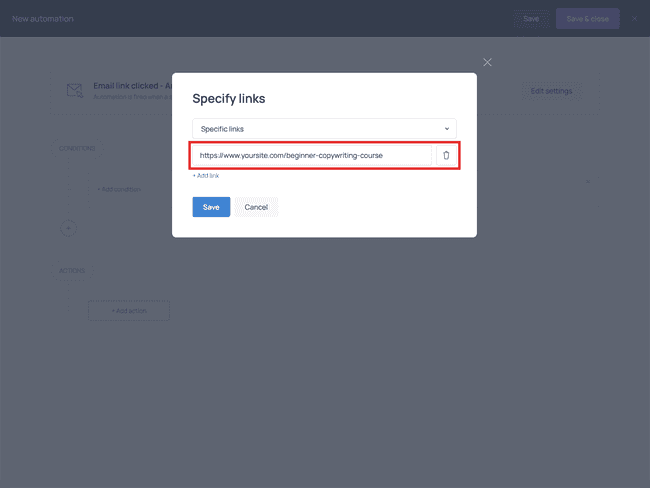 Next, assign a tag to your contacts to remember that they were interested in the beginner course: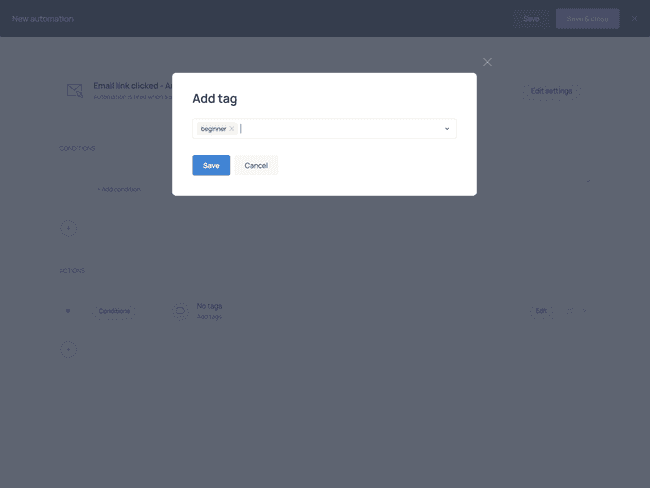 Before setting up your next email, add a waiting time so that your contacts don't receive it right after the last one: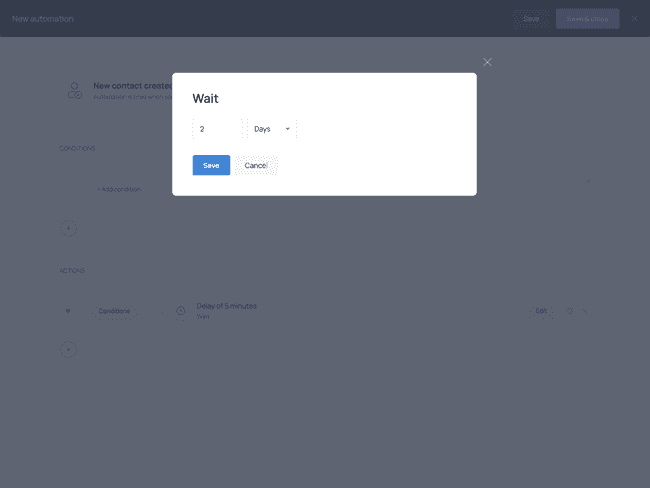 Craft an email about the selected product tier and tell your contacts what to expect from it: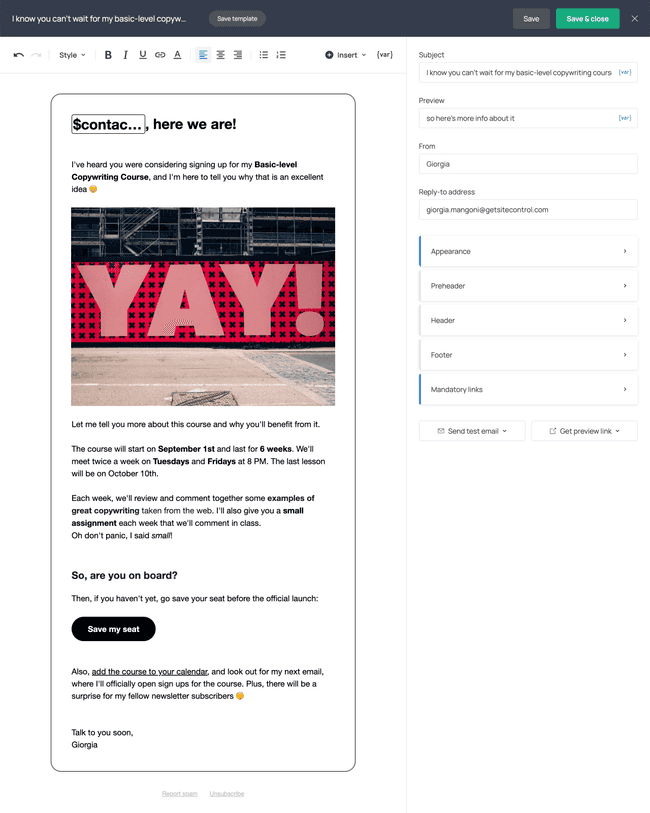 In this email, you can encourage your subscribers to pre-order your product or reserve it before the launch.
Set another time delay, and finally send the email about the actual launch: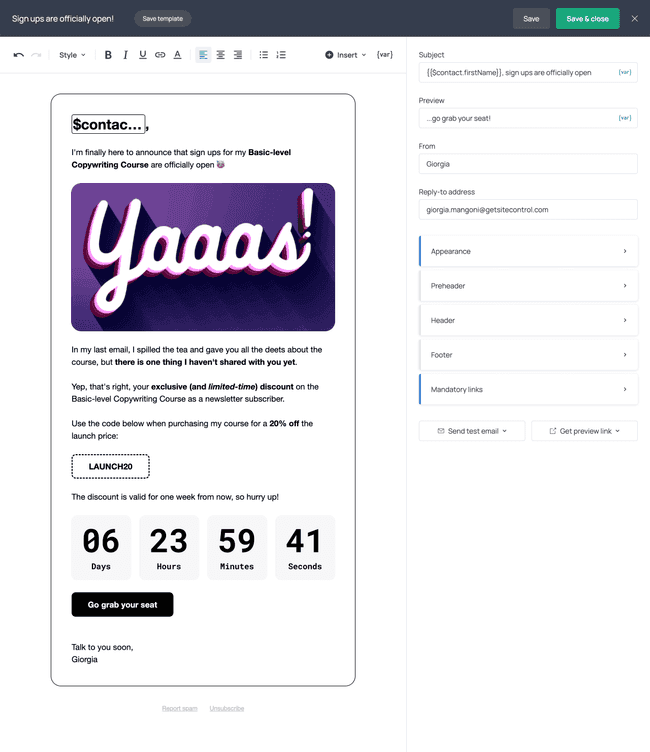 💡 If you're offering a limited-time launch discount on your product or service, include a countdown timer in the email to let your subscribers know they need to hurry if they want to get the deal.
Between the informational email and the email about the launch, feel free to send more emails to your contacts. For example, you can send a reminder the day before launch day. Or, you can launch a free challenge to keep your audience interested and engaged, and build more hype before the launch.
Proceed to create a similar automation for the second audience segment ('Intermediate-advanced level') by repeating these steps.
When you are done adding emails and other actions to your automation, click Save & close. Your automation setup is now complete.
Try Getform
Create an email sequence to promote your product launch. Intuitive email editor and lots of email templates.
Get started

Giorgia Mangoni
October 13, 2023
Join creators worldwide
Grow your online business without a website. Generate leads, tag your subscribers, send promo emails, and build automations.
Get started
650K
Forms displayed
this week
30K
Contacts collected
this week
5K
Automations runs
this week
15K
Broadcasts sent
this week