Create an Evaluation Form for Your Online Course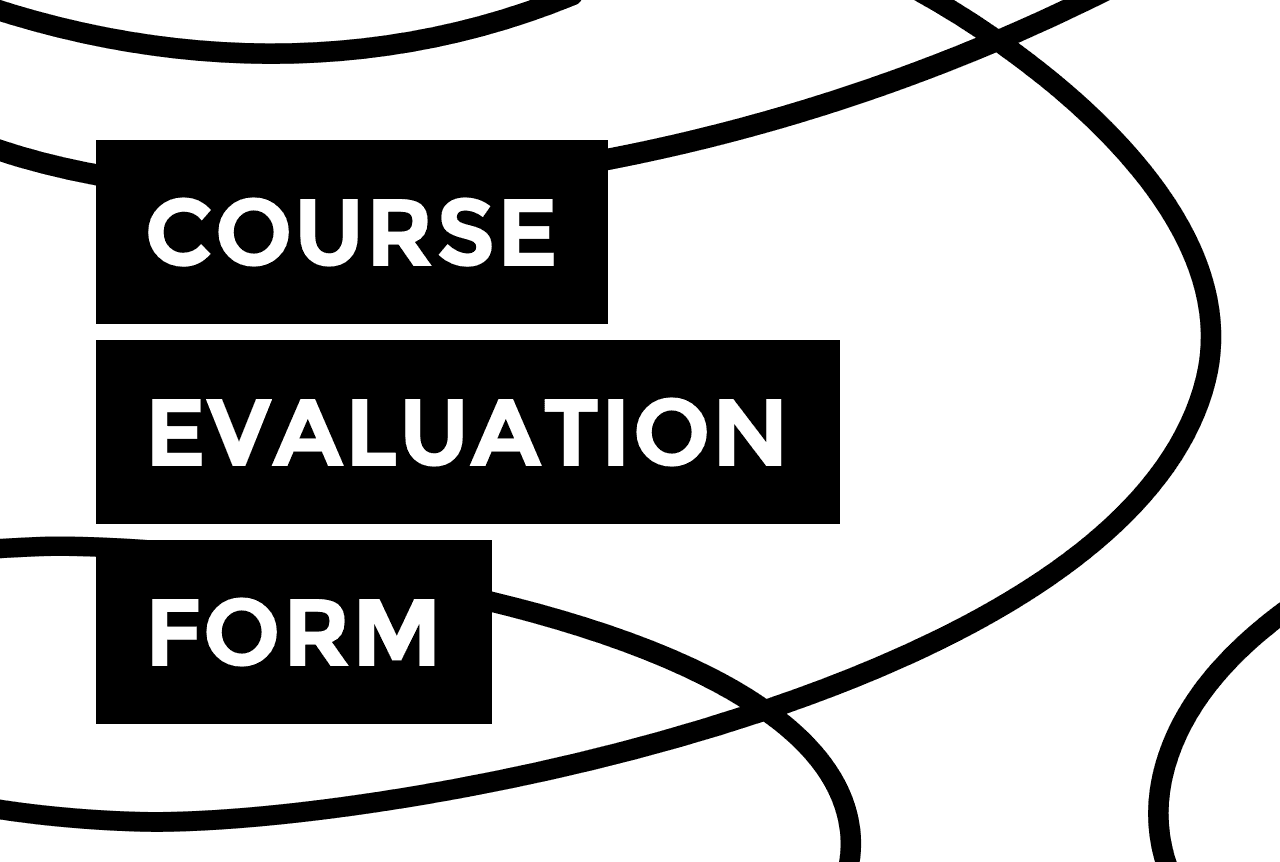 Giorgia Mangoni
September 29, 2022
- 8 min read
As a course creator, you're probably hoping people will attend your course, enjoy it, and recommend it to others. And you've worked hard to achieve that.
But even the best courses need to be updated from time to time to remain relevant.
The first step to improving your online course is knowing where you currently stand, and no one is more qualified to tell you that than your students.
If you're looking for a way to start asking your students for their feedback, consider using a dedicated online course evaluation form. It's easy to set up (if you choose the right tool), easy to share, and equally easy to fill out.
Take a look at the template below to get an idea of what it could look like 👇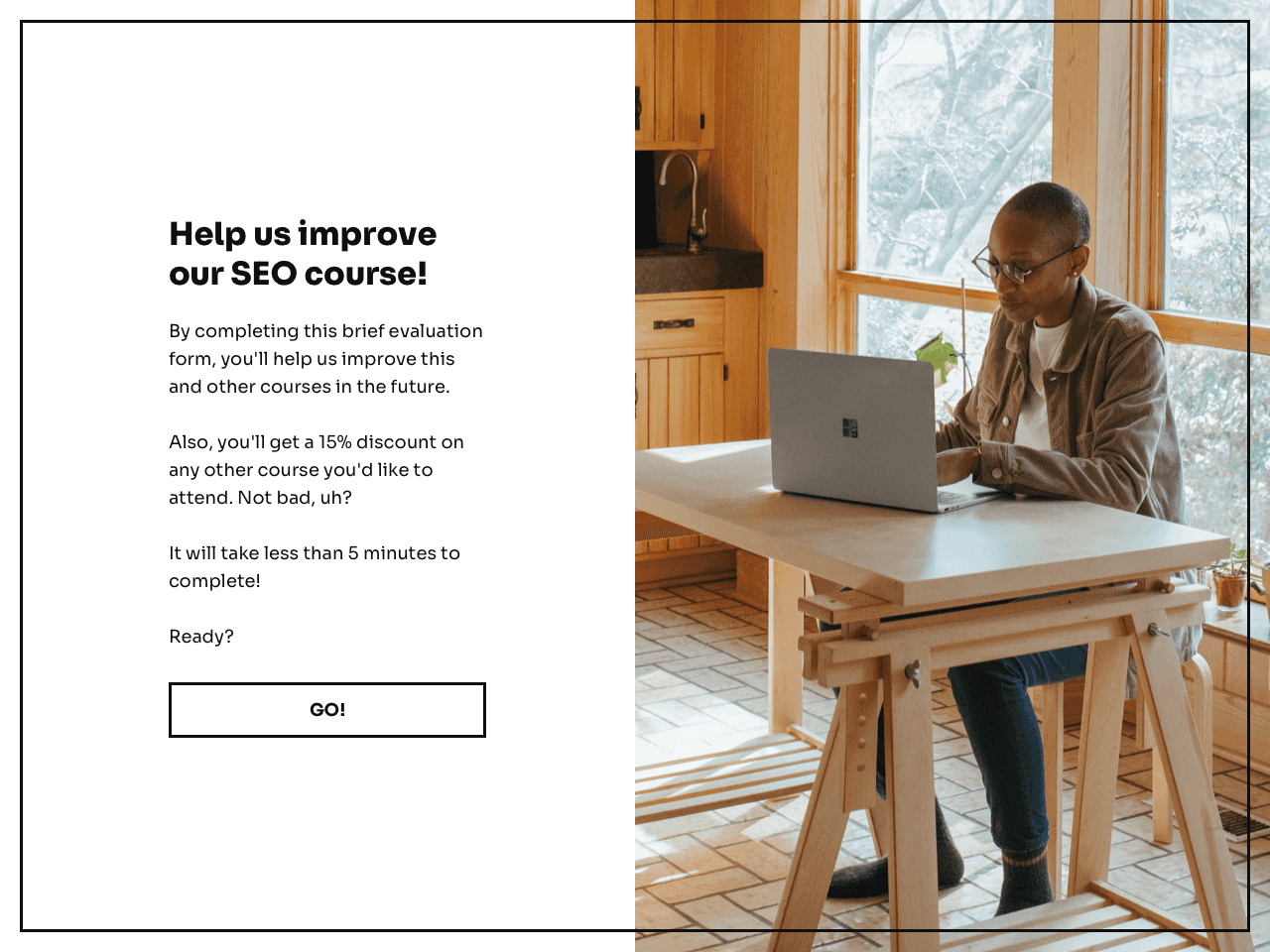 See live preview
In this article, you'll learn how to create a course evaluation form, like the one above, using Getform — an intuitive online form builder.
Getform allows you to create and share online forms within minutes without any technical knowledge. Since the form above is a template, you can grab it, edit it to suit your needs, and use it as a base for your own form. It's completely free, unless you're expecting more than 100 responses per month (in that case, it's $7 per month).
Stick around until the end of this article for tips and tricks to improve response rate and reliability.
Try Getform
Create an online course evaluation form to find out how likely your students are to recommend you.
Free up to 100 responses/mo!
Get started
Step 1: Choose a template for your form
For starters, choose the base for your form. We recommend using the template featured above, but you can also browse Getform's template gallery. There is a section specifically dedicated to evaluation forms.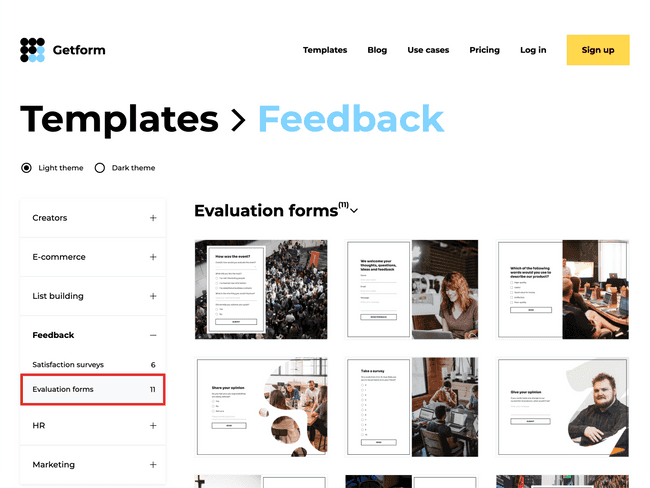 Once you've found the right template for you, click the Take this template button and follow the prompts to create a free Getform account.
When that is done, you'll find the template you have chosen in your Getform dashboard, ready for editing: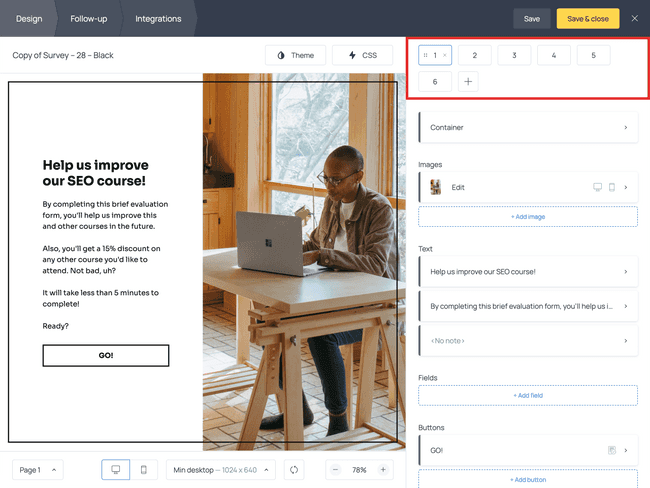 Step 2: Edit the copy
To edit the text of any element of the form, just click on it in the preview and enter the new text. You can start with the intro description on the first page, and then move on to the following pages with questions.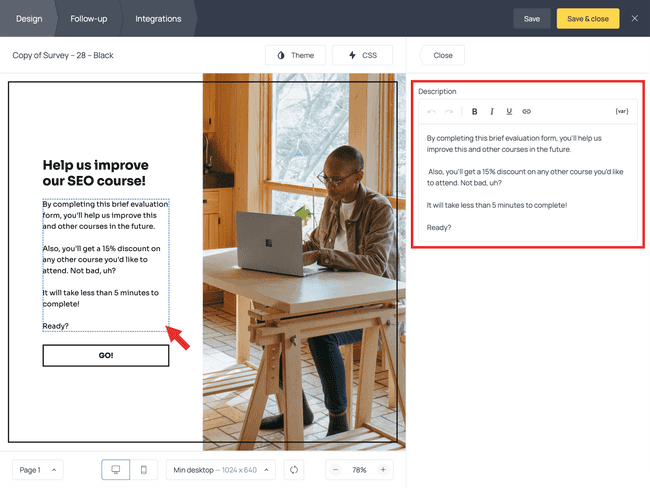 To remove an existing field, click on it and hit the Remove field button in the top right corner of the screen: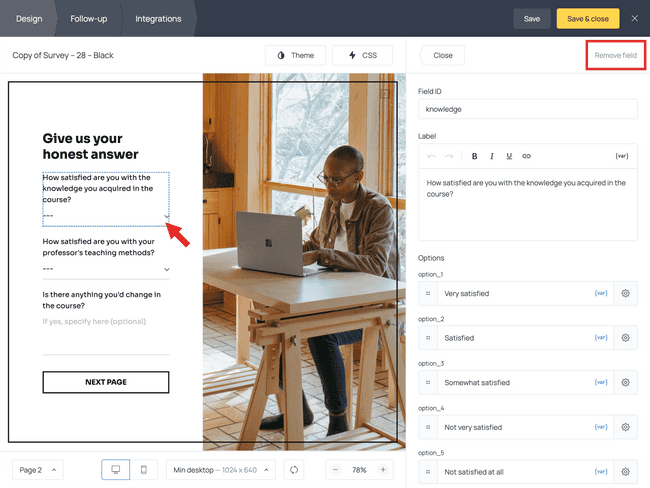 To add new fields, go to the fields section, click the + Add field button and choose the desired field type among the options: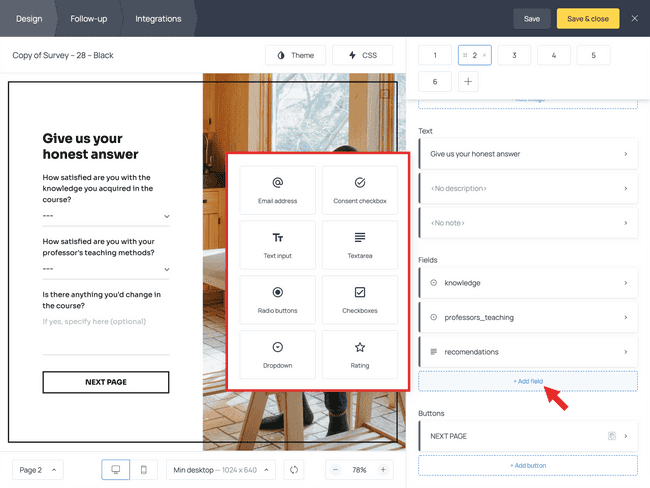 💡 You can add more pages to your form using the + button in the bottom-right corner of the screen. If you decide to create additional pages, make sure to place a button with the Submit action on each of them to allow respondents to submit their answers and move to the next page.
The last page of the form is called a 'Thank you' page or a submission success page. That's where you can thank your respondents for their contribution and tell them what happens next. Don't forget to check it out and edit the text if necessary.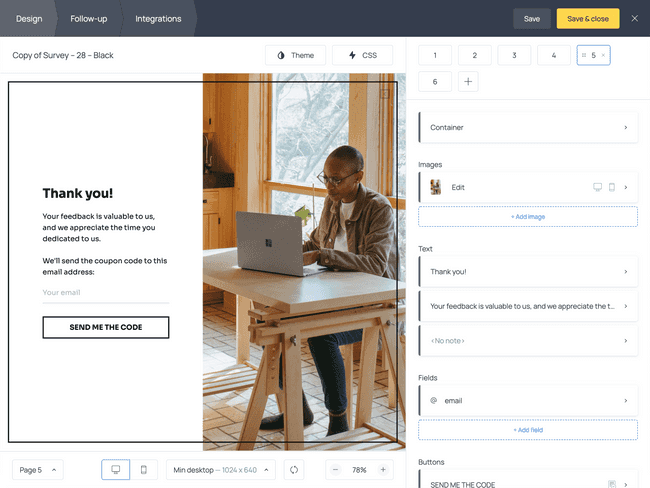 Once your copy is on point, you can start working on the design of the form to tailor it to your branding.
Step 3: Customize the design
In the Theme section, you can change the font, style, and color theme of the form.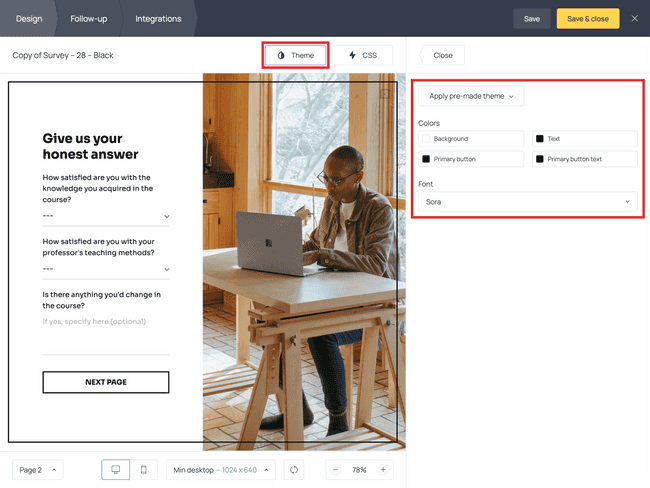 Go ahead and apply one of the pre-made themes from the menu, or change the color and font settings individually.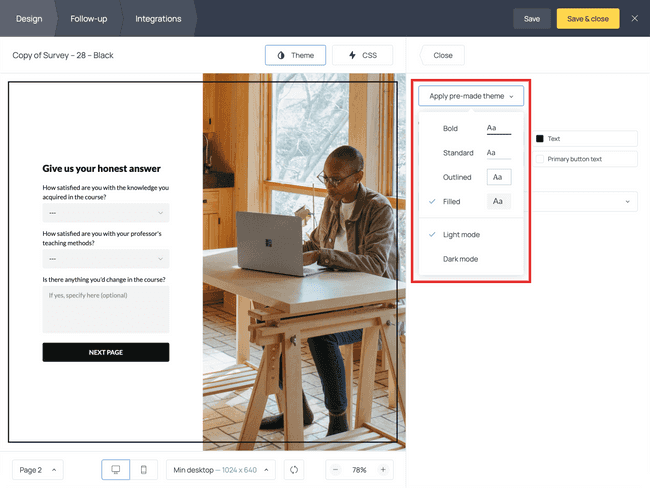 Next, you can (and should) change the image to something more related to the topic of your course. To do that, click on the image and hit the Change image button: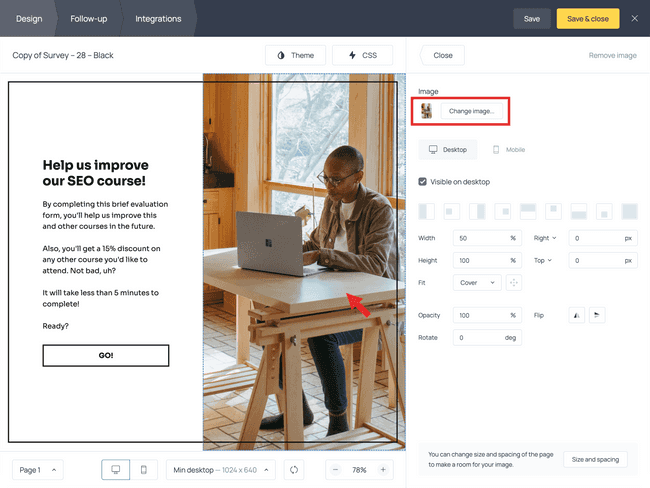 You'll be able to choose an image from the built-in photo gallery, use a cute sticker, import a GIF from GIPHY, or upload an image from your device.
You'll need to choose an image for each page of your form. It can be the same picture or different ones, depending on your preference.
Step 4: Preview the mobile version of the form
The preview image you've seen until now is the desktop version of your form. Since some of your students will probably open it from their mobile devices, don't forget to check out the mobile version of the form to make sure it's readable and convenient to interact with: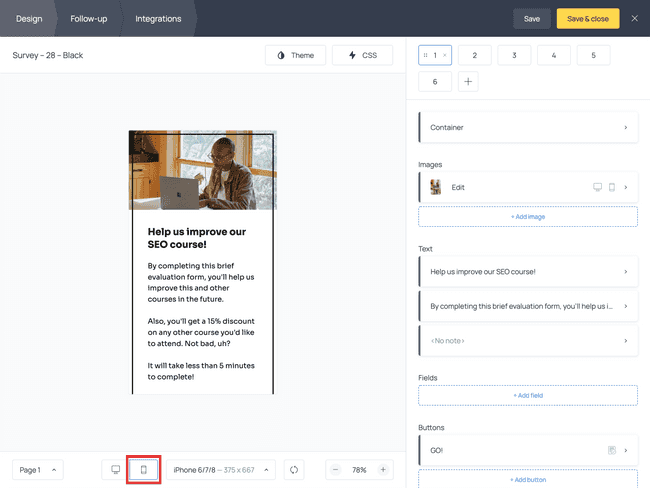 If you notice that there are too many fields for a single page, or questions are too lengthy, go ahead and make the necessary adjustments.
When you are done with editing, hit the Save & close button.
Let's quickly recap what we've done so far:
Content? ✅
Appearance? Also ✅
At this point, you are almost done setting up your online course evaluation form. What's next?
That's right, the next step is sharing your form with your students.
Step 5: Share your course evaluation form
Follow the prompts to activate the form. You'll then get a link you can publish online or send to your students directly: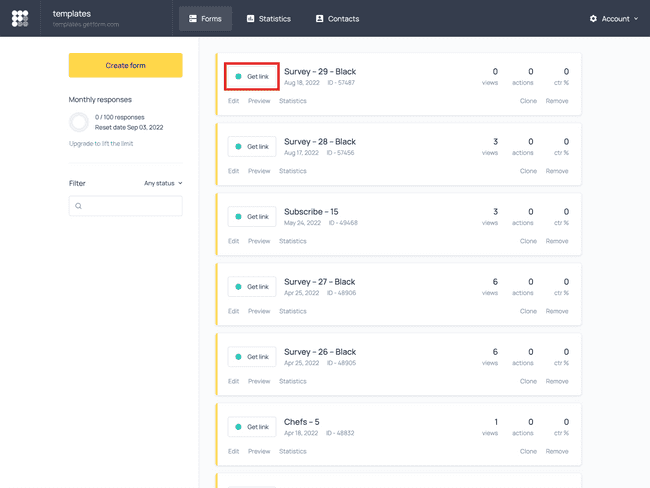 For example, you can send your course attendees an email at the end of the course and include the link to the evaluation form. If you offer an incentive to complete the evaluation, mention it in the subject and body of your email.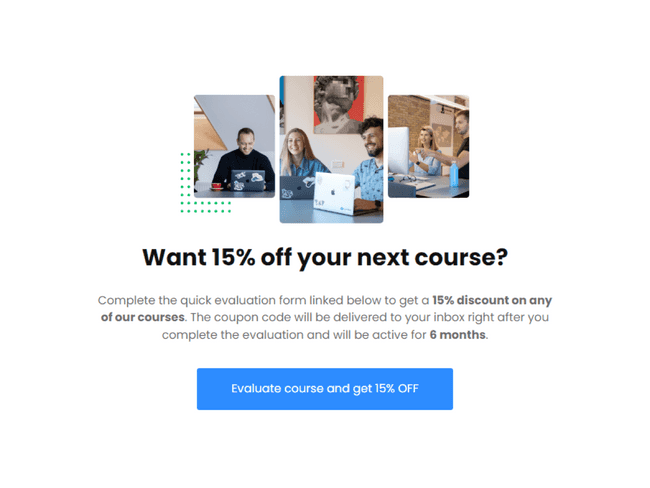 And just like that, you'll have your online course evaluation form up and running.
Step 6: Check your responses
You can set notifications and receive form submissions directly to your email. At the same time, responses will be stored in your Getform account under the Statistics report, so you can access them at any time.
To view the responses you've received, click the Statistics button below the form in the Forms section of the dashboard and switch to Responses: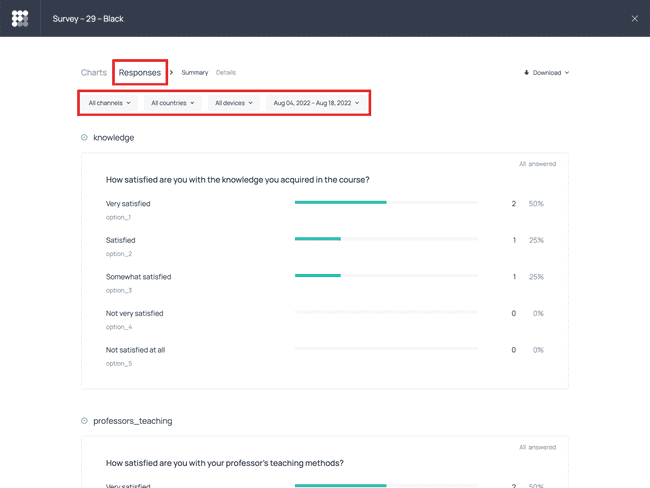 The platform also allows you to apply different filters to the responses. For example, you may want to evaluate responses received during a certain period of time, or from students from certain locations.
Improve the performance of your form
Here is a collection of tips to improve the response rate and reliability of your online course evaluation form.
Offer a survey incentive
Provide an incentive for completing your form, such as a discount on another one of your courses, a gift card, free study materials, a bonus video lesson, etc. People typically aren't big fans of participating in surveys, even if they really liked the course. So if you want to collect responses faster, a little nudge could be helpful.
Keep your evaluation form anonymous
Avoid asking too many demographic questions. Or, if you can, consider not asking demographic questions at all, as students may refrain from completing course evaluations if they feel they may be identified by their responses. Make sure your students know the survey is confidential so that they'll give you honest answers.
Keep it short
Keep your surveys as short as you can. Your respondents are doing you a favor by filling out your form, and you don't want to abuse their generosity by asking for too much of their time.
Spread out the questions on multiple pages
Distribute the questions over multiple pages to avoid intimidating students by showing too many questions at once.
Let your respondents know why you need their feedback
Inform respondents of what you intend to do with their feedback, or even let them know how you have already improved your course thanks to feedback from past surveys.
Keep your questions simple, yet specific
Focus each question on a single topic or issue, keep the wording simple and avoid negatives. Ask specific questions instead of generic ones, as they tend to elicit better responses from people.
Ask neutral questions
Avoid questions that may nudge respondents towards one answer in particular. Yes/no questions can often be leading questions as well, as they don't allow for anything in between and push people towards one of the two extremes.
When possible, we suggest using questions that can be answered with a rating scale, such as Likert scale questions. Likert scale questions make evaluation much easier and allow you to compare results over time.
Question examples for a course evaluation survey
If you are short on inspiration for your questions, check out these sample questions we have gathered for you 👇
What percentage of the course did you attend?
How effective were the teaching methods used in the course?
How helpful were the materials provided during the course?
How clear was the teacher in delivering the concepts?
Was your previous knowledge sufficient to understand the content of the course?
How prepared were you to attend the course?
Are you satisfied with the knowledge you gained throughout the course?
How prepared do you feel now to work on (topic of the course)?
Open-ended questions:
What was the most useful part of the course?
What was the hardest part to understand?
Do you feel that the amount of time dedicated to each topic was sufficient? If not, please, elaborate.
If you could change one thing about the course to make it better, what would it be?
Create your own online course evaluation form
The next step is to create your own course evaluation form and ask your students to fill it out.
You can even think of different incentives to offer in exchange for participating, and test them out on different forms to see which ones bring you more responses.
Try Getform
Create a course evaluation form to find out how likely your students are to recommend your course.
Free up to 100 responses/mo!
Get started

Giorgia Mangoni
September 29, 2022
Create forms with personality
Leverage insights for your business with a full-featured form builder that requires no website, design or coding knowledge.
Get started
Handcrafted
templates
Mobile
responsiveness
CSS
editor
Picture & GIF
search
Multipage
forms
Seamless
integration
Performance
charts
Responses
report