Send a Cart Abandonment Survey to Your Customers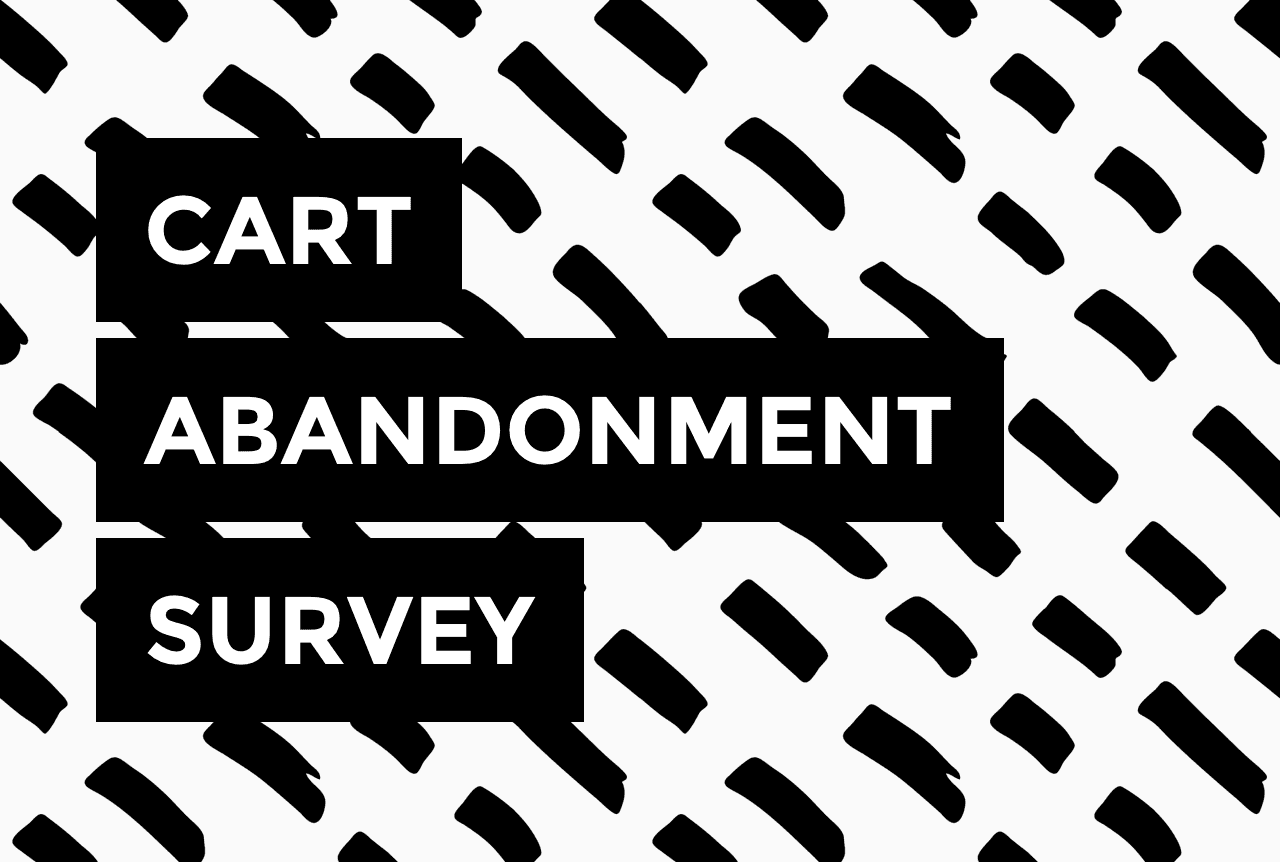 Nina De la Cruz
March 25, 2021
- 3 min read
If a customer initiates a purchase and then abandons their shopping cart, you can send them an automated email with a cart abandonment survey.
With the help of a cart abandonment survey, you can find answers to the following questions:
Why do my customers abandon their shopping carts?
How likely are they to come back and purchase the item they left in the cart?
Is there anything I can do to help them finalize the purchase?
In this quick guide, we'll show you how to create a cart abandonment survey using Getform - a no-code online form builder.
Here's one example of such a survey form 👇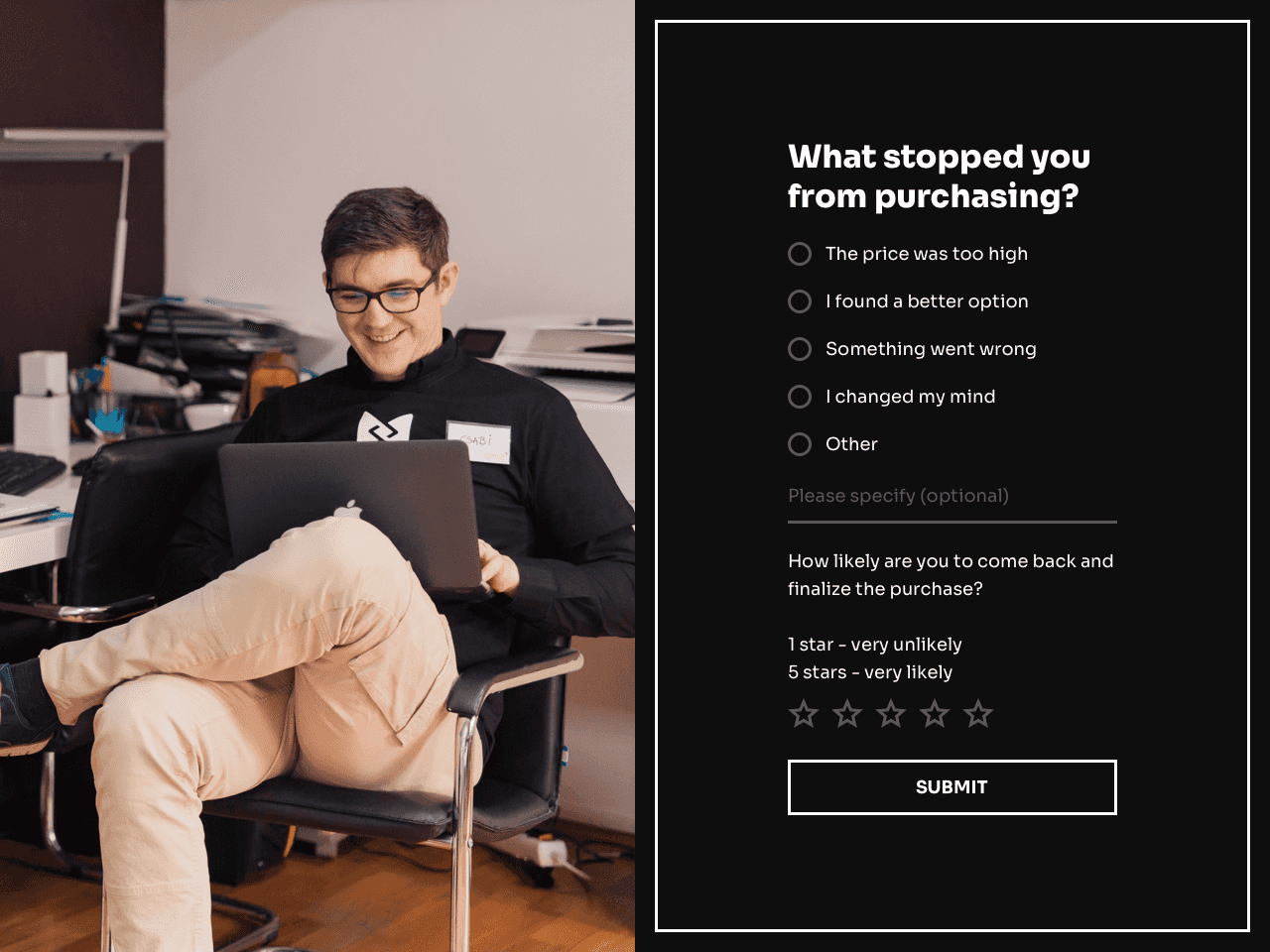 See live preview
Make a click on this template to see it in action, and keep in mind that it's fully customizable. For instance, your form can contain more than one question and consist of more than one page. You will also be able to change the copy, image, and even text font.
To send the survey to your customers, you can use email, messenger, or any other channel.
Below, we'll go over the setup process and include a few survey examples you can use for your business.
Try Getform for free
Create a cart abandonment survey within minutes and send it via email. Free up to 100 form submissions per month.
Get started
Step 1. Select a survey template
To get started faster, select one of the pre-designed survey templates. You can click on the template above or check other forms available in the gallery.
Once you select the template, follow the prompts on the right-hand side to sign up and add it to your dashboard. This is what it will look like: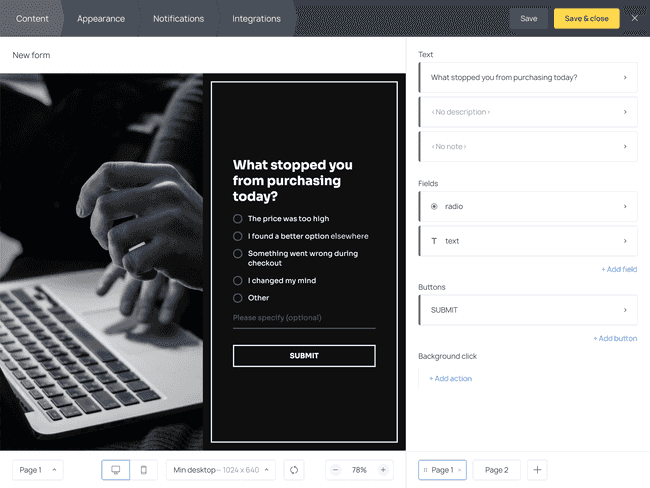 The next steps will be to change the content of your cart abandonment survey and add a submission success message.
Step 2. Change the copy and fields
If you decide to change the default description of the form, add more fields or pages, you can do it using the Content tab. Click on those fields you want to adjust and simply type new text.
For example, to add a star rating scale, use the +Add field menu, select Rating, and type your question as illustrated below: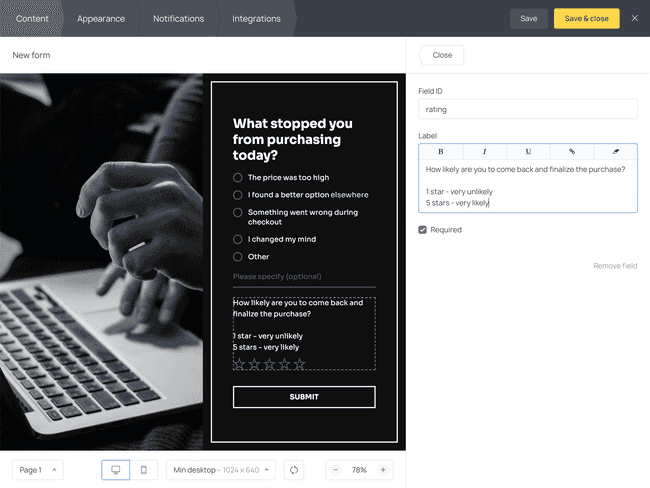 If you want to ask more questions, it's better to create a second page. To do that, hit the cross in the bottom right corner where the pages are, and add as many pages as you need.
Step 3. Add a submission success message
It's a good practice to display a brief submission success message once your respondents fill out the survey. By default, this message is displayed on the second page of the form. Hit Page 2 to jump there.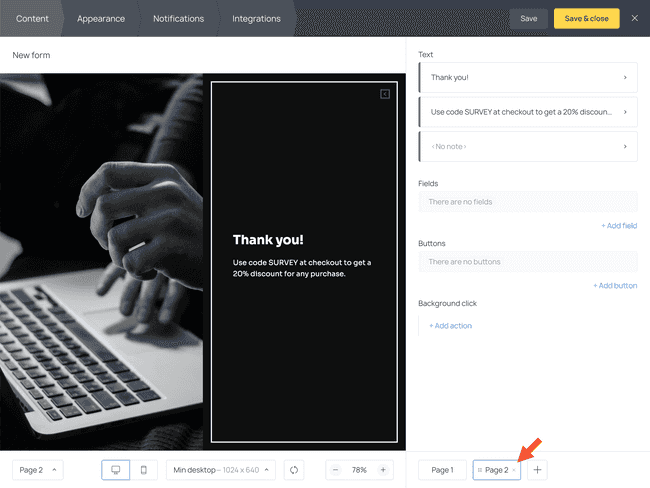 Use this page to thank your customers for participating, provide a discount code, or encourage further action - for instance, following you on social media or checking out your sale.
Step 4. Change the appearance of your survey
The templates in the Getform gallery are available in two color themes: black and white. However, the Appearance settings allow you to easily change the image, text font, and the style of the form.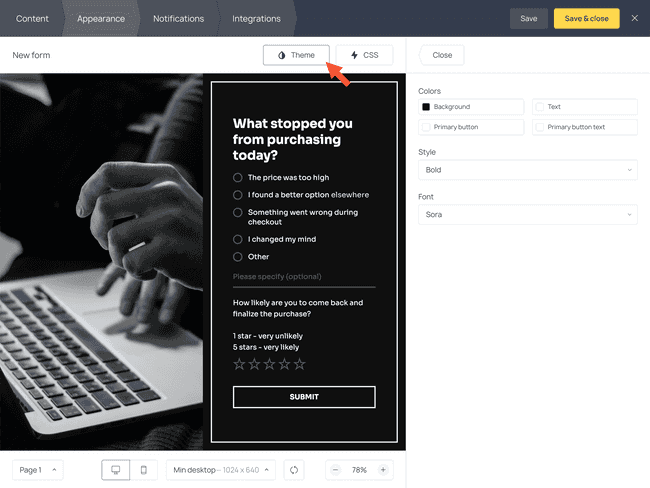 This set of controls may come in handy if you want your cart abandonment survey to fully match the style of your website.
Keep in mind that the mobile version of the form will have no image. This way, your mobile users will have a better, distraction-free experience. To preview the mobile version in the dashboard, switch to Mobile while working in the Appearance tab.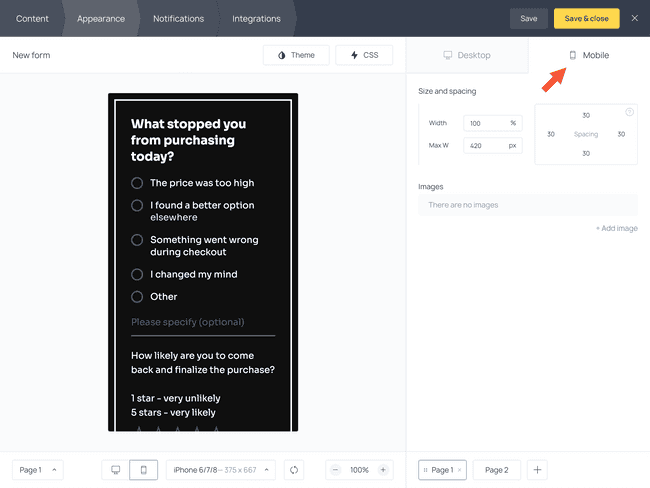 Use the menu at the bottom of the preview window to see how the form will look on different devices. The menu on the right-hand side allows for adjusting the spacing.
Step 5. Paste the survey link to the email
When you're done creating your abandoned cart survey, hit Save & close . Next, copy the suggested link and paste it to your abandonment cart email.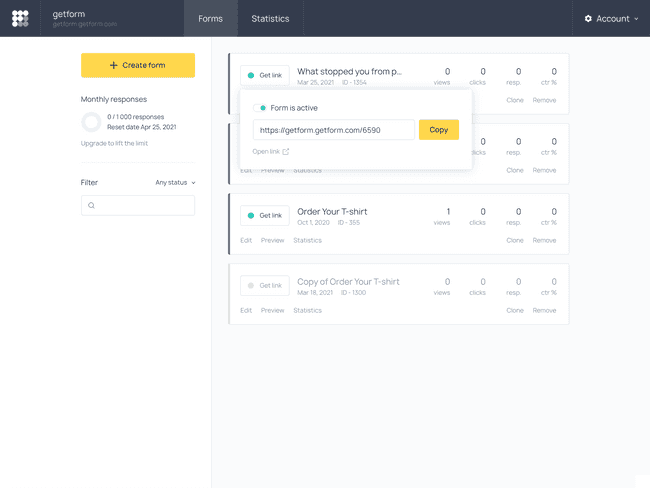 💡If you want to increase survey response rates and get the data faster, consider using survey incentives.
In exchange for participation, you can offer a discount, a sample, or a gift certificate to redeem in your store.
Remember that even a single-question survey will take some of your customers' time, and offering an incentive is a way to show that you appreciate it.
Step 6. View abandoned cart survey results
Each survey response is stored in the Getform dashboard. You can open the Statistics report and track the form performance from there.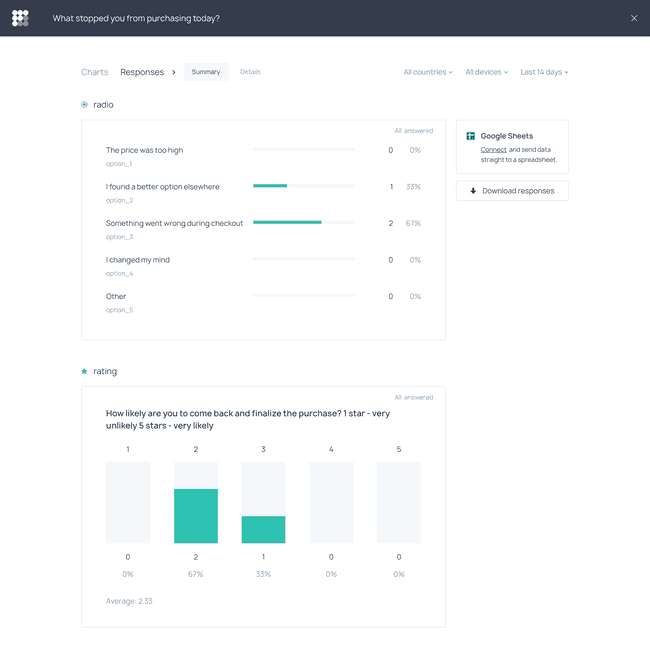 You can also integrate the survey with any software of your choice, including Google Sheets, and send the data there. Plus, the Notifications tab allows for sending responses directly to your email, so you'll get notified about each new submission instantly. Just go ahead and choose the option that will be more convenient for you!
Time to find out why people abandon shopping carts in your store
Abandoned cart surveys are just one way to find out what stops your customers from finalizing their purchases and - most importantly - reduce the abandonment rate in your store. If you're craving more information,you can learn everything there is to know about shopping cart abandonment from this article, or read this comprehensive guide to writing excellent abandoned cart emails.
Growing an online store?
You'll need online forms to survey your customers.
Register a Getform account now - it's free.
Get started

Nina De la Cruz
March 25, 2021
Create forms with personality
Leverage insights for your business with a full-featured form builder that requires no website, design or coding knowledge.
Get started
Handcrafted
templates
Mobile
responsiveness
CSS
editor
Picture & GIF
search
Multipage
forms
Seamless
integration
Performance
charts
Responses
report